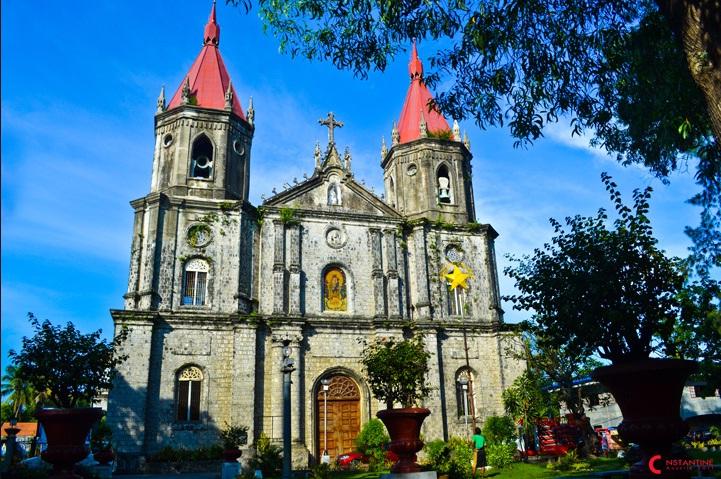 One of the most significant places of worship in Iloilo is the Molo Church, a national landmark featuring Gothic architecture. Withstanding the passage of time, it has been an irreplaceable historical and religious legacy lovingly preserved and cherished by the people of the region.

Molo Church in Iloilo was originally built made of tabique pampango with a chalk roof, then built temporarily with nipa by Fr. Jose Ma. Sichon in 1863. Plans for a concrete structure were made in 1866 and approved by Bishop Mariano Cuartero in 1869. The present Gothic-Rennaisance church was immediately built after the approval of the plan. In honor of Saint Anne, this church was known to be a feminist church because of the two rows of sixteen female saints line on both sides of the altar. Molo Church was visited by Dr. Jose Rizal in 1886 because of its biblical paintings and it served as the evacuation center during World War II. The church was damaged during the liberation of the Philippines from Japan and was repaired by Rev. Manuel Alba with the help of the congregation.
The church was declared a national landmark by the National Historical Institute in 1992 through the representation of Sir Knight Rex S. Salvilla. It is the only Gothic church outside Manila.
Architecture
Molo Church features a two-level facade that makes use of the texture of the stone to enhance the distinct Gothic-Renaissance elements apparent in the structure. A strong vertical movement makes the church seem lean to the eye from most angles and is enforced by the tapering arrangement at the center composed of the arched main portal, an arched stained glass window, a circular motif and a small saint's niche at the pediment. This movement is echoed by the bell towers that flank the facade, each topped by elaborate spires.
The church has three naves, lit through shallow arches that provide a solemn, diffused glow. An intricately carved wooden retablo serves as the interior's focal point, sporting numerous spires. The niches have pointed arches, which is a Romanesque feature. Mariano Mabunay and Jesue Huervas were commissioned to paint the murals in the church's interior, which depict the Crucifixion and Resurrection of Christ. Sixteen Corinthian columns define the nave, each sporting a statue of a female saint. These saints are Sta. Marcela, Apolonia, Genoveva, Isabel, Felicia, Ines, Monica, Magdalena, Juliana, Lucia, Rosa de Lima, Teresa, Clara, Cecilia, Margarita and Marta.
A statue of the church's patroness, St. Ana, is housed in the retablo, along with statues of the Blessed Virgin and the Holy Trinity. The main portal is guarded by statues of two archangels: Michael and Raphael. Molo Church is flanked by two bell towers and these hold thirty bells of different sizes. These create a pleasing, multi-layered tolling when sounded simultaneously.
Accommodations
Here is a list of some of the hotels that can be found in the province should one stay for some time to visit the many attractions of Iloilo:
Location: M.H. Del Pilar St., City Proper, Iloilo / Guimaras, Philippines 5000
Location: Corner JM Basa - Aldeguer Streets, City Proper, Iloilo / Guimaras, Philippines
Location: Corner Yulo - Iznart Streets, City Proper, Iloilo / Guimaras, Philippines 5000
Location: The Atrium at the Capitol, Cor Gen. Luna- Bonifacio Dr, City Proper, Iloilo / Guimaras, Philippines 5000
Circle Inn - Iloilo City Center
Location: Iznart Street, Maria Clara, City Proper, Iloilo / Guimaras, Philippines
Location: Benigno Aquino Avenue, Mandurriao, Iloilo / Guimaras, Philippines 5000
Accessibility
Iloilo Province is located in Western Visayas and can be reached by plane, bus, ferry or roro (roll-on-roll-off) from Manila.
By Air:
There are direct flights to Iloilo Intenational Airport and take around 50 minutes from Manila. Once there, one can ride a shuttle van or taxi going to Iloilo City.
List of airlines that have daily trips to Manila to Iloilo:
Cebu Pacific

Air Philippines

Philippine Airlines

Zest Air
By Sea:
From Manila Ports, the travel time going to Iloilo Domestic Port, located along General Hughes St., is about 20 hours.
By Land:
There are buses from Manila that have trips to Iloilo City. The bus uses the roro (roll-on-roll-off) services going to Iloilo. The bus terminals in Cubao and Pasay have buses with trips going to Iloilo.
When touring the province, taxis and jeepneys are available as a mode of transportation around the province.
Rating:
0 people rated this.