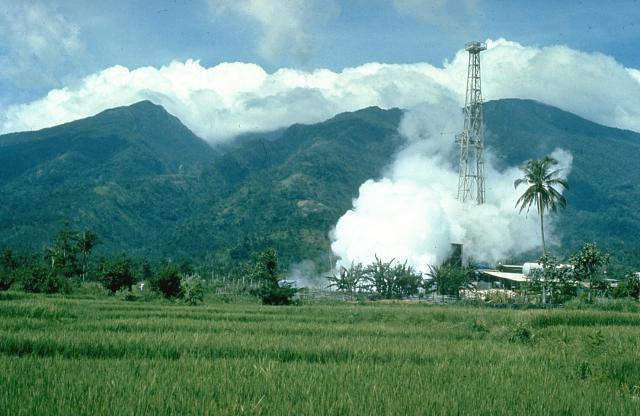 Malinao is a volcano located in the Bicol Region of the Philippines. The stratovolcano has no historical eruption but displays strong fumarolic activity which is harnessed for generating electricity. Located on its slope is Tiwi Geothermal Power Plant, one of the first geothermal energy plants commissioned in the country.
There are no historical eruptions from Malinao, which is believed to have been active from about 500,000 years ago until 60,000 years ago.
Mt. Malinao offers the panoramic view of the town, the exquisite vista of the rice fields plus the relaxing breeze can give an unforgettable experience.
Malinao Town
The town of Malinao is the prime rice granary of the first district of Albay and is a third-class town located along the northeastern rim of the southern-most tip of Luzon, which forms the Bicol Peninsula. To its north is the municipality of Tiwi; to its south, the city of Tabaco and to its west is the province of Camarines Sur.
The town occupies a narrow stretch of plains hemmed in by the Lagonoy Gulf in the east and Mount Malinao on the west.
The mountain ranges of Malinao, a dormant volcano whose highest altitude is estimated at 1,584 meters above sea level, dominate a large part of the town's total land area, which is 10,750 hectares or 107.50 square kilometers.
The world-renowned Mayon Volcano lies southwest of Malinao, providing the town a majestic ambiance for its agricultural setup.
Location
Malinao Volcano is situated between the provinces of Albay and Camarines Sur in the southeastern region of Luzon Island; about 20 km (12 mi) north-northwest of Mayon Volcano, the most active volcano in the Philippines.
List of accommodations in Albay
Alicia Hotel - F. Aquende Drive, Albay District, Legazpi City

Casa Eugenia Hotel and Restaurant - Tagas, Tabaco City

Hotel Casablanca - Peñaranda Ext., Legazpi City

Hotel La Trinidad - Rizal St., Legazpi City

Hotel Venezia - Renaissance Gardens, Washington Drive, Legazpi City

Pepperland Hotel - Airport Road, Legazpi City

Jennifer's Garden Apartelle - J. Estevez St., Albay Dist., Legazpi City

Hotel Victoria - Rizal St., Legazpi City

Avenrose Suites - Washington Drive, Legazpi City

Cliffstone Inn - Lidong, Sto. Domingo, Albay

Ibalong Travelers Hostel - BDB Bank Bldg, 210 J.P Rizal St

Divine Tourist Inn- A. Luna St., Divino Rostro, Tabaco

Neuhaus Tourist Inn - Magayon Dr., Daraga, Albay

Sambitan Tourist Inn - Diversion Road, Ligao, Albay
Getting there
By Air
Airlines from Manila have daily schedule flights from Legazpi City to Manila and vice versa.
Manila to Legazpi City

Legazpi City to Manila
By Land
Several aircon tourist bus companies ply the Manila-Legazpi route daily, an average nine-hour travel time, passing through scenic roads.
By Rail
By train, the average travel time is 16 hours via the Philippine National Railway, the country's sole train transport service.
By Sea
Several shipping lines offer regular trips from the Visayan region to the island province of Masbate to Albay via mini ports of Pilar and Donsol, Sorsogon.
Getting Around
Buses and jeepney's are generally the main mode of transportation in getting around Albay's destinations. Pedicabs and tricycles are also available for short distance travels. Taxis and rent-a-cars are also available.
Rating:
0 people rated this.