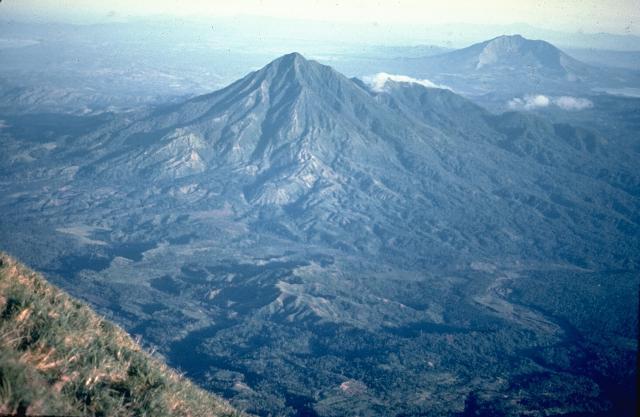 Mount Masaraga is an extinct stratovolcano, located in Ligao City in the province of Albay, in the Bicol region, on Luzon Island, in the Philippines. Mount Masaraga completes the three stunning mountains of Albay – Mayon, Molinao and Masaraga. The mountain is also ideal for mountaineering. At the top of the mountain, visitors can enjoy the panoramic view of Albay and the mountain range from nearby provinces.
The mountain is surrounded by a thick forest with lush of vegetation. Hiking in the mountain is difficult and challenging, sp it is a perfect place for those people who love to seek adventure.
Physical features
Mount Masaraga is a forested, sharp-topped, mountain with an elevation of 1328 meters (4,357 feet) asl. It is adjacent and the closest to the perfect cone of Mayon Volcano.
Eruptions
There are no historical eruptions from the volcano with the last eruptive activity dated as Holocene as reported by the Global Volcanism Program. Thick lava flows from that period are present on the flanks of Mount Masaraga, an understudied volcano in the Philippines.
Geology
Rock type found on the mountain is andesite trending to rhyolite. Tectonically, Masaraga is part of the Bicol Volcanic Chain of volcanoes and part of the Pacific ring of fire.
List of Accommodations
ALICIA HOTEL - F. Aquende Drive, Albay District, Legazpi City

CASA EUGENIA HOTEL & RESTAURANT -- Tagas, Tabaco City

HOTEL CASABLANCA - Peñaranda Ext., Legazpi City

HOTEL LA TRINIDAD - Rizal St., Legazpi City

HOTEL VENEZIA - Renaissance Gardens, Washington Drive, Legazpi City

PEPPERLAND HOTEL - Airport Road, Legazpi City

JENNIFER'S GARDEN APARTELLE - J. Estevez St., Albay Dist., Legazpi City

HOTEL VICTORIA - Rizal St., Legazpi City

AVENROSE SUITES - Washington Drive, Legazpi City

CLIFFSTONE INN - Lidong, Sto. Domingo, Albay

IBALONG TRAVELERS HOSTEL - BDB Bank Bldg, 210 J.P Rizal St

DIVINE TOURIST INN - A. Luna St., Divino Rostro, Tabaco

NEUHAUS TOURIST INN - Magayon Dr., Daraga, Albay

SAMBITAN TOURIST INN - Diversion Road, Ligao, Albay
Transportation
Air Transport
By air, Legazpi City is 45 minutes away from Manila via the nation's flag carrier, Philippine Airlines.
Land Transport
By land, aircon tourist bus companies ply the Manila-Legazpi route daily with an average travel time of nine hours. The average travel time by train is sixteen hours via the Philippine National Railway, the country's sole rail transportation service.
Sea Transport
Several shipping lines have regular trips to and from Catanduanes through the Tabaco Port. Travel time from Visayas and Mindanao pass through the port of Matnog in Sorsogon.
Getting around the city
Buses and jeepneys are generally the modes of transportation in getting around Albay's destinations. Pedicabs and tricycles are also available for short distance travels. Taxis and rent-a-car services are also available.
Rating:
0 people rated this.