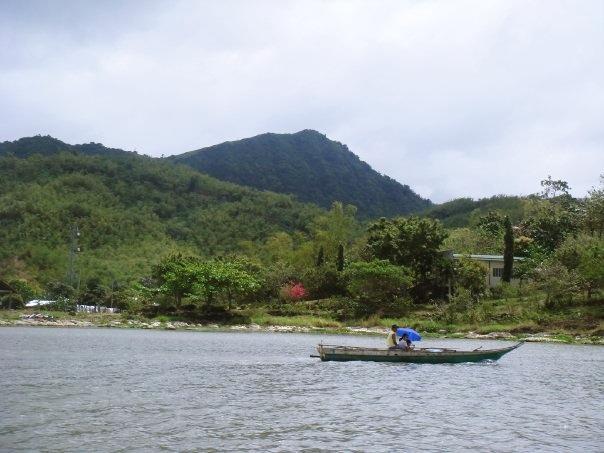 One majestic mountain that can be found in the town of Binangonan, in the island of Talim, is Mt. Tagapo, more popularly known as the Mountain of Susong Dalaga, with a height of 270 meters and is said to have the shape of the breast of a virgin. Many mountaineers from all over the Philippines visit the mountain to glimpse its beauty.
The climb in this kind of natural environment challenges the strength, determination and sincerity of those who want to try it. But if one can reach its top, they would feel the sense of tranquility of Laguna Lake and its neighboring areas. The Mt. Tagapo is in the middle of Talim Island located in the heart of Laguna de Bay.
Talim Island has a total area of 3,376 square hectares and consists of 17 villages. Our national hero, Dr. Jose Rizal, mentioned his admiration to the reserved beauty of the island while he was on his way to Manila.
He said that, "We are lucky because the town of Binangonan is blessed by nature to have a stunning and alluring landscape. This wealth of nature given to us deserves care, to give importance and love."
Accommodations
Location: Sitio Loreland, Barangay San Roque, Antipolo City, Antipolo / Rizal, Manila, Philippines
Seven Suites Hotel Observatory
Location: Hollywood Hills Sumulong Highway, Antipolo / Rizal, Manila, Philippines
Thunderbird Resorts - Rizal
Location: Eastridge Avenue, Binangonan, Antipolo / Rizal, Manila, Philippines
Location: Ibanez St., Angono, Rizal, Antipolo / Rizal, Manila, Philippines
How to get there
The province of Rizal is 110 kilometers south of Manila. It is accessible by land transportation from Metro Manila and the neighboring provinces of Southern Tagalog and Central Luzon.

Buses, varied public utility vehicles, and the metro rail system with stations at Crossing/EDSA in Mandaluyong City, Robinson's Galleria in Ortigas Avenue, Quezon City and Farmer's Market in Cubao, Quezon City ply the routes to Antipolo, Taytay, Cainta, Binangonan, Angono, Tanay and other towns in Rizal.

In touring around the town or from one city to another city, jeepneys and tricycles are available as a mode of transportation.
Rating:
0 people rated this.