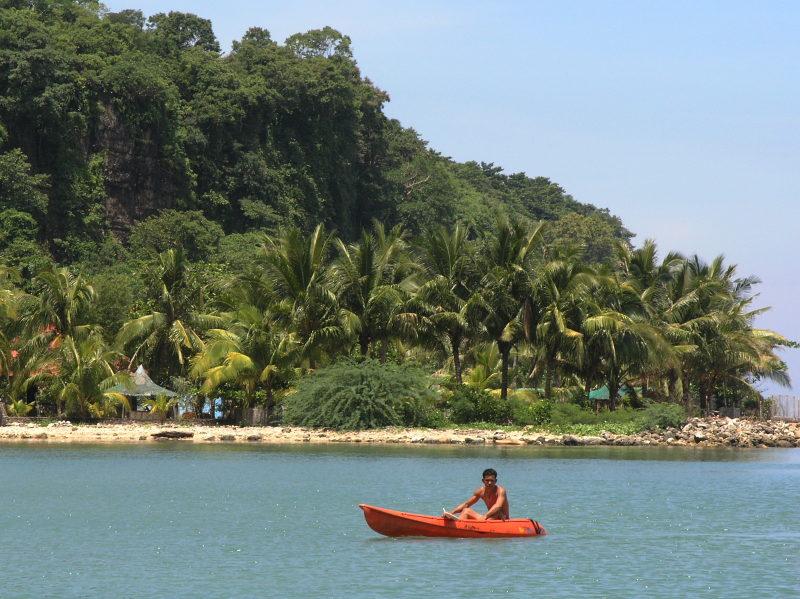 Munting Buhangin Beach
Just some distance south of Manila one can find a marvelous venue for spending time with family, friends and co-workers in a setting that can only feel like you're definitely on vacation. Munting Buhangin Beach Camp is the name of this wondrous place that promises to deliver fun and exciting outdoor activities for families, clubs and companies. It is located in Nasugbu, Batangas, and is a perfect place for groups of people to relax and bond in the midst of nature, a picturesque setting that will surely be loved by visitors.
Munting Buhangin is about 24 hectares of beach front property and is designed to be a camp that showcases a more active, challenging and fun-filled nature-based experience.
This vast area is perfect for everyone who wants to have a great adventure and experience.
According to their website, the area can accommodate about 2,000 people, where they can choose semi-exclusive or exclusive accommodations.
The area is complete with fully furnished facilities such as air-conditioned rooms and cottages, comfort rooms, and shower areas.
The camp is also an ideal place for events because the area is equipped for conventions, conferences, seminars and other social functions.
Guests will surely love the crystal-clear water of the beach, ideal for swimming, snorkelling, fishing, boating and other water activities.
Aside from the beach, one could also explore the forest packed with various activities such as native games, tent building, survival training and other camp activities.
What to see and do

Go camping. Guests can build tents in any part of the area they choose.

Have a comfortable moment in their conference rooms that are ideal for gatherings such as seminars and team building activities.

One can also enjoy the tree houses in the area, take a rest and have a great time.

Enjoy dipping to the fullest in the cool and pristine water of the beach. The camp gives privacy to all their guests because the area is secluded.

Stay the whole day at comfortable family rooms with complete beddings.

Take the joy of eating at Kainan sa Beach Camp, a restaurant in the area that allows guests to request and order food or home cooked. Filipino cuisines are served in the restaurant.

Have a great time playing in the game room with family or friends.

For nature and adventure lovers, enjoy exploring the Munting Buhangin's forest where you can feel the presence of the nature.
Facilities and Amenities
Beach Area

High Rope

Gazebo Beach Area

Tree House
Accommodation
The camp offers great accommodations and services to their guests.
Single Aircon Cottage

Single Aircon Bed Room

Single Aircon Receiving Area

Single Aircon Veranda

Duplex Aircon Cottage E & F and Family Room Aircon

Family Room Aircon 4 & 5

Duplex E & F Receiving Room

Duplex E & F Receiving Room
How to get there
Batangas City is 2 1/2 hours away from Manila when using the old inter town route. Using the STAR Tollway route, one can reach Batangas City for just 1 1/2 hour. Tanauan City is about 1 hour away and in between Tanauan City and Batangas City, one will find Lipa City. ALPS The Bus, Inc. is one of the many bus companies that travels the said route.
Travelers can take air-conditioned buses in going to Batangas City. Those who want to go to Nasugbu, Calatagan and Lian towns (Matabungkay) can pass via the Tagaytay route.
When driving one's own vehicle to Tanauan-Lipa-Batangas City, travelers will pass through the South Luzon Expressway, then the STAR Tollway and can just follow the directional signs along the highway.
For short trips in the desired destinations, passenger jeepneys abound, and then tricycles.
Rating:
11 people rated this.