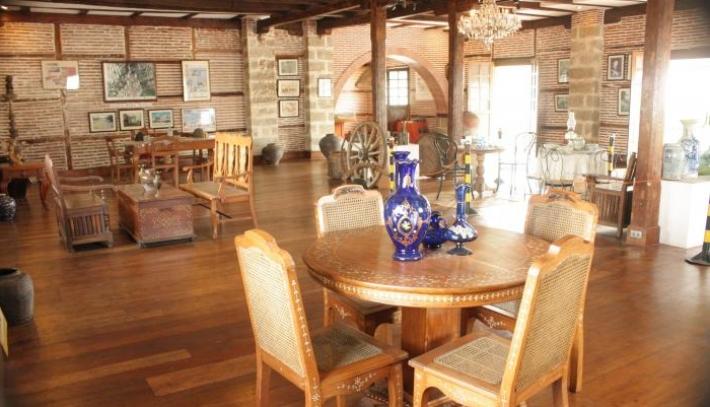 Inside the Santa Rosa Museum

From May 18 to 19, 2011, a celebration was held in the Museum Building in Santa Rosa, Laguna (Museo de Santa Rosa) for the first time. The International Museum Day Celebration was led by Mayor Arlene B. Arcillas, Vice Mayor Arnel, DCGomez, and Councilor Edward F. S. Tiongco (Chairman Committee on Tourism and Cultural Affairs), with the City Council and members of Museo de Santa Rosa.
Some of the important guests of the said occasion were Don Conrado A. Escudero (Founding President of SLAM), Ms. Marlyn Ruth Sanchez (Deputy Executive Director of the National Commission for Culture and Arts), Mr. Ernie Garcia as a representative of Sen. Lito Lapid (Senate Chairman Committee on Tourism, Culture and Arts), barangay captains, NGOs and representatives of various museums in the Philippines.
Along the celebration, it was also the day where the great Roseñans got together, which include the Tiongco Brothers, Pangkat Indayog and Junior Roseñan Rondalla.
A Walking Tour was also performed, which reflected the historic Houses of P. Vallejo, David Zavalla, F.Gomez, P. Lucero de Santa Rosa or the Santa Rosa Square, also called a living museum because of the surrounding historic monuments and buildings.
According to Councilor Edward S. Tiongco, the objective International Museum Day in the City of Santa Rosa is the rehabilitation and development of the Museo de Santa Rosa.
The Santa Rosa Museum building was built in 1828 during the Spanish period as a government Building under the reign of Gobernadorcillo Don Bernardo Zavalla, and in 1954 the building was re-organized. January 17, 2006, Resolution No. 10-2006 was made on the proposal of Councilor Joseph C. Cartaño and Councillor Arturo M. Tiongco that redesignated the old government buildings of Santa Rosa as the "City of Santa Rosa Museum." Santa Rosa Museum is aimed to provide a proper home for the important materials and artworks that are of cultural and historical significance to Santa Rosa, and this is part of the goal to develop the city as a major destination for culture, tourism, trade and industry.
Accommodations
Here is the list of hotels that can be found in Sta. Rosa City, Laguna that offer good services and accommodations to all visitors.
Paseo Premiere Hotel - Sta. Rosa Business Park, Santa Rosa, Laguna

Technopark Hotel - Greenfield Auto Park, Santa Rosa, Laguna

Amethyst Econotel - Amethyst Road, Sta. Rosa, Santa Rosa, Laguna

El Cielito Inn - Santa Rosa, Laguna

Laguna Technopark Hotel - Santa Rosa, Laguna

Golden Gate Inn - Santa Rosa, Laguna

Mariposa Star Motel - Santa Rosa, Laguna

Balibago Drive Inn (also known as Kamachille) - Barangay. Balibago, Sta. Rosa City Laguna
Accessibilty
Southern route- South Expressway is the main artery , with exits at San Pedro, Binan, Sta Rosa, Cabuyao and Calamba;

Eastern route- Ortigas Avenue through the towns of Rizal and onward to the eastern towns of Laguna through the Laguna de Bay road network;

CALABARZON (Cavite-Laguna-Batangas-Rizal-Quezon) route- The highway system and well-developed road network of this region links the neighboring provinces with ease and convenience for tourism, trade and commerce.

Major bus companies ply the well developed roads to and from Metro Manila and within the CALABARZON on a regular basis. Bus terminals are located at Buendia and Taft Avenue and EDSA in Pasay City.
Rating:
11 people rated this.