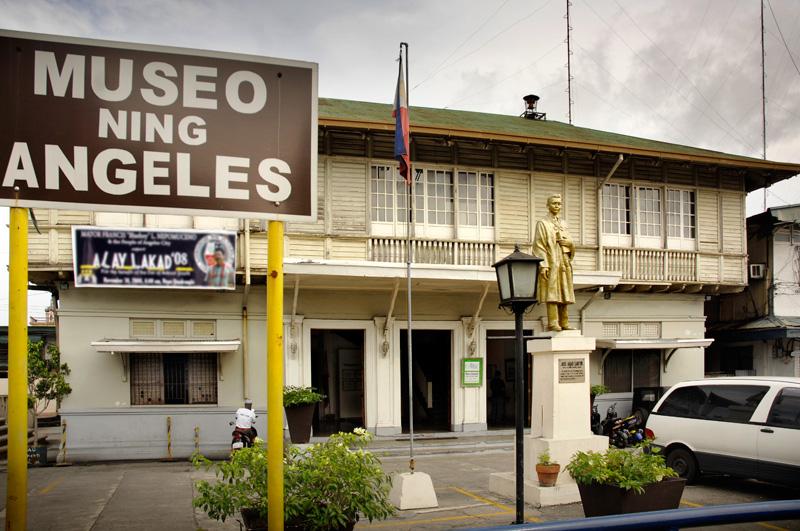 Museo ning Angeles (Museum of Angeles) is a priceless asset and a vintage circa 1920 structure. The building is a museum piece by itself, located at the prime "Santo Rosario Historic District" across the Holy Rosary Cathedral. This edifice was constructed in 1922 and served as the Municipio del Pueblo or Town Hall until 1998. The Museum has become the venue of the city's cultural activities be it from the private or government sector. From the time it opened in the year 1999, it has been a beehive of activity from exhibits, art classes, concerts, venue for performances and climax for traditional celebrations. In June 2012, the National Museum of the Philippines declared the Museo ning Angeles as an "Important Cultural Property of the Philippines," the first cultural property to be given such a distinction. The museum is currently administered by Kuliat Foundation, Inc.
Inside the museum is Balikdan (meaning "to look back") which is about understanding Angeles's past for the present. It encapsulates coherently our colorful and evolving history, and enabling us to arrive at our expected destination. The sections that start with Culiat is born in 1796 and finished with Mt. Pinatubo's fury in 1991.

Also within the infrastructure is the Culinarium. Pampanga, most specifically Angeles, is known as the "Culinary Capital of the Philippines." This is dedicated to the Kapampangan culinary arts and science that has emanated from the basic concept that the preparation of food is a heritage and a legacy worth preserving.

Dioramic Scenes of Traditional Life in Pampanga, which is depicted in ten tableaus, are scenes of traditional town and country life in Pampanga. These dioramas were created by fashion designer Beatriz 'Patis' Pamintuan Tesoro using her Nenita dolls dressed in the most intricately embroidered Filipiniana outfits, with amazing detailing not only on the clothes, but also in the accessories and background.
Some of the hotels that can be found in Angeles City
Angeles Beach Club Hotel

Grand Central Hotel

Orchid Inn Resort

Hotel California Angeles City

Wild Orchid Resort

Century Resort Hotel

Savannah Resort Angeles City

Maharajah Hotel

Devera Hotel

Dollhouse Hotel & Cafe Angeles City

Affinity Condo Resort

Hotel V

Kokomos Hotel and Restaurant Angeles City

Montevista Villas Hotel Angeles City

Natalia Hotel
Getting There
By bus
This is the most common and economical way to get to Angeles from Metro Manila. Several air-conditioned bus lines ply from Manila to Angeles route with terminals scattered across the metropolitan area. It normally takes one-and-a-half hours to get to Angeles by bus. However, travellers are well advised to consider the unpredictable effect heavy traffic and downpours will have on the commute. In short, give yourself plenty of time to travel by bus. Provincial bus companies have scheduled trips from Manila to the provinces to northern provinces and key cities.
By car
The best way from Manila to Angeles via car is taking the North Luzon Expressway which extends until Sta. Ines in Mabalacat, Pampanga. You may take either the Angeles Exit or Dau exit to get there. Another motorway, though narrow, is the McArthur Highway and visitors need to pass through the province of Bulacan to get to Angeles on both routes. It usually takes about 45 minutes to travel but it is twice the travel time if you plan to take the McArthur route due to heavy traffic along its stretch. Rental car companies can be found all over Manila and Angeles. If you don't know the routes, you can hire drivers by asking the attendant of the rent-a-car shop.
Get around
By jeepney
To hop on a colorful jeepney (small bus) is certainly the most affordable way to get around downtown. It is available 24 hours a day and it is the most famous mode of transportation in the country, which connects towns and cities together. Since jeepneys tend to be overcrowded with passengers, tourists carrying bulky luggage should consider traveling by taxi.
By taxi
Though more convenient for tourists, taxis are less common in Angeles and not normally used for travel outside the city. Rather, they are primarily used to tour around the Clark Freeport Zone and for transport to and from the airport. Simson's taxicab terminal can be found particularly next to Clark's main gate (opposite Jollibee's) and SM City-Clark mall in Balibago.
By trike
Trikes (or tricycles) are motocycles with a small attached passenger cabin. They are restricted to low-speed roads and not permitted to enter the area surrounding the airport. Passengers of larger physical stature may find riding in them uncomfortable. Nevertheless, because of their slower speeds, trikes are generally a safe mode of transport.
Rating:
12 people rated this.