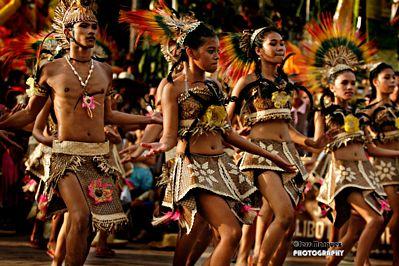 Overview
The Nabas Bariw Festival is celebrated to commemorate the feast day of St. Isidore the Farmer, the town's patron saint. It is celebrated annually from May 12-15. This celebration showcases the town's hat, mat, and other bariw products, as well as the town's unique tourism sites and natural attractions.
During this affair, various skills in mat, hat, and bag making and designing are demonstrated. Among the events is a contest to produce the biggest hat and mat. The festival is highlighted by continuous street dancing by folks from the town's 20 barangays, dressed in colorful bariw costumes, and accompanied by indigenous bamboo instruments.
The festival is intended to promote the town's cottage industry, which is a thriving livelihood activity in Nabas. It also promotes the town's well-preserved cold spring resorts, lagoons, a long winding coastline, rivers, and low elevation intact forest that is home to various endemic flora and fauna.
San Isidro Labrador
Isidore the Laborer, also known as Isidore the Farmer, was a Spanish day laborer known for his goodness toward the poor and the animals. He is the Catholic patron saint of farmers and of Madrid, Spain and La Ceiba, Honduras.
Accommodation
Shangri-la's Boracay Resort & Spa
Barangay Yapak, Barangay Yapak, Boracay / Caticlan, Philippines 5608
Boracay Regency Beach Resort
Balabag, Boat Station 2, Boracay / Caticlan, Philippines
Boracay Golden Phoenix Hotel
Boat Stn 3, Manoc Manoc, Boat Station 3, Boracay / Caticlan, Philippines
Sunrise Cove, Bolabog Beach, Bulabog Beach, Boracay / Caticlan, Philippines 5608
Roberto&Gloria Tirol Park, Balabag,, Boat Station 1, Boracay / Caticlan, Philippines
Accessibility
Airports
Aklan is famous for Boracay, a resort island one kilometer north off the tip of Panay. It is known for its white sandy beaches and is considered as one of the most prominent destinations in the Philippines. Because of this, there is frequent air travel to the province's airports in Kalibo and Caticlan. The Kalibo International Airport is about ten minutes from the main plaza.
From Manila Airport, travel to Kalibo or Caticlan Airport will take more or less 45 minutes.
The following are the airports in Aklan:
Kalibo International Airport

Godofredo P. Ramos Airport (Caticlan-Boracay Airport)
Public transportation around the province and the city is by tricycle, taxi, multicab, and jeepney.
Rating:
0 people rated this.