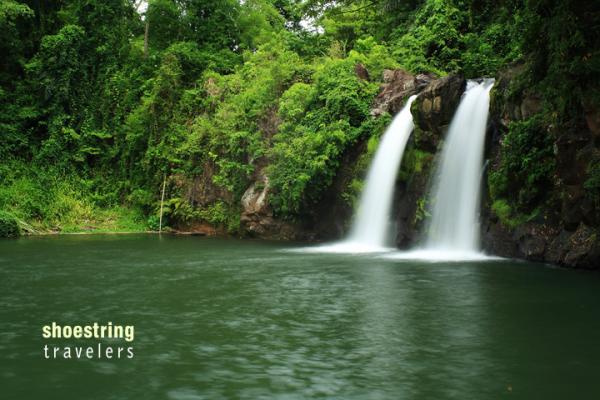 You may also check these sites:
https://shoestringtravelers.com/?q=node/94
https://shoestringdiary.wordpress.com/2015/12/15/lakes-pandin-and-yambo-touring-san-pablos-7-lakes-part-2/


We've been here a few times before but it wasn't until our latest visit that we realized why this Laguna town had become a tourist destination. Besides a few attractions such as Bunga Falls and the Underground Cemetery the town has a relatively cool climate and is surrounded with plenty of lush greenery. It's an upland town located at the foot of and even including sizable portions of Mt. San Cristobal and Mt. Banahaw, both peaks providing a beautiful backdrop for the town. Several cold mountain springs wind their way down into town, providing suitable locations for the many spring resorts that have sprouted up all over Nagcarlan.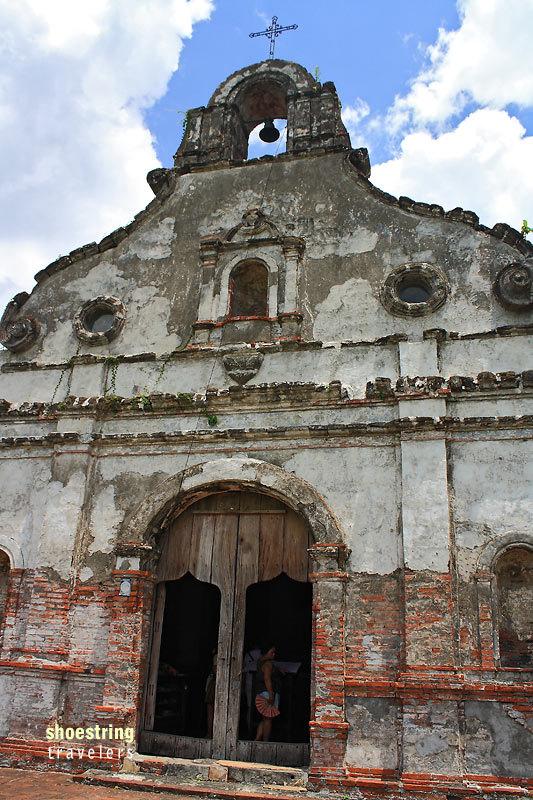 Nagcarlan is actually a large municipality in terms of land area – all of 78 square kilometers. It is not heavily populated. There are less than 60,000 residents according to a 2010 census. A large section of the town is situated inside the Mt. Banahaw-Mt. San Cristobal Protected Landscapeand mountaineers use the town as a jump-off point to several peaks in the area such as Mt. Mabilog and Mt. Kalisungan. (As of this writing Mt. Banahaw itself is closed to trekking until 2016 to protect its environment.)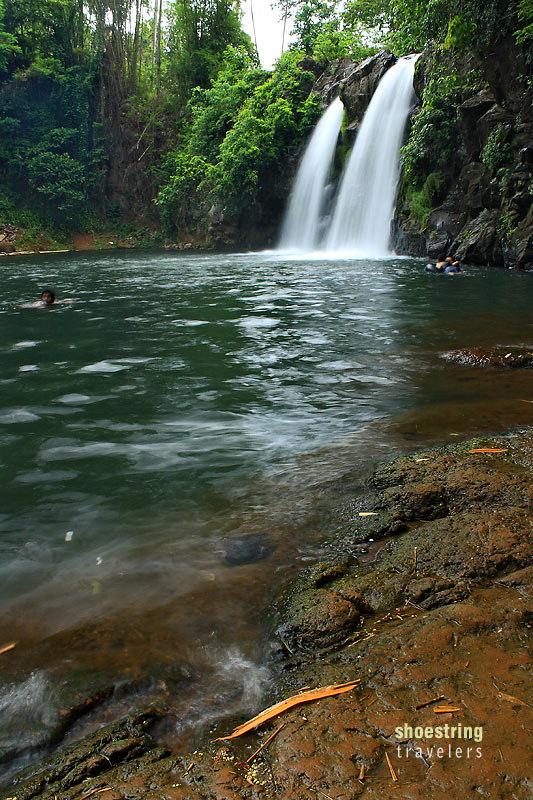 Bunga Falls, Nagcarlan.
Bunga Falls
Enough of mountain climbing, however. Our heavy-mileage knees and problematic lower backs can only go so far so we opted for a more leisurely destination: the Bunga Falls. We've been here before and it wasn't that difficult to find our way back. In any case we always resort to the ultimate method to find one's way around the Philippines: ask the locals. Accompanying some friends new to Bunga Falls, we drove 4 kilometers down a well-paved road from the town center towards Barangay Bunga until we came to a sign on the left side of the road that pointed the way to the falls. We turned left along the now-partially concreted road (it was a dirt road back in 2012) all the way to a parking lot. Paying the P25 parking fee and P5 entrance fee per person to the falls, we were told by the locals that the remaining section of the approach road is due to be concreted soon.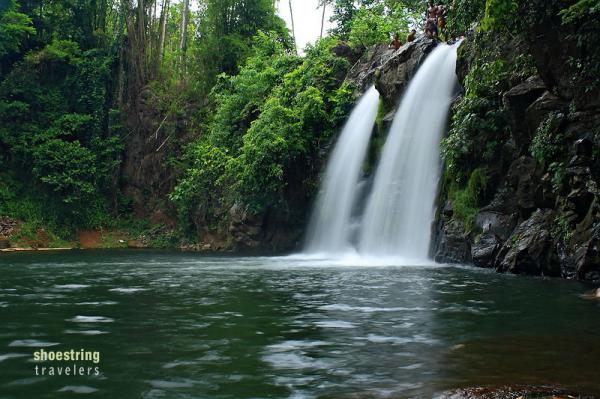 Visitors on top of Bunga Falls preparing to dive into the deep catch basin below.
Besides the concreted portions of the road nothing much seemed to have changed here since we last visited. Verdant vegetation still abounded all around. We had to take the same 5 to 10 minute trek down to the falls which announced its presence while still hidden from view by the crashing sound of water thundering down into a deep catch basin. The only significant changes here are those brought about by the waterfalls' increasing popularity: more organized tourism efforts from the locals, souvenir items for sale at the parking lot and more visitors.
Bunga Falls is a twin waterfall neatly divided into two similar-looking cascades by a protruding rock in the middle. It is not particularly high – around 10-15 meters tall – but plunges down into a deep catch basin of about 40 feet. We saw a few guys leaping from the top of the falls into the catch basin so we knew it had to be deep. A shallow stream winding its way along a jumble of huge rocks runs from the catch basin. There are several native-style makeshift shelters along this stream and around the catch basin that one can rent if planning to stay longer.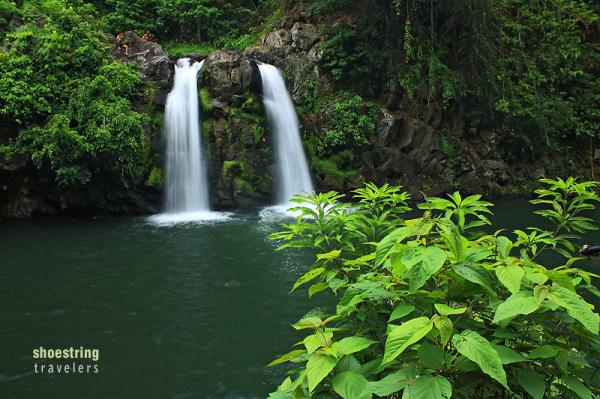 Bunga Falls lie amidst a forest of lush greenery..
It's heartwarming to note that the beauty of Bunga Falls and its surroundings are well-preserved despite its increasing popularity. We certainly hope that both locals and visitors will do their part in keeping it this way for many others to enjoy.
Note: If you're taking public transportation going to Bunga Falls you can simply ride a tricycle at Nagcarlan town proper and ask to be taken to the entrance to the falls.
Nagcarlan Underground Cemetery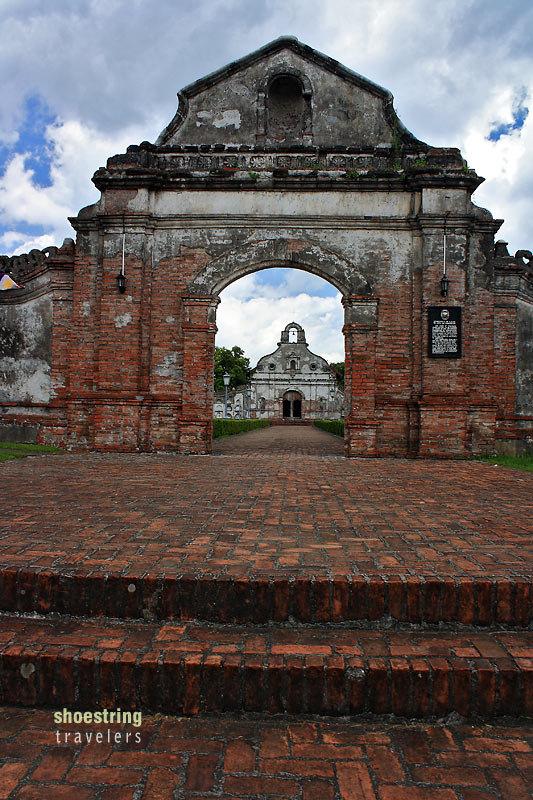 The arch entrance to Nagcarlan's Underground Cemetery with the chapel in the background.
Before Bunga Falls became popular Nagcarlan's one tourist destination was a historical spot: the Underground Cemetery. Located a mere 2 kilometers from the town center and along the national road, this cemetery was constructed in 1845 by Spanish Franciscan priests exclusively for Spanish friars and prominent citizens of Nagcarlan. The underground crypts are located 15 feet below a small chapel inside the cemetery grounds. The Underground Cemetery is said to be the only one of its kind in the country.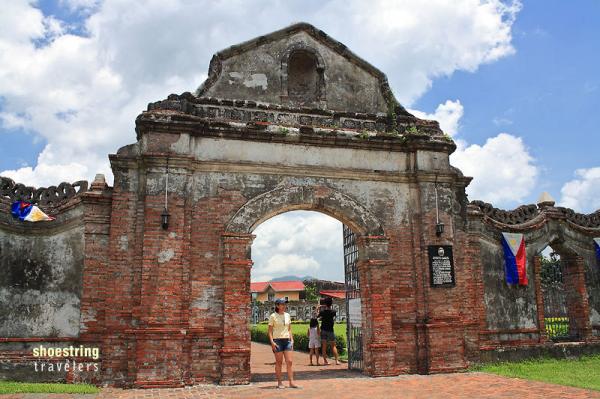 The arch entrance lies right along the national road to San Pablo.
The 18-feet high arch entrance to the cemetery is hard to miss when traveling on the national highway (across the road is a gas station where we were able to park our vehicle). The cemetery reminded us very much about Paco Park in Manila. After trooping past the arch entrance we walked up a brick path towards the cemetery chapel. Manicured hedges of flowering shrubs line both sides of the pathway in the middle of a beautiful green lawn that dominates the area leading to the chapel. The whole vista looks more like a park for a wedding than a cemetery.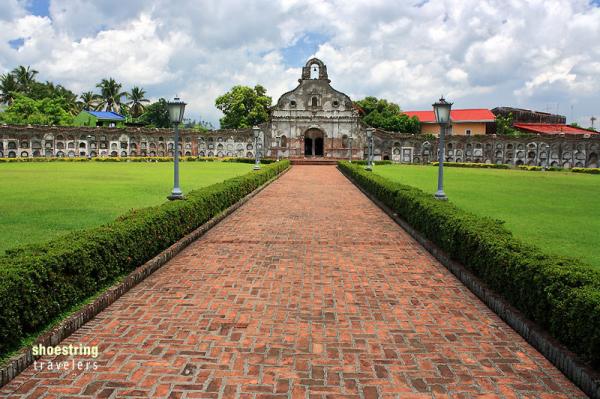 The brick pathway to the chapel.
A chapel which used to serve as a venue for final burial rites lies at the end of the pathway. The chapel's facade is of typical Barouque architecture design infused with local elements - it reminded us about the "Earthquake Baroque" architecture of the San Agustin Church in Paoay. Running along both sides of the chapel are 240 apartment-style niches, 120 on each side. The underground cemetery lies below this chapel. We got there by walking down two flights of stairs into a cold, dark chamber containing 36 niches arranged in rows. These niches are supposed to contain the remains of Nagcarlan's prominent citizens and Spanish priests. We were allowed to take photos here and inside the chapel but not to use a flash. Without a tripod (which we left in the car) it was almost impossible to get a properly exposed photo inside the dark chamber so Leo gave up after a few attempts.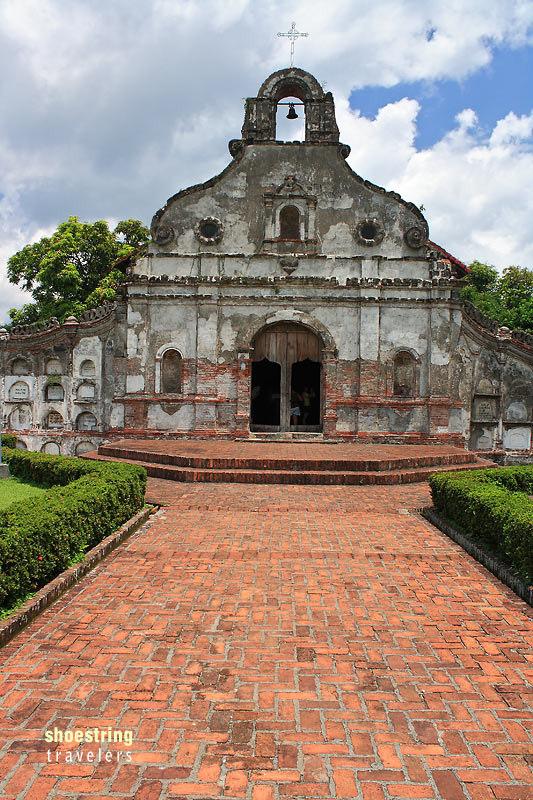 The chapel's architecture reminded us of the San Agustin church in Paoay.
There's more to the history of this cemetery. Revolutionaries used the Underground Cemetery as a secret meeting place in 1896 and Filipino fighters used it as some sort of a headquarters during the following Filipino-American War. Guerillas were said to have used the cemetery as a hideout in World War 2. This seems highly suspect, especially when there are better hiding places in the mountains around town, but some have pointed out the occupying Japanese's adversity towards cemeteries as a reason for this move. The cemetery was declared a National Historical Landmark in 1973 by presidential decree and ceased to be an active burial location from that time onwards.
As mentioned earlier the Underground Cemetery is just 2 kilometers south of the town proper on the national road going to San Pablo. The arched entrance is easy to spot along the roadway. No entrance fee is required when you visit the landmark although the use of flash is not allowed when shooting photos inside the chapel and at the underground chamber.
Cold Springs and Resorts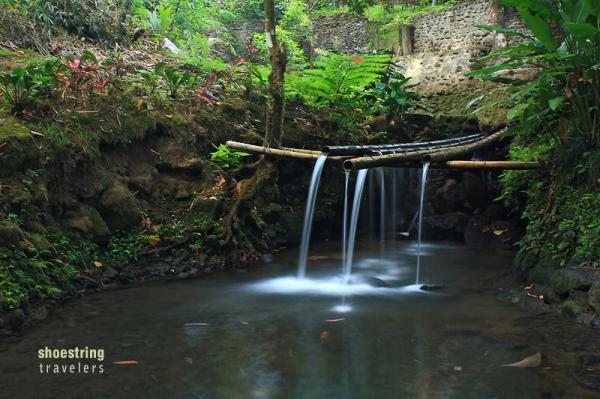 Cold mountain spring at the back of Villa Sotoya Resort.

Our Nagcarlan trip was part of an overnight jaunt through the Laguna towns at the foot of Mt. Banahaw. Deciding where to spend the night was somewhat difficult given the many choices of resorts from San Pablo toMajayjay. Most of these resorts lie along mountain springs and are set amidst the backdrop of a forest or otherwise lush green surroundings. We finally settled for a resort in Nagcarlan where we again had a myriad of options. This being a weekend, we knew for sure that the resorts along the national road would have its share of vacationers so wanting some peace and quiet we settled for Villa Sotoya Resort which is located on an interior road away from the national highway. (Leo was thinking about the new and more elegantly furnished Nagcarlan Forest Resort – also in the interior – but decided otherwise since the rooms did not yet have air conditioning.)
Villa Sotoya is a sprawling resort built along a slope so it required some walking up and down several flights of stairs. It's not a place to die for but we did get a new, comfortable room for 7 people with a hut nearby where we could dine and lounge around. At the back of the resort is a cold mountain spring. Since these were the last days of summer we weren't expecting a huge volume of water in the springs although there was still enough for a refreshing dip. Our friends however did get to enjoy Villa Sotoya's newest pool which was fed directly by water from the springs.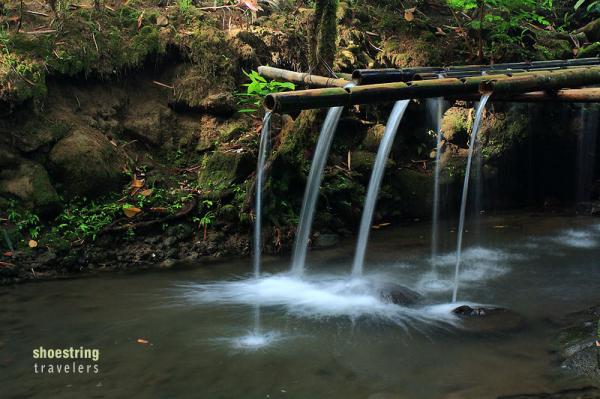 Other Attractions
We didn't stay around long enough in Nagcarlan to see the San Bartolomeor Nagcarlang Church (no wrong spelling here; Nagcarlang is an old name of Nagcarlan's). Like the Underground Cemetery this church was built by Franciscan friars in the 19th century. Usually cemeteries during this period were laid out as an integral part of the church but the Franciscans decided otherwise, building the cemetery a long way off from the San Bartolome church.
Yambo Lake is actually one of the Seven Lakes in San Pablo but part of the lake's banks and about a third of its surface area lie within Nagcarlan. Yambo Lake is also more easily accessible by land from Nagcarlan than from San Pablo. We've encountered road signs in Nagcarlan (including one along the road to Bunga Falls) pointing the way to Yambo Lake but we were planning to go to Pandin Lake in San Pablo instead where one can also cross over to Yambo Lake.
Getting There
Go to this section for directions going to Nagcarlan town proper. Note that Liliw is the next town after Nagcarlan on the way to Majayjay.

Rating:
0 people rated this.