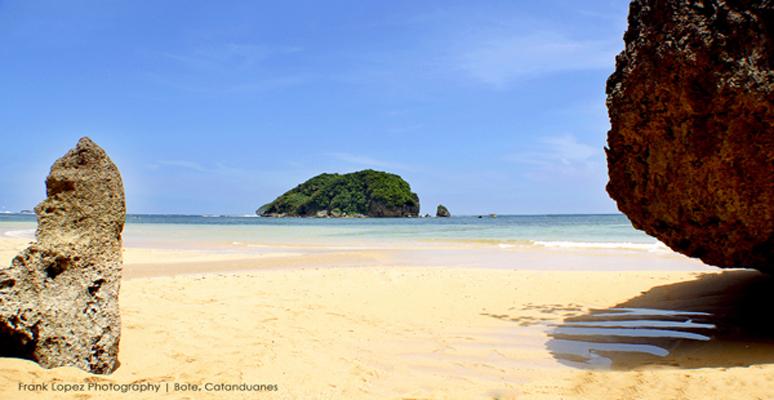 Nagngangang Buwaya (Gaping Crocodile) sits as a rocky outcrop near the shore in Bote, Catanduanes
In 1575 when Fray Diego de Herrera sailed from Mexico, he had with him nine new volunteers of the Order who were going to work in the Philippines. Their ship was the galleon, Espiritu Santo. With passengers and merchandise for Manila, it set sail on 18th November 1575 from Acapulco, Mexico. Little did anyone anticipate that disaster lay ahead.
At midnight on 24th April 1576, in weather that was unusual for the time of the year, the galleon struck the reef of "Nagngangang Buaya" at Batalay, which is a barangay near Bato located at the southeastern coast of Catanduanes. Galleon Espiritu Santo, taken by Fray Diego de Herrera and nine other companies, suffered shipwreck on April 25, 1576 on their way to Cebu because of the negligence of the pilot of the ship and bad weather.
Lives were lost, but some survived including Diego de Herrera and some military personnel. There are a lot of speculations and theories as to what really happened in April 25, 1576. It is possible that the galleon Espiritu Santo was lost on their way to Cebu and ran aground at the coral reefs in Nagngangang Buaya in Bato due to poor visibility caused by fog, or that there was a mutiny inside the galleon. Blaming it to bad weather would be unlikely because April is the onset of the summer season of Catanduanes.
List of accommodations around Catanduanes
Catanduanes Midtown Inn - San Jose, Virac, Catanduanes

Marem Pension House - Sta. Cruz, Virac, Catanduanes

Kemji Resort and Restaurant - San Isidro Village, Virac, Catanduanes

Rakdell Inn - San Pedro, Virac, Catanduanes

Rhaj Apartelle and Executive Inn - Rizal Avenue, Gogon, Virac, Catanduanes

Terrazas de Ponti Mansions - Real Street, Calatagan Proper, Virac, Catanduanes

JM Pension House - Gogon, Virac, Catanduanes

Villa Tolledo Travel Lodge - Sta. Elena, Virac, Catanduanes

Monte Verde Lodge - Danicop, Virac, Catanduanes

Nitto Lodge - Cavinitan, Virac, Catanduanes

Moonwalk Villa Resort - Moonwalk, Virac, Catanduanes
Getting In
By Air
Zest Air flies from Manila to Catanduanes and vice versa daily.

Cebu Pacific flies from Manila to Virac, Catanduanes vice versa every Monday, Wednesday, Friday and Sunday
By Land and Water
Numerous bus lines operate air-conditioned coaches from Manila to Tabaco, Albay with trips running from 9 to 10 hours. Another option is to take RSL bus from Manila to Catanduanes which has ticketing stations at and pick-up stations at Alabang (near Metropolis) or Ermita (Ground Floor, Trade Center, Padre Faura St.)
From the seaport of Tabaco, hop on either at MV Calixta 2, 4 and 5 or MV Eugene Elson to reach the island of Catanduanes via San Andres or Virac seaport.
Getting Around the Island
Tricycle is the primary mode of transport within the capital town of Virac. PUJs and buses ply from Virac to the different municipalities daily on schedule time. For the more daring and adventurous, the entire province could be reached by motorcycle.
Rating:
1 people rated this.