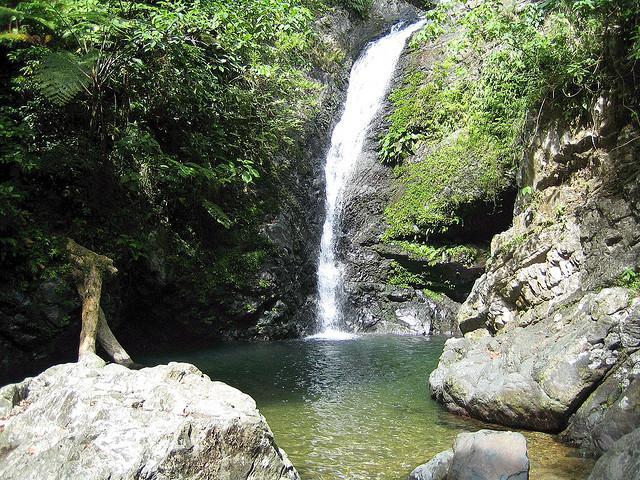 Many have not yet discovered the beauty of Catanduanes. The province is crammed with different attractions that are still undamaged and unspoiled. Nahulugan Falls is one of the systems of waterfalls of Catanduanes. Its simple beauty gives pleasure that only nature can afford to give.
A Day at Nahulugan Falls
Nahulugan Falls have been marveled in secrecy by local and foreign visitors riding in banca (boat) coming from Puraran Beach in the nearby town of Baras to San Pedro, Gigmoto where the falls is located. It is surrounded by lush vegetation and forest. Locals have made the place into a natural picnic ground. Large slabs of flat rocks serve as natural tables.
The water is clear and cool owing to the huge trees that filter much of the sunlight which partly illuminate the place. Large nest ferns sit on the branches of trees, throwing in some shadows, giving the whole area a mystic touch. Every now and then, winged seeds would fall twirling around into the water. With its surrounding forest offering a rich habitat of flora and fauna, visitors are lured to go hiking or trekking; an ideal place for picnic activities, hiking and mountain climbing.
Why Nahulugan Falls?
Legend says that the falls was named after a man and his carabao (water buffalo) fell while crossing the hilltop, out from which waters began to beautifully cascade in three tiers, creating spectacular sprays.
How to get to Catanduanes
By Air: Zest Air and Cebu Pacific fly from Manila going to Virac, Catanduanes.
By Land and Water: Numerous bus lines operate air-conditioned coaches from Manila to Tabaco, Albay. From the seaport of Tabaco, hop on either at MV Calixta 2, 4 and 5 or MV Eugene Elson to reach the island of Catanduanes going to the seaport of San Andres or Virac.
Another way is to take RSL bus from Manila to Catanduanes that has terminals at Alabang near Metropolis or Ermita.
Going around the Island
Tricycle is the primary mode of transport within the capital town of Virac. PUJs and buses ply from Virac to the different municipalities daily on scheduled time. For the more daring and adventurous, the entire province could be reached by motorcycle.
Rating:
1 people rated this.