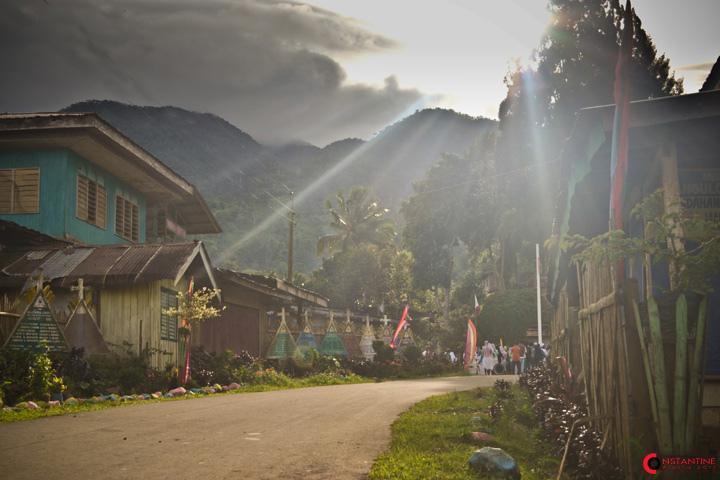 New Israel is a barangay in the Municipality of Makilala in the province of North Cotabato.
New Israel is also called the "New Paradise" by the migrant settlers, the Peace Mission Crusade of the Moncado Alpha and Omega (MAAO). During their arrival in February 9, 1939, these settlers were led by Rev. Maximino Sandot Guibernas, Founder and Director, together with his family, close friends, and associates of the organization.
This place is cold with occasional rainshower mostly in the afternoon. It has a cool mountain breeze that will absolutely refresh you. New Israel is very rural, not a hindrance but a charm of the place. The enviromnent is so calm and peaceful.
Everywhere in this place, you can see lots of monkeys – on the bench, at the fence, on the rooftop, and especially along the road near the Rainbow Shrine and Barangay Hall. In a typical community, there are a lot of dogs. Here, there are a lot of monkeys. The people protect and secure the place so the monkeys can live in a normal way and have a normal habitat. If you see one, you can interact with it and feed it with banana. Monkeys get friendlier if you give them food, right? :) Of course, there are also those monkeys who are snobbish or aggressive, which the townspeople call "rebelde" or rebels. Just be careful when you play with them because you don't know how temperamental these monkeys could get.
In New Israel, you can also see lots of fireflies every night. You can see them in the trees, their lights turning on and off as they fly. The trees look like magical trees because the fireflies give them shimmering and glowing lights.
Other tourist attractions near New Israel are the stream, rubber tree plantation, and a peak. Local people throw coins into the "sapa" or stream before do anything because they believe it is mystical. It's their way to show respect and to ask permission from the spirits of the river. Going to the rubber tree plantation is like an educational hike where you will be able to understand the process of making rubber.
The Moncadistas, their practice, the Rainbow Shrine, and other images and physical manifestations of their belief in the power Alpha and Omega render the place mystical. They have respect for nature and whatever or whoever the unseen guardians of the place are.
New Israel has a potential to be eco-tourism destination.
Rating:
10 people rated this.