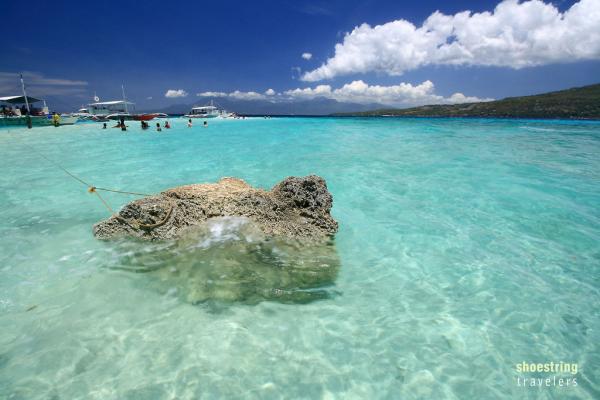 You may also check these sites:
https://www.shoestringtravelers.com/?q=node/110
https://shoestringdiary.wordpress.com/2015/06/03/the-gentle-giants-of-oslob/

Whale shark watching was far from our minds when we started planning for a family outing to Dumaguete and Negros Oriental with Leo's mom, sisters and nephew. We had originally planned to go to the Twin Lakes of Balinsasayao and Danao in Sibulan and possibly the Pulang Bato Falls in Valencia in addition to the dolphin-watching tour at the Tañon Strait off Bais and the Manjuyod Sandbar. But while doing our research we realized that Oslob, Cebu is just a short ferry and bus ride away from Sibulan port in Negros Oriental. That place has been getting a lot of attention lately because of its whale shark or butanding encounters.
We reasoned that we could always go back to Dumaguete and try the Twin Lakes and Pulang Bato Falls and even the Casaroro Falls in Valencia some other time. A whale shark encounter is a different animal (no pun intended) and with Leo's mom in her 80's, we weren't sure if she would get another chance to encounter whale sharks in the wild again. Eventually the trip to Oslob became numero uno on our itinerary after landing at Sibulan Airport and settling down at a hotel in downtown Dumaguete City.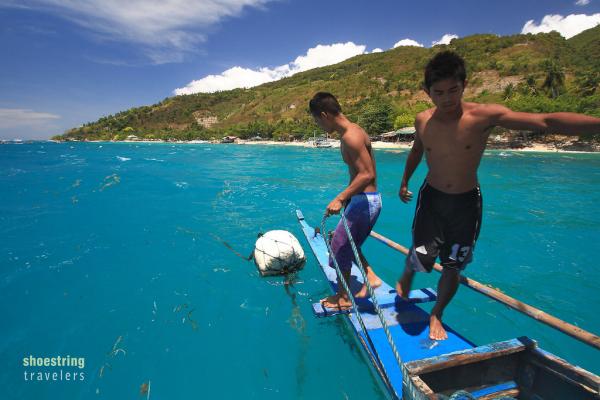 View of the Oslob beachfront from a boat
Oslob Whale Shark Watching
Getting to Oslob from Dumaguete was surprisingly easy and fast (see directions for getting there below). At barangay Tan-awan there are several resort to choose from that will provide boats, guides, lifejackets, goggles and other stuff you will need for the encounter with the whale sharks. We chose BCD's Place and after paying them and changing to our swimming attire and donning life vests we hustled off to a small building at the beach for a short briefing along with other visitors. And then we were guided to our boat; there were six of us which was just about the maximum number that could be accommodated on these small craft plus two boatmen/guides.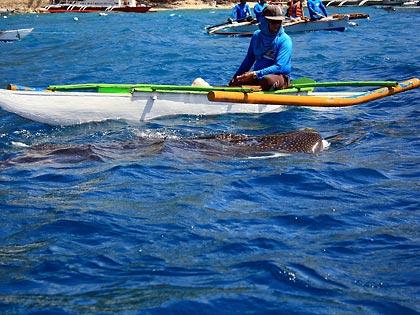 Boats involved in whale shark watching are all hand-paddled.
Like other boats carrying whale shark watchers, our boat was hand-paddled (it didn't have a motor and propellers – probably for the protection of the whale sharks) to a few hundred meters off the beach. Suddenly our boat companions shouted and pointed to a "small" whale shark on the surface close the nearest boat. That boat was dumping buckets of krill that the whale shark was swimming after and feeding on. (Probably the reason why whale shark sightings are practically guaranteed here compared to other places such as Donsol and Southern Leyte). This practice has generated controversy because, as others have warned, it fosters dependency by the whale sharks on people and interfered with their feeding and migratory patterns. Other than this it seems the whale sharks here are protected. There are strict rules and procedures in place such as no touching of whale sharks, no swimming closer than 4 meters from the huge fish and no putting on of sunblock lotion (which is toxic to the sharks).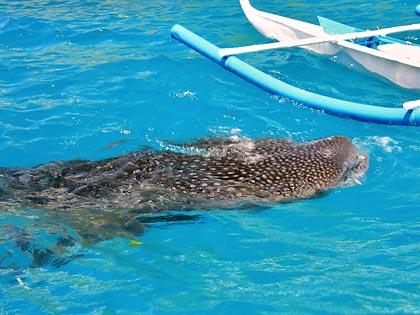 You can already have a good view of the whale sharks from the boat because the waters off Oslob are quite clear. But snorkeling underwater will give you an even more dramatic view. You won't really realize how big these guys are until you see them below water level since some are feeding from a nearly vertical and stationary position. Their size can be intimidating and we were particularly wary of getting accidentally sideswiped by their huge tail fins. Whale sharks however pose no significant danger to humans and are docile or gentle animals. Younger whale sharks even play with divers at times. Occasionally adult whale sharks will even allow swimmers to catch a ride. The latter though is discouraged by conservationists and scientists because of the potential disturbance to the shark. A few years ago the social media picture of a tourist using a whale shark as a paddle board generated such a storm of protest (and rightly so) that the owner of the photo had to remove it.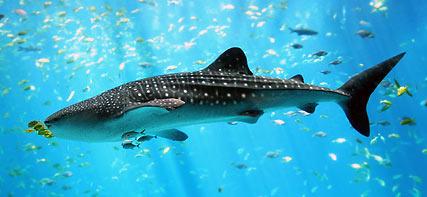 View of a whale shark underwater. Photo courtesy of Wikipedia Commons.
Whale shark watchers are only allowed up to 30 minutes for the interaction but this can be stretched out to 45 minutes on weekdays as what happened in our case. Whale shark watching hours are limited from 6:00AM to 12:00 PM. We had timed our arrival at Oslob so that our whale shark watching was over before 11AM. We had also ordered packed lunch at the beachfront earlier to bring to our next destination: the sandbar at Sumilon Island.

*CONTINUE*

Rating:
0 people rated this.