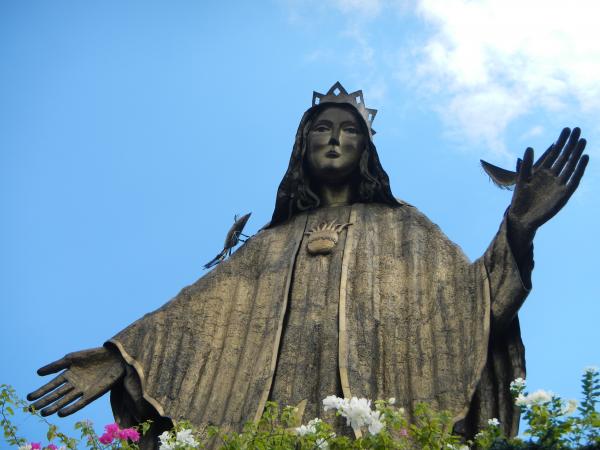 Another product of the EDSA Revolution is the Our Lady of EDSA Shrine, located at the crossroads of EDSA and Ortigas Avenue. It was built by grateful Filipinos to honor the Virgin Mary for her protection and guidance during the world-renowned bloodless ouster of the Marcos dictatorship that led to the return of democracy in the Philippines.
The idea of a commemorative shrine was conceived by Cardinal Sin two days after the Marcos family fled into exile in 1986. He approached the Ortigas and Gokongwei families who agreed to donate the prime corner lot where the nuns and ordinary men and women bravely stood in front of military tanks and offered flowers to the soldiers.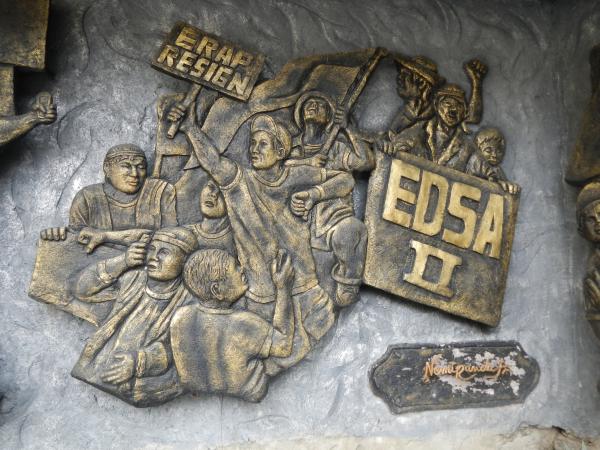 Architect Francisco Mañosa created the architectural and structural design for the church, with preparatory work from national artist Leandro Locsin and Architect William Coscolluela. Throughout the plaza are the 14 Stations of the Cross as rendered in bronze by national artist Napoleon Abueva. The imposing bronze image of the Our Lady of Queen of Peace, sculpted by Virginia Ty-Navarro.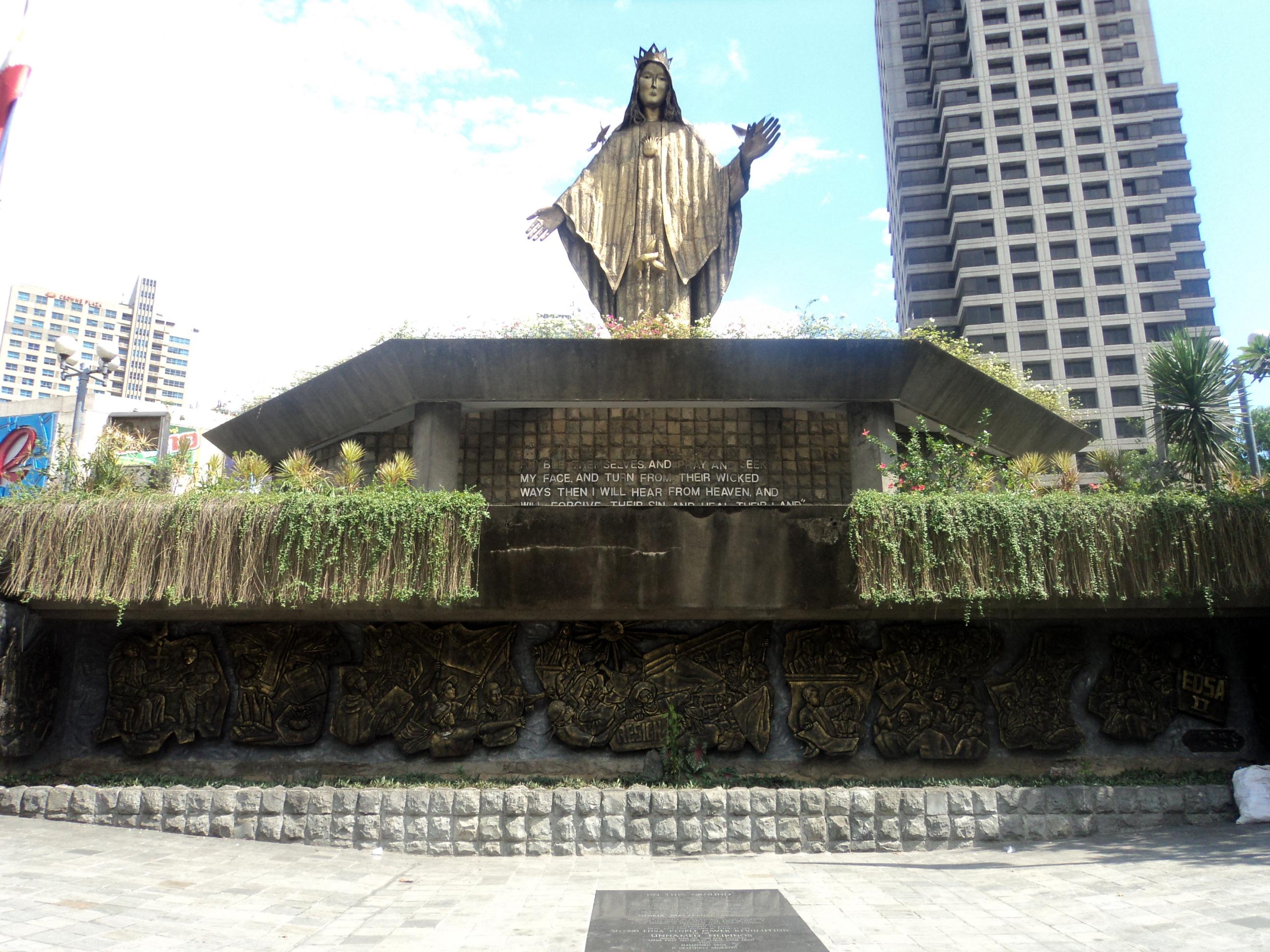 People Power Revolution
The People Power Revolution (also known as the EDSA Revolution and the Philippine Revolution of 1986) was a series of popular demonstrations in the Philippines that began in 1983 and culminated in 1986. The methods used amounted to a sustained campaign of civil resistance against regime violence and electoral fraud. This case of nonviolent revolution led to the departure of President Ferdinand Marcos and the restoration of the country's democracy. It is also referred to as the Yellow Revolution due to the presence of yellow ribbons during the demonstrations and the arrival of then assassinated Benigno Aquino, Jr. It was widely seen as a victory of the people against the 20-year running authoritarian, repressive regime of then president Ferdinand Marcos and made news headlines as "the revolution that surprised the world".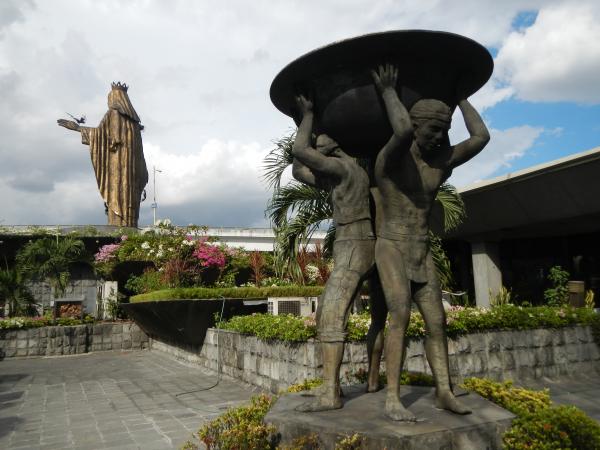 The majority of the demonstrations took place on a long stretch of Epifanio de los Santos Avenue, more commonly known by its acronym EDSA, in Metropolitan Manila from February 22–25, 1986 and involved over two million Filipino civilians as well as several political, military, and including religious groups led by Cardinal Jaime Sin, the Archbishop of Manila. The protests, fueled by the resistance and opposition from years of corrupt governance by Marcos, culminated with the departure of the dictator from the Malacañang Palace to the United States state of Hawaii. Corazon Aquino was proclaimed as the legitimate President of the Philippines after the revolution.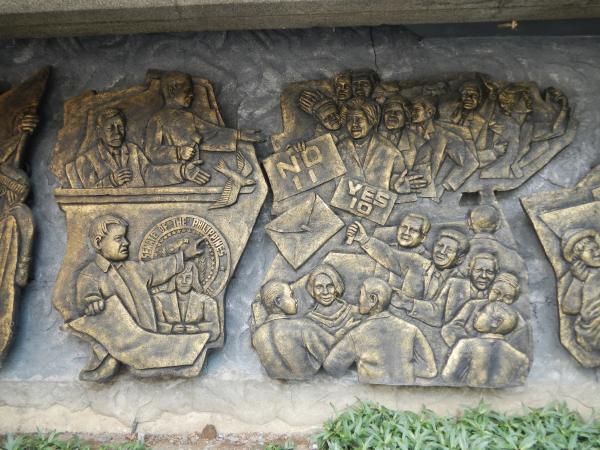 On 25 February 2015, the Philippines celebrated the 29th anniversary of the People Power Revolution.
Where to stay
Here is the list of some of the accommodations that can be found around the city of Quezon. It offers good services and comfortable rooms for all visitors.
Imperial Palace Suites - Timog Avenue Corner Tomas Morato Avenue, 1103 Quezon City

Torre Venezia Hotel - 170 Timog Avenue cor Scout Santiago St.,, 1100 Quezon City

Dangay Suites - 99-A Dangay Street, 1105 Quezon City

Eurotel Araneta Center, Cubao - General Araneta Corner General Roxas Streets, 1109 Quezon City

The Sulo Riviera Hotel - Matalino Road, Diliman, Quezon City

Sir William's Hotel - 39 Timog Avenue, 1103 Quezon City

Lemon Tree Inn - 18 Scout Magbanua Street near corner of Quezon Avenue, Barangay Paligsahan,, 1103 Quezon City

Robbinsdale Residences - # 14 Araneta Ave. corner Palanza St., 1113 Quezon City

Mezza Residences Condote - Aurora Boulevard Corner Araneta Avenue, Guirayan Street, Barangay Dona Imelda, 1000 Quezon City

La Breza Hotel - Mother Ignacia St., 7876 Quezon City

Crowne Plaza Galleria Manila - Ortigas Avenue corner ADB Avenue, 1100 Quezon City

Eastwood Richmonde Hotel - 17 Orchard Road, Eastwood City, Bagumbayan, 1110 Quezon City

Stone House Bed and Breakfast Quezon City - 1315 E. Rodriguez Avenue, 1100 Quezon City

Fersal Hotel - Annapolis - 49 Annapolis Street, Cubao, 1100 Quezon City

The Oracle Hotel - 317 Katipunan Avenue, 1600 Quezon City
Getting around the city
Public transportation within the city, like in most of the urban areas in the Philippines, is facilitated mostly using inexpensive jeepneys and buses. Tricycles give access to more secluded areas, while taxi cabs are available to navigate any course.
This City has 3 Circumferential Roads. The following are:
C-3: Sgt. Emilio Rivera Avenue and Araneta Avenue

C-4: Epifanio de los Santos Avenue or EDSA

C-5: Mindanao Avenue, Tandang Sora Avenue, Congressional Avenue Extension, Katipunan Avenue and E. Rodriguez Avenue
Railway
Currently, two elevated light rail systems and one heavy rail system run through Quezon City: LRT 1 – at EDSA (C-4) connecting North Avenue and Baclaran (Manila) LRT 2 – at Aurora Boulevard (R-6) connecting Santolan (Pasig City) and C.M.Recto Avenue (Manila), and MRT 3 – at EDSA (C-4) from Taft Avenue (R-2 in Pasay City) to North Avenue.
An elevated rail transit system (MRT-4) that was supposed to follow the general alignment of Quezon and Commonwealth Avenues (R-7) was shelved. In its place, a 22 kilometer rail system will be built. The MRT-7 project will commence at North Avenue, connecting the MRT-3 at its northern terminus. It will then go through Commonwealth Avenue, then through Regalado, Quirino Highway, ending in San Jose del Monte, Bulacan. The system has a proposed spur line to connect itself to MRT-2 in Katipunan, passing through the University of the Philippines Diliman and Katipunan Avenue.
The following elevated railway stations in the city (Only 13 Stations):
MRT-3 (with 5 Stations):

North Avenue- (Connected to LRT-1 Yellow Line)

Quezon Avenue

Kamuning

Araneta Center-Cubao- (Connected to LRT-2 Purple Line)

Santolan

LRT-2 (with 5 Stations):

Gilmore

Betty Go-Belmonte

Araneta Center-Cubao- (Connected to MRT-3 Blue Line)

Anonas

Katipunan

LRT-1 (with 3 Stations)

Balintawak

Roosevelt

North Avenue- (Connected to MRT-3 Blue Line)
Rating:
2 people rated this.