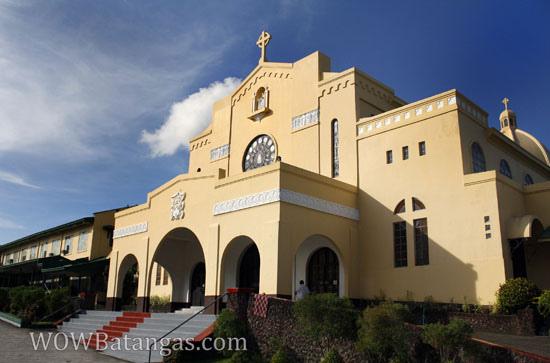 Overview
Lipa City in Batangas has become a sprawling and bustling community, but at the heart of it all is a magnificent church where anyone can find peace and serenity. The Convent of the Contemplative Order of Our Lady of Mt. Carmel is definitley famous amongst Batanguenos and perhaps to most Filipinos because this was the site of the mysterious shower of rose petals decades ago.
Carmel, as the church is commonly called, was founded on May 31, 1946, just a year after World War II left the town of Lipa in ruins (Lipa bounced back heavily and was made city in August 1947, after the Japanese killed more than 20,000 innocent Lipa natives, with more casualties resulting from massacres carried out by the Japanese when they were losing the war against the Americans in the ending years).
Through the initiative of Bishop Alfredo Versoza and then auxiliary Bishop Alrfredo Ma. Obviar (who was the first father and chaplain of the monastery), the sisters from Carmel Manila left for their new monastery in Lipa on the same day Carmel Lipa was founded, which was the feast day of the Blessed Virgin Mary, Mediatrix of All Grace. This is primarily the reason why the Carmel has been associated with several forms of the Virgin Mary.
Although veneration of Our Lady Mediatrix of all Grace was permitted by Bishop Verzosa, the Philippine church hierarchy declared in 1951 that "there was no supernatural intervention in the reported extraordinary happenings including the shower of rose petals in Lipa." Bishop Rufino Santos, who became apostolic administrator after Bishop Verzosa, ordered that 1) no petals be given to anyone by the Lipa Carmelite community; and 2) the statue of Our Lady of Mediatrix be withdrawn from public view.
While the committee of bishops appeared unanimous in their conclusion that Lipa was fraudulent, several of them confessed before they died that they too had been coerced, signing the negative "findings" only under threat of excommunication.
In 1992, Msgr. Mariano Gaviola, archbishop of Lipa, granted permission to display again the image of the Mediatrix of all Grace. In 1993, he declared his personal conviction that the Lipa apparitions were worthy of belief.
For like three years now, the Carmel church has been the site National Marian Congress or the National Pilgrimage to Lipa. Thousands of Marian devotees attend this special Marian day every 12th day of September.
Accommodations
Location: 119 Barangay Tipakan, Lipa City, Batangas, Philippines
Location: Kilometer 84 President J.P. Laurel Hi-way, Pilahan, Lipa City, Batangas, Philippines
Location: Barangay San Carlos, LIPA CITY, Lipa City, Batangas, Philippines
Location: Pastor Village, Pallocan West, Batangas, Philippines
Location: Banga Talisay, Batangas, Philippines
How to Get There
By Car
From Manila, drive going to SLEX (South Luzon Expressway) and STAR Tollway (Southern Tagalog Arterial Road) then drive going to Lipa City (Tambo/Lipa) Exit.
By Bus
There are a lot of bus terminals that can be found in Manila that offer trips going to Lipa City (Lipa-Tanauan). At the Lipa bus stop, tricycles and jeeps are can take you to the church.
Once the bus takes the Star Tollway at Tambo/Lipa Exit, you can ride in a jeep to your destinations in Lipa.
Rating:
0 people rated this.