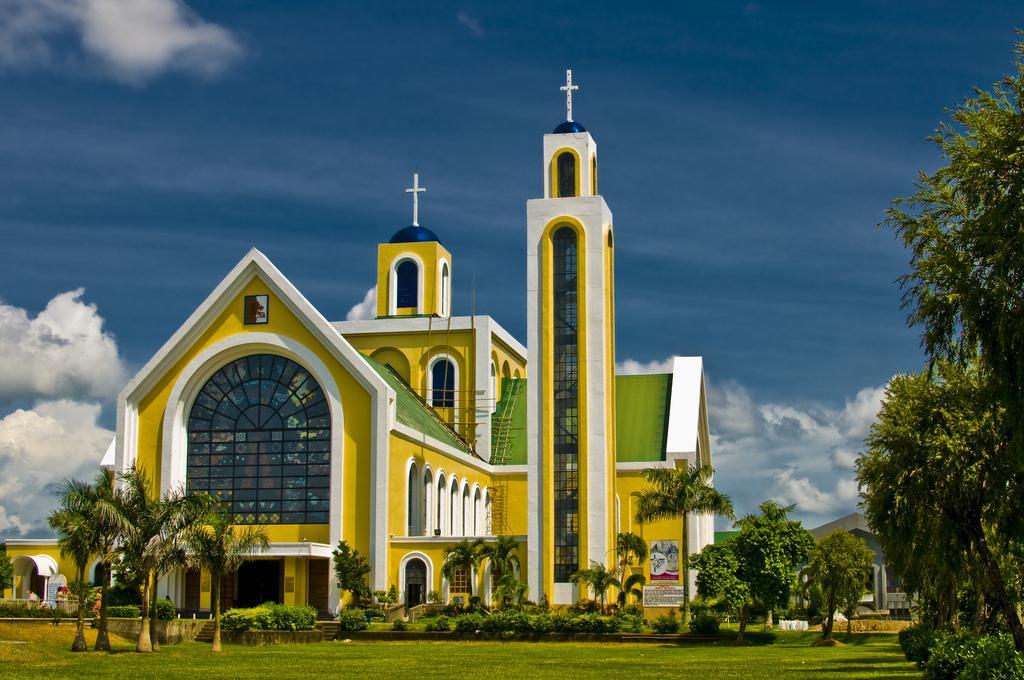 Our Lady of Peñafrancia (Spanish: Nuestra Señora de Peñafrancia) is a wooden statue of the Blessed Virgin Mary originally from Salamanca, Spain. Tens of thousands of pilgrims, devotees, and tourists come to Naga City every September for a nine-day festivity in honor of Our Lady of Peñafrancia, the Patroness of Bicol, endearingly addressed by Bicolanos as "Ina" (mother).
History
Our Lady of Peñafrancia Church was built in 1711 by Rev. Miguel Covarrubias. It houses the image of Our Lady of Peñafrancia. He constructed this church in fulfillment of the vow he made during his youth. The second church was built by Bishop Isidoro de Arevalo in 1750, which was then repaired and improved by Bishop Francisco Gainza in 1876-1877. The image was solemnly crowned by the Rt. Rev. Guillermo Piano on September 20, 1924.
The concept for the building the Basilica Minore came from Archbishop Pedro P. Santos in 1960. Construction began on April 18, 1976, but was delayed for a number of years due to finance problems and was not completed until September 1981.
On May 22, 1982, it was dedicated as The Church of Nuestra Señora de Peña de Francia and it wasn't until May 22, 1985 that the church was given the title of "Basilica Minore" from Rome after a request from the third Archbishop of Caceres, Leonardo Z. Legaspi.
The Peñafrancia Basilica Minore houses an image of the Virgin Mary that was sculpted in 1710. It was commissioned by Miguel de Cobarrubias who moved to the Philippines from Spain with his family, and believed that the Virgin Mary had helped him numerous times in his life.
Features
The Peñafrancia facade is distinctly neoclassical, decorated as it is with numerous Christian symbols. The Central doorway is crowned with a glass-enclosed niche in which stands the statue of the Blessed Virgin. Windows open to each side of the niche, both accessible from the choir loft. Plain and thick white pilasters rise to the pediment, dividing the church vertically. A decorative urn sits to the left of the triangular pediment, which is capped by a belfry.
The Church's hand-painted ceilings and fine architecture has been preserved for the appreciation of the devotees and visitors.
Location
The Church is located on Peñafrancia Avenue, Naga City, Camarines Sur.
How to Get There
By Air
The province of Camarines Sur can be reached by plane within a flying time of 45 minutes. Flights are serviced by the Air Philippines (Pal Express), Zest Air, and Cebu Pacific from Manila to Naga City Airport (the capital of the province). Riding a plane is the quickest way to go to the province.

By Land
Aircon and non-aircon buses like PhilTranco, Isarog Bus Co., and Peñafrancia Bus Lines ply daily through the Quirino Highway from Manila to Naga.

Going around
You can roam around Naga City just by foot. If you don't prefer walking, tricycles and jeepneys are the main transportation. Taxis are also available. Trisikad, padyak, or manpowered tricycles are also available in areas that mostly aren't included in jeepneys and tricycles routes.
Buses, vans and jeepneys are mostly used in traveling outside the city and going to other towns of Camarines Sur. Taxis are available as well, but with double charge or price depending on your negotiation with the driver.
Where to stay
• Travel Suite - 45 Almeda Road, San Felipe, Naga City - Camarines Sur, Bicol
• Kayumanggi Resort - Carolina, Pacol, Naga City - Camarines Sur, Bicol
• Stonehouse Gardens Resort - Zone 5, Brgy Panicuason, Naga City - Camarines Sur, Bicol
• JoMckayl Apartelle - San Sebastian Street, Isarog Avenue, Naga City - Camarines Sur, Bicol
• Spring Valley Garden Resort - Del Rosario, Naga City - Camarines Sur, Bicol
• Del Rosario, Naga City - Camarines Sur, Bicol - 1010 San Felipe Road, Naga City - Camarines Sur, Bicol
Rating:
0 people rated this.