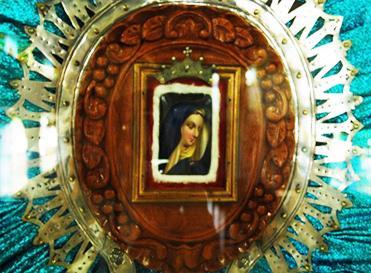 According to beliefs, the sacred mystical image of "Dolor" (Our Lady of Sorrows) was found colorfully imprinted/etched on a piece of stone near a flooded stream in the forest in the remote and sparsely populated sitio of Batong Paluay about few kilometers from the poblacion (town proper) in the municipality of San Andres a hundred years ago. Believed to be miraculous, the image's early display of "wonders" attracted flocked of devotees and believers from nearby and distant places.
The image is believed to progressively increase in sized over the years. At present, one can view the image with bare eyes unlike before, when one had to use a magnifying lens. Its repository has been replaced three times to accommodate the increasing size of the miraculous stone. In the early 1970s, the venerated image of our Lady of Sorrows, Nuestra Señora de Dolores of Batong Paluay, was formalized as the second patron saint of the town next to San Andres the Apostle. A chapel was built to house the miraculous stone icon and as a place of devotion for believers. Today, a mass is being heard every Friday afternoon as devotees flock the chapel regularly to pray the rosary and novenas. Every Lenten Week, people from different places come to celebrate as part of their Visita Iglesia.
Location
The chapel is located at Batong Paloway in San Andres, Catanduanes.
How to get there
By Air
Zest Air and Cebu Pacific fly from Manila going to Virac, Catanduanes.
By Land and Water
Numerous bus lines operate air-conditioned coaches from Manila to Tabaco, Albay. From the seaport of Tabaco, hop on either MV Calixta 2, 4 ,and 5, or MV Eugene Elson to reach the island of Catanduanes going to the seaport of San Andres or Virac.
Another way is to take RSL Bus from Manila to Catanduanes that has terminals at Alabang near Metropolis or Ermita.
--- If you get off at Virac, then going to San Andres will take about 35-45 minutes by jeepney or tricycle.
Going around the Island
Tricycle is the primary mode of transport within the capital town of Virac. PUJs and buses ply from Virac to the different municipalities daily on scheduled time. For the more daring and adventurous, the entire province could be traveled by motorcycle.
Where to stay
• Terrazas de Ponti Mansions - Real Street, Calatagan Proper, Virac, Catanduanes
• JM Pension House - Gogon, Virac, Catanduanes
• Villa Tolledo Travel Lodge - Sta. Elena, Virac, Catanduanes
• Monte Verde Lodge - Danicop, Virac, Catanduanes
• Nitto Lodge - Cavinitan, Virac, Catanduanes
• Moonwalk Villa Resort - Moonwalk, Virac, Catanduanes


Rating:
2 people rated this.