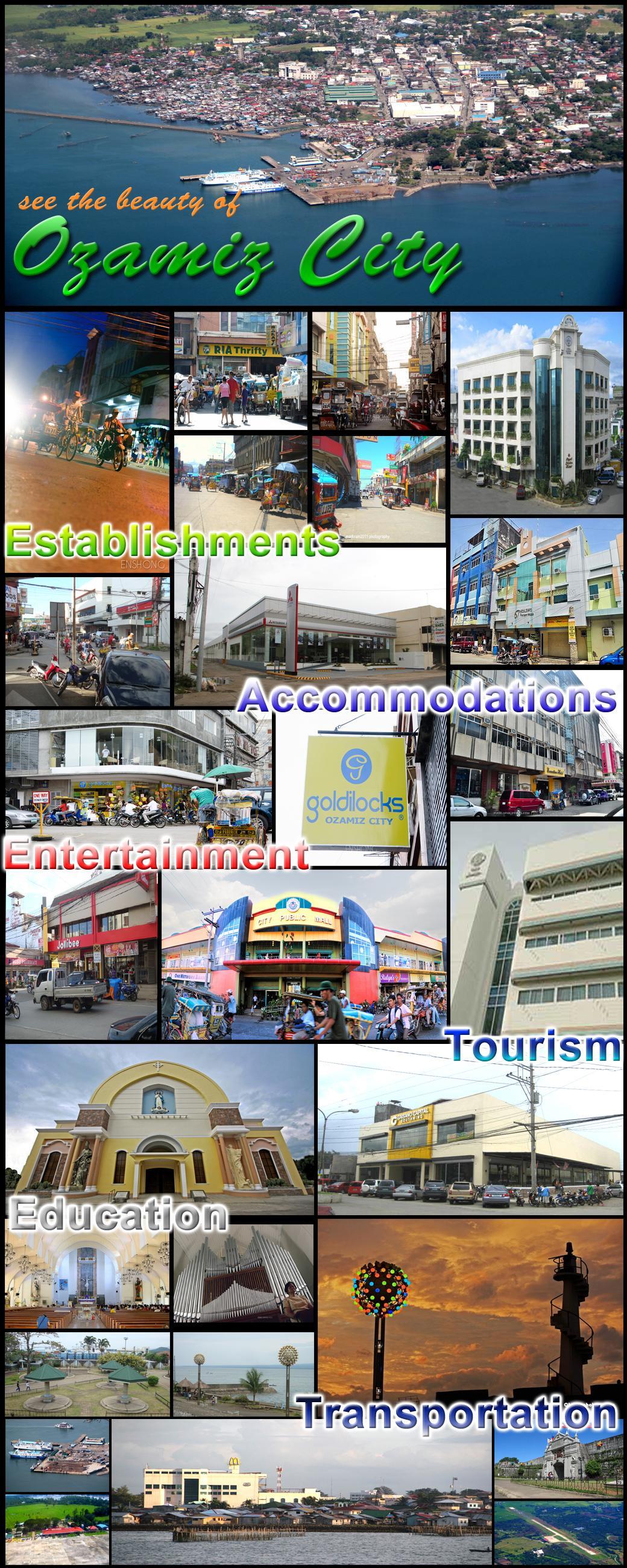 Economy – Ozamiz City is agricultural by resources, but it has become the center for Commerce, Health, Transportation and Education in this part of Mindanao, considering its strategic location and its peaceful atmosphere. The city has good harbor location, its local port is the principal outlet of mineral deposits, agricultural and forest products of the provinces of Zamboanga del Norte, Zamboanga del Sur, parts of Lanao del Norte and Misamis Occidental.
Agriculture – Agriculture is a major economic activity in the city. Seventy four percent of its land area is devoted to agricultural use. Roughly 19 thousand hectares are croplands of which 81% are planted with coconut (14,500 hectares), corn (1,900 hectares), and palay (970 hectares).
Some farmers in recent years have shifted to the growing of high value commercial crops. A number of individuals have ventured into orchards in particular mango and banana. The city government supports such activities by providing good quality planting stocks.
Livestock growing is primarily on the backyard scale. But poultry raisers are now engaged in contract growing for brand name producers of broiler chicken like Magnolia, Purefoods and Swift.
Fishery – Panguil Bay is a rich source of fishery and marine products. The bay is considered to be one of the richest fishing grounds in the country and is a major source of livelihood for many for artisanal fishermen from Ozamiz as well as the neighboring provinces of Lanao del Norte, Misamis Occidental and Zamboanga del Sur.
Guso or seaweed farming is also an important economic activity in the bay. About 160 hectares of Panguil Bay is used for growing guso. Some sections of the bay are also utilized for fishponds that produce bangus and prawn products.
Overfishing and the use of illegal and harmful fishing methods are major threats to the bay's productive existence. The sustainable use of the fishery resource of the bay is a concern currently being addressed both by the city and national governments.
Trade and Industry – Cebu and Manila are the major markets for the city's agricultural and aquamarine products. Its well established sea links to these areas facilitate transport of local produce.
Environment and Natural Resources – The city has about 1,050 hectares of forests. These are found in barangays Stimson, Abordo, Trigos, Guingona and Guimad. These forested areas, which forms part of the Mt. Malindang National Park, is home to the Philippine Eagle and other wildlife such as wild pigs, monkeys, snakes, hornbills, among others. Tree species like the white Lauaan, Tanguile, Makausim or Polayo, Mayapis, Bagtikan, and Almon Natto are also found there.
There are also upland areas with natural and scenic values worth preserving. These include the Labo River Canyon, Tipan Ridge and Waterfalls as well as the Guimad, Tipan and Gala Heights. These were once forested but the trees are now gone as settlers have moved in to do farming activities in these locations.
Gifted Name – The city of Ozamiz grew out of an old Spanish town called Misamis—a name believed to have been derived from the Subanen word "Kuyamis," a variety of coconut. Other unverified historical sources, however, suggest that the name Misamis came from "Misa" after the Catholic Mass. The origin and the growth of the old Spanish town, Misamis, was due to the presence of the Spanish garrison stationed at the stone fort named Nuestra Senora dela Concepcion del Triunfo which was constructed sometimes the 18th century in order to control the piratical activities originating in the nearby Lanao area. In 1850, the town of Misamis became the capital of the District of Misamis.
Notable Events and Festivals – The feast of Our Lady of Triumph at Cotta Shrine is celebrated every July 16 which is also the Charter City anniversary. Subayan Keg Subanon festival is also held on the same day. The Cotta entertainment area has free live band concerts and other musical variety shows each weekend. Fireworks displays are held at Cotta during Fiesta and holidays. It can be seen across Panguil bay as far as Lanao Del Norte.
The feast of Immaculate Conception is celebrated every December 8 while every 4th Sunday of January is the Sr. Sto. Nino Fluvial Parade held at Panguil Bay. Balanghoy Festival is held annually at Cotta area.
Places of Interests
Cotta Fort and Cotta Shrine – a fort built in 1755 by Father Jose Ducos to serve as a Spanish outpost in the area. A special chapel was built inside the walls of the fort and an image of the Virgin of the Immaculate Conception, in the pink and blue attire, was enshrined in the chapel and outside the fort on the wall facing the bay, was a carved image of the Virgin Mary. The image on the Cotta's wall is believed to be miraculously growing and has been the object of pilgrimage. The fort was renovated and restored to its original design in 2006.

Bukagan Hill – has a view of the city, Panguil bay, the provinces of Lanao del Norte and Zamboanga del Sur. There are four great bells at the top of Bukagan Hill. The bells were named after "St. Peter", "St. Marien", "St. Joseph" and "St. Michael" and were originally purchased by Bishop Patrick Cronin, D.D. for the Immaculate Conception Cathedral. However, the bells weigh 7 tons and were found to be too heavy and too large for the cathedral's belfry. The people felt that it was very expensive to construct a special belfry for them considering that a lot of fund raising effort was made for the building of the cathedral and the installing of the pipe organ. It was through the efforts of then City Mayor Fernando T. Bernad that the bells were finally given a place at the Bukagan Hill. With the help of Jesus Y. Varela, the huge bells were installed in Bukagan Hill Bells and officially inaugurated on July 16, 1948.

Naomi's Botanical Garden and tourists Inn – sits on a 12 hectare property of local and imported tropical flowers, plants and fruit seedlings. There are fully air-conditioned private rooms, Function halls, tennis court, Golf range, ceramics factory, pottery and a bakery inside this sprawling garden.

Mt. Malindang Golf and country Club – this is a pre-war army facility converted into a golf course located in Bagakay at the foot of Mount Malindang.

Immaculate Conception Pipe organ – found in the choir loft of the Immaculate Conception Cathedral, is the only existing pipe organ in Mindanao and one among the few throughout the country. An Irish Columban priest, Father Sean Lavery, who was in charge of the liturgical and musical development in the Immaculate Conception Cathedral realized the need for an organ. Funds were raised through donations and a musical extravaganza organized by the parish raised enough money to buy the pipe organ. Father Lavery asked the help of a German priest, Father Herman Schablitzki S.V.D., who came to Ozamiz City to get the specification needed to guide the organ builders in Germany. Father Schablitzki himself, assisted by one carpenter and one electrician, assembled the organ in six weeks and it was completed on May 31, 1967. It was inaugurated on July 16, 1967; the feast day of Our Lady of Mount Carmel.

Gaisano Capital Mall is the biggest mall in the city, followed by the Geege Mall which is located at Burgos St., it has a supermarket, department store, three cinemas, specialty stores, bingo plaza, food court, video game arcade. Ozamiz Shopper's Plaza houses a department store and a supermarket.
How to get there
By Air: Cebu Pacific Air's direct Manila-Ozamiz.
By Sea: There are several major shipping lines serving the Manila and Cebu routes namely: Superferry, Cebu Ferries, Trans-Asia Shipping Lines, Carlos A. Gothong Lines, Sulpicio Lines and Negros Navigation. Cokaliong Shipping Lines sail three times weekly Ozamiz to Cebu routes. Local shipping lines like Daima have trips from Ozamiz to Mukas, Kolambugan, Lanao del Norte routes through Roll-on/roll-off (RORO) ferries that transport passengers, cars/trucks and goods across Panguil bay.
By Land: Rural Transit, Super Five Transport, & Lotradisco is the dominant public land transport to Iligan City, Cagayan de Oro City, & Kapatagan, Lanao del Norte ferrying across the Panguil Bay and to Pagadian City, Dipolog City, and Dapitan City. The public mode of transportation within the city is by trisikad/pedicab and motorized tricycle. Passenger Vans, Ordinary Jeepneys, & Multicab Jeepneys are also available for Oroquieta, Dipolog, Molave, Calamba, Jimenez, Bonifacio, Tangub, Don Victoriano, Tudela, Clarin, Plaridel, Lopez Jaena, Baliangao, Concepcion, Sinacaban, Panaon, & Sapang Dalaga routes.
Rating:
0 people rated this.