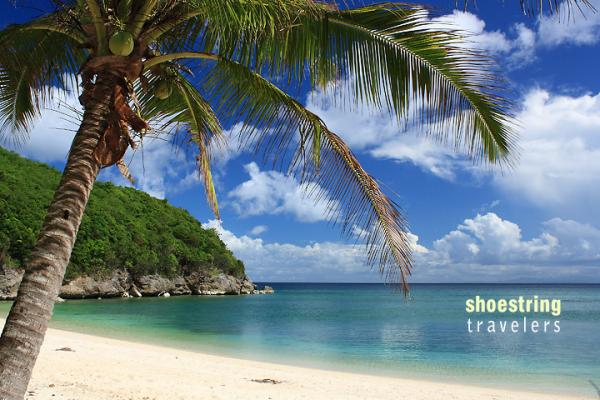 You may also check these sites:
https://www.shoestringtravelers.com/?q=node/52

Coming from our lunch stopover and beach bumming stint at Dampalitan Island in Padre Burgos, our outrigger boat made its way around the southern end of Lipata Island towards the southeastern coast of Pagbilao Grande Island. As we sailed along this part of Pagbilao Grande, a long row of beautiful white sand beaches and coves separated from each other by towering rock formations came into view. We thought for a moment that one of them must probably be our target destination but our boatman said no,Kwebang Lampas and its companion beach is further out. We had just sailed past the last white sand beach when the boat made a turn and headed out towards a cove that was until then hidden from view by limestone cliffs acting like sentinels on both ends of the cove.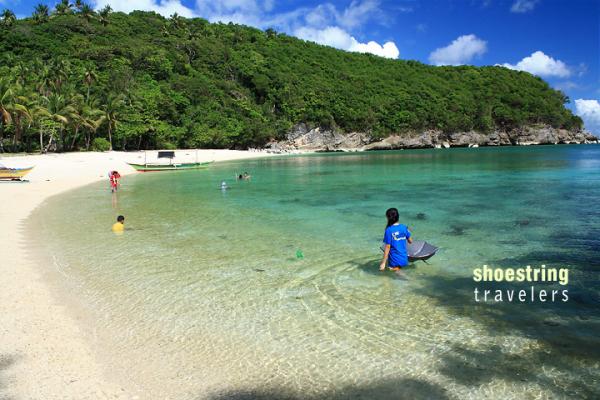 We learned from the locals that Puting Buhangin is really a series of white sand beaches on Pagbilao Grande Island.
This beach – the site of Kwebang Lampas – is just one of them.
We've seen pictures of this cove before but were surprised to discover how beautiful it is in real life. Maybe because we didn't have high expectations after having visited some of the most beautiful beaches in the country butPuting Buhangin ("white sand" in Filipino) is the most scenic of all the beaches we've covered on our Padre Burgos-Pagbilao trip. People on the Internet have often referred to this particular cove as Puting Buhangin but our boatman said that the name Puting Buhangin refers to the whole row of beaches and coves on Pagbilao Grande Island that we've seen on the way here. It was just a pity we had the time to stay in only one since the other beaches also look nice.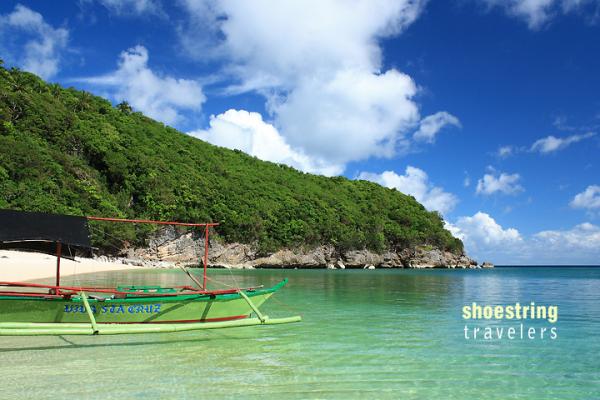 This particular beach is also called Lukang Beach by the locals after its owner.

Locals call the beach where we landed Lukang Beach after its owner - a Chinese businessman based in Lucena City. Its fine white sand and crystal clear emerald waters enticed us into spending considerable time lazing around and taking photographs. The area immediately in front of the beach is clear of rocks and coral and therefore ideal for swimming although one can venture into the rocky areas on both ends of the cove for some snorkeling.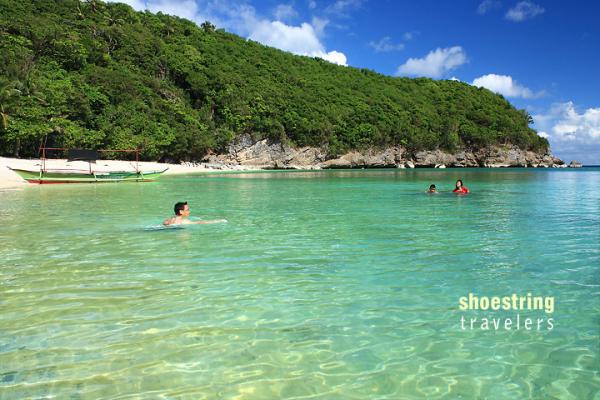 Crystal-clear emerald waters beckoning a nice dip.

There's an entrance fee of P50 here and some cottages for rent. But the shade under the trees was perfect with a thin carpet of Bermuda grass lining parts of the sandy ground so we chose a nice spot to place our things and to take our snack for the afternoon. There was only one other group in the cove, otherwise we pretty much had it all to ourselves.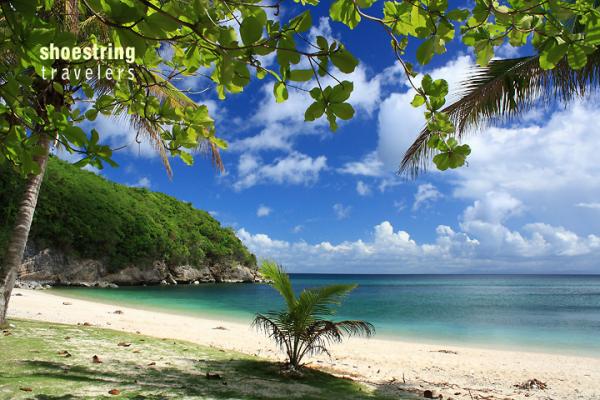 The Bermuda grass under the shade of the coconut palms was a pleasant surprise. We didn't have to rent one
of the beach huts here but simply placed our stuff on the sand and lay there to rest after our swim.
Kwebang Lampas is a cave on the right end of the cove easily accessible via a short swim or trek among the rocks. It's a relatively small cave that has an opening out to sea. The water inside the cave is shallow and noticeably warmer than the waters of the cove (a hot spring somewhere?). The openings on both ends of the cave serve to illuminate its interior but since we considered it too risky to bring a camera while navigating the rocks on the way to the cave we weren't able to take pictures.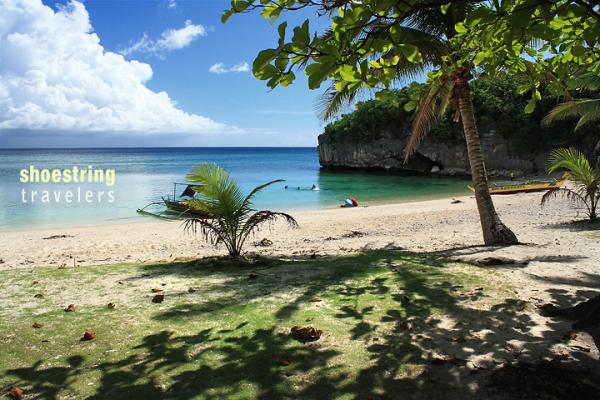 Kwebang Lampas is a small cave at one end of the beach with an opening to the sea at its other end.
All in all, Puting Buhangin is just perfect for beach bumming and a leisurely swim. You can also see some fishes by going a little further out to the rocks on both ends of the cove and snorkeling there. We can't help but think however that some of the corals may have been destroyed by illegal fishing and could only hope that the locals will do well to preserve the natural beauty of this environment.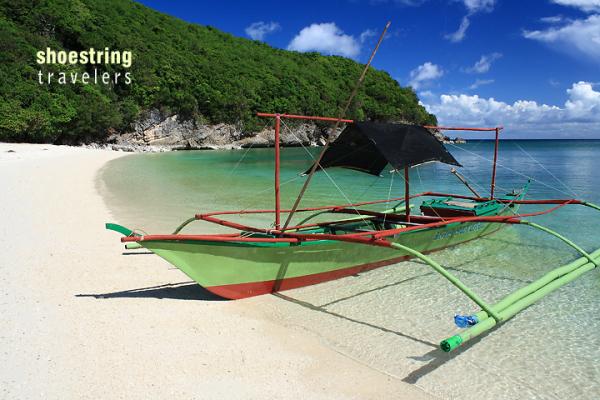 The outrigger that took us to Puting Buhangin and Kwebang Lampas.
Getting There
As we noted earlier, we included Puting Buhangin and Kwebang Lampas on our Padre Burgos-Pagbilao island-hopping and beach-combing itinerary that included other islands and beaches such as Dampalitan and Borawan, all doable in a single day. All these destinations are within an hour of each other if you are based in Padre Burgos.
However, it is also possible to reach Puting Buhangin without going through Padre Burgos. You can go to Pagbilao town proper from Lucena, look for the Daungan or Pagbilao Wharf and rent a boat to Puting Buhangin. The cheaper shoestring traveler option however is to take a jeepney at the Lucena Grand Terminal bound for Bgy. Polo. At Bgy. Polo take a trike to the registration area for visitors to Puting Buhangin/Kwebang Lampas. You can then walk to Puting Buhangin/Kwebang Lampas from this point. The trek is well under an hour apparently. It is also possible to take a short boat ride to the beach from this point.
Rating:
0 people rated this.