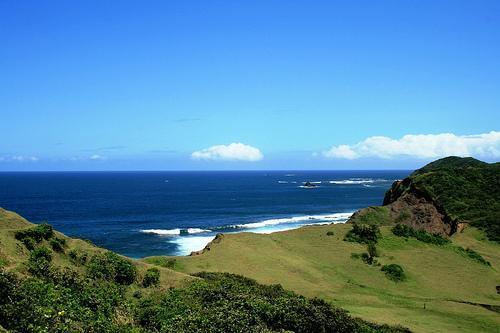 As a natural marine reserve, Palaui Island and the waters surrounding it teem with the beauty and bounty of nature, with hectares of undisturbed coral providing refuge to more than 20 commercial species of fish. San Vicente, Santa Ana and the Palaui Island are the destinations for water and sport fishing enthusiasts. Sta. Ana is the Philippine Sailfish Capital famous worldwide for its abundant marine life and is site of national and international game fishing competitions. The Cape Engaño Lighthouse in Palaui Island dates back to the Spanish Regime and is the only operational lighthouse in the northeastern coast. The island boasts of rich marine resources and uncontaminated environment and had been declared under Coastal Environmental Protection (CEP) by the DENR. The island is very ideal for ecotourism activities and all type of water sports. The island is 30 minutes away from the mainland by lampitao. Picnic areas also include at Mavidad Islet and Mapurao Beach at the east of the mainland. In the town of Sta. Ana you can found the Port Irene which is being developed as an international port of call and location of Cagayan Economic Zone Authority and Free Port (CEZA-FP).
Activities

• Swimming
• Beach bumming/sightseeing around the beach
• The island was declared as a National Marine Reserve in August 28, 1994 encompassing an area of 7,145 hectares (17,660 acres). The waters around the island boast of 21 commercial species of fishes with about 50 hectares (120 acres) of undisturbed corals so, snorkeling and diving in the island one of the best activities in the island.
• Game fishing
• Trekking and hiking
• Camping and picnicking
• Sunset and sunrise watching
• Skim Boarding
• Bird watching
You can visit and see other places and beach around Santa Ana like:
• Crocodile, Mapurao and Manidad Islands that offer white sand beaches
• Anguib beach, Jerolinda beach and Buacag falls
• Cagayan Special Economic Zone
• Cape Engaño where on the summit of the hill laid the ruins of Cape Engaño Lighthouse.
• Engaño Cove or Siwangag Cove is a small cove
• Gotan Mangrove forest and waterfalls

How to get there
By bus
From Manila you can ride a bus bound to Santa Ana. Florida Bus has a direct route to Santa Ana or you may also take Victory Liner, Dominion, Autobus, Baliwag Transit Inc., and Dalin Liner that ply routes to Tuguegarao city, the capital of Cagayan Province. From Tuguegarao you can ride a van going to Santa Ana. Then from Santa Ana ride a tricycle going to San Vicente Port. At the port, you can ride a boat travelling to Palaui Island.
By plane
You can ride a plane from Manila going directly to Tuguegarao city. From there, you can wait for a van going to Santa Ana and ride a tricycle going to San Vicente Port. Then, from the port, ride a boat going to Palaui Island.
Accommodations
There are no hotel or inns within the island but you can still go camping near Cape Engaño by the beach. The nearest hotels that offer lodging at reasonable prices are:
• Ivory Hotel and Suites located at Buntun Highway, Tuguegarao, Cagayan Valley / Isabela.
• Villa Blanca Hotel can be found at 13 Pattaui St.Ugac Norte, Tuguegarao, Cagayan Valley / Isabela
• Mango Suites located at 1 Rizal St. corner Balzain Road, Tuguegarao, Cagayan Valley / Isabela
Rating:
0 people rated this.