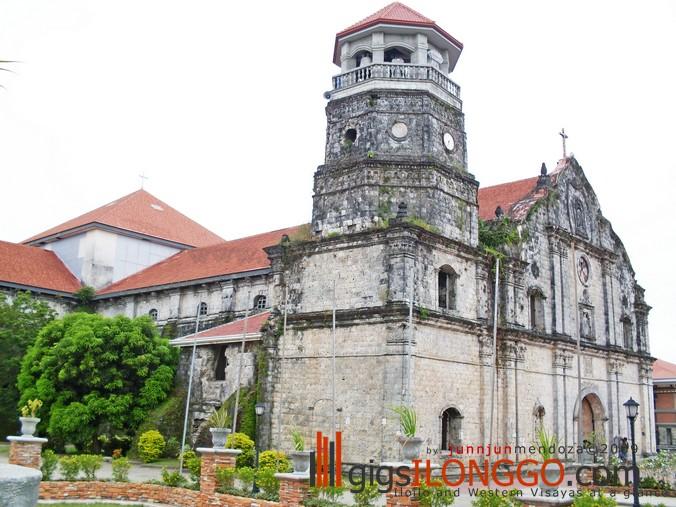 Pan-ay's centuries-old church is the town's historic landmark and foremost tourist attraction. Built in 1771, the grand structure is 70m long, 25m wide, 18m high, and shaped in the form of a Latin Cross. It has three towering altars made of hardwood decorated with ornamental bas-reliefs and antique statues, a delicate expression of old Spanish Baroque. The church was declared as a "National Historical Landmark" by the National Historical Institute.
An, awe-inspiring church of coral blocks and a monument to past Spanish grandeur, the church is the home of the Asia's biggest bell.
Where to Stay
SAN ANTONIO BEACH RESORT (D.O.T ACCREDITED)
Brgy. Baybay Roxas City
MVW RESTAURANT & TOURIST INN (D.O.T ACCREDITED)
Roxas Ave. Roxas City
BAIA NORTE BEACH CLUB (D.O.T ACCREDITED)
Baybay Beach, Roxas City
ROXAS MIDTOWN HOTEL (D.O.T ACCREDITED)
NSF Bldg. Burgos Cor. San Jose Sts.
Pueblo de Panay, Lawaan, Roxas City
Provincial Park, Roxas City, Capiz
Where to Dine
Jo's Inato Kamayan Sa Ilog Restaurant
Location: Washington St. Roxas City
Coco Veranda Bar & Restaurant
Location: Lawis Baybay, Roxas City
Location: Rizal St, Roxas City
Location: Legaspi St. Roxas City
Location: Lawis Baybay Roxas City
Location: Osmeña St. Roxas City
Location: P.Gomez St.Roxas City
How to get there
Travel time to Roxas City is 45 minutes by plane and around 16 hours by ship from Manila. From Iloilo City, it is approximately 2 hours by bus or private car. There are two airlines operating in Roxas City (RXS); Philippine Airlines (PAL) and Cebu Pacific have a daily flight schedule from Manila to Roxas and vice versa. There is one passenger ship operating in Culasi Port, Roxas City, Capiz: Moreta Shipping Lines' M/V Love 1 which embarks for Capiz twice a week. There are also ferry boats that travel from Romblon and Masbate and also Roll-on Roll-off (RORO) buses that treks through Capiz.
Capiz is part of the Strong Republic Nautical Highway, which is a major tourism gateway in Western Visayas. Roll-On Roll-Off (RORO) buses are operating to fetch passengers from Roxas City to Manila (Cubao or Pasay) via Caticlan, Aklan-Mindoro-Batangas-Manila.
Jeepneys and tricycles are the primary mode of transportation from one municipality to another. There is the "Capiz Cab", the city's new taxi that plies the streets of Capiz.
Trivia
Capiz Cabs are the first receipt-issuing, metered taxis in the Philippines apart from those operating out of the Ninoy Aquino International Airport. As of now, there are 5 Capiz cabs that operate in the province.
Rating:
0 people rated this.