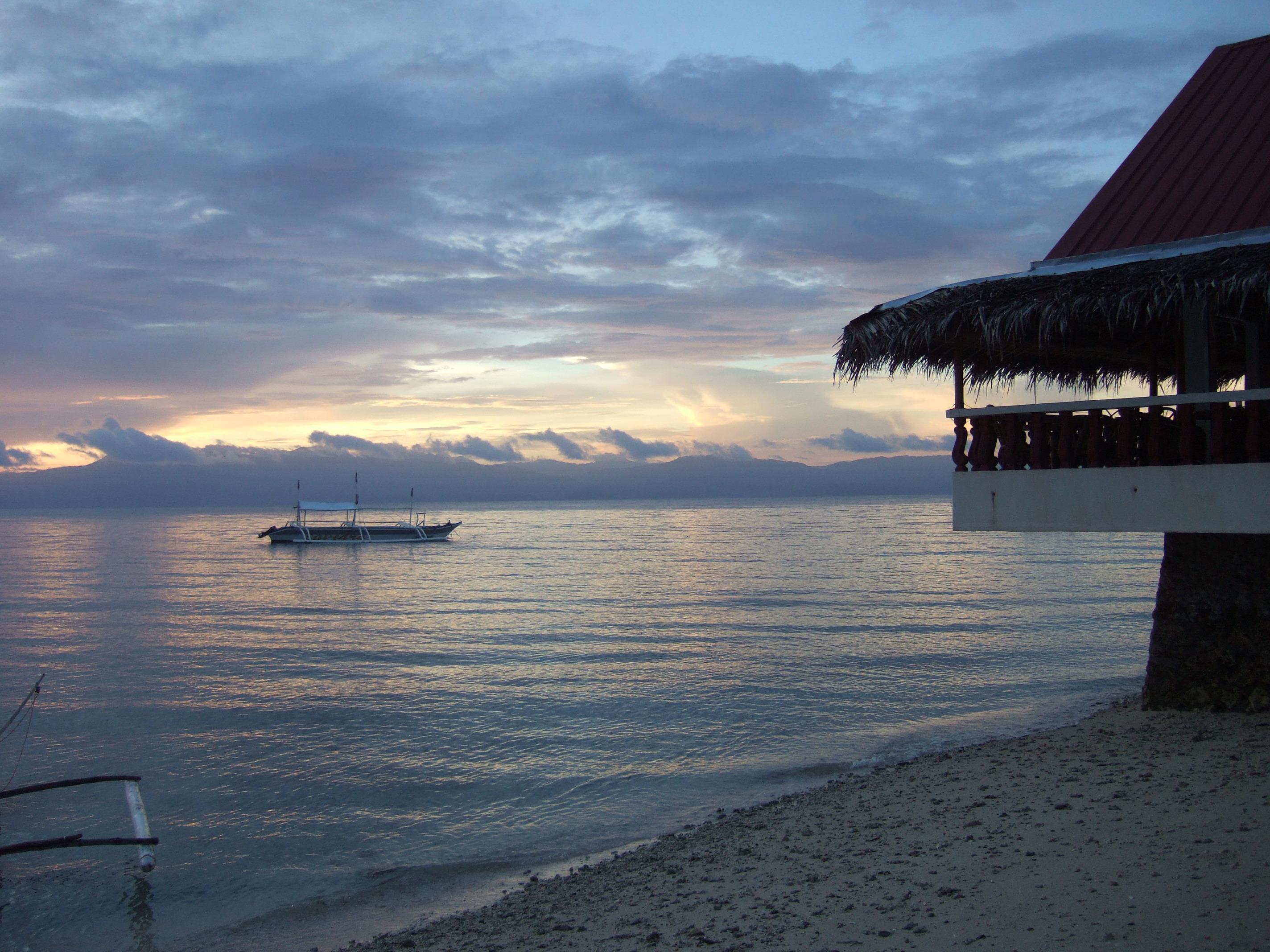 Panagsama Beach is located in Brgy. Basdiot, Moalboal, Cebu. It is a paradise for scuba divers and has numerous beach resorts offering luxurious amenities, full service aqua sports, serving European, American, Asian, Filipino cuisine and a splendid nightlife by the beach. The diving schools and dive centers can teach you the skills and techniques in scuba diving. Hence, you will enjoy diving in this wonderful place in Moalboal.
Panagsama Beach in Moalboal is just four kilometers from the town center of Moalboal. The beach strip is ideal for leisurely strolls, has lots of open-air bars (Chili Bar, Beach Bar, Red Banana and others), restaurants, some more beach resorts and dive centers, street vendors peddling fruits, freshly caught fish, colorful T-shirts or massage services. If you want to explore the small country town of Moalboal, take a motorbike with sidecar, called a tricycle, and within 10 minutes you are in Moalboal town. In Moalboal you will find a bustling market, eateries, fruit stands, bakeries, and on the other side of the road, near the sea, the fish market. The famous Orchid Gallery, a tropical garden sized several hectares, is justtwo kilometers away. You can walk over to the Orchid Gallery, where you will find a lush tropical garden, a swimming pool, a little private zoo with exotic birds and monkeys and an orchid plantation.
Panagsama Beach is the located in the west side of the peninsula, about four kilometers from town proper. Panagsama Beach is actually an old fishing village; some remnants of the old village are still entwined within the beach resorts, restaurants and dive centers and give the beach its unique charm and atmosphere.
Fishermen in Moalboal "Fishermen paddle away as the sun rises. Their bancas, small outrigger boats, look like toys. As they slow, the fishermen drop their nets. A few men slip into the water and begin beating the surface, grunting or hooting. Each has developed his individual fish scaring technique. There they work as they have for decades. Divers slowly emerge from the depth of sleep. Some grope groggily for a cup of coffee, plant them in the veranda, and ease into the day soothed by the sound of the sea as they watch the fishermen. Others bound out of their rooms, eager anticipation on their faces, and set about preparing cameras and checking dive gear. A couple, eager to catch their environs on film, shoot typical morning activities - a protesting cow being led into the water for a bath, a group of local dogs cavorting in the sand, vendors selling bread and rice cakes while the smell of breakfasts being cooked over charcoal.
Facilities
Cottages

Restaurants

Dive Center

Diving School

Nightlife

Dining for local and international cuisine
Activities that can be done in the area
Swimming

Diving

Snorkeling

Hiking

Boating

How to get there (Moalboal, Cebu)
From the airport, take a car to Moalboal. Once in Moalboal, take a tricycle to Panagsama Beach. If you drive by yourself, drive from Mactan through Cebu City to the south of Cebu, passing by the towns of Talisay, Naga, San Fernando until you reach the city of Carcar. There is a big roundabout where you have to turn right into the beautiful mountains, crossing over to the west coast of Cebu. Here you pass by the towns of Barili, Dumanjug, Ronda and Alcantara before you reach Moalboal. In Moalboal turn right to Panagsama Beach. The intersection is right after a big school on your right side. On the left side are a couple of bakeries. Directly at the intersection is a big tree with several signboards from assorted beach resorts and dive centers, pointing towards Panagsama Beach. Drive straight until you hit the beach (4km) then turn left. After 50 meters you will stop in front of our dive center.
Rating:
3 people rated this.