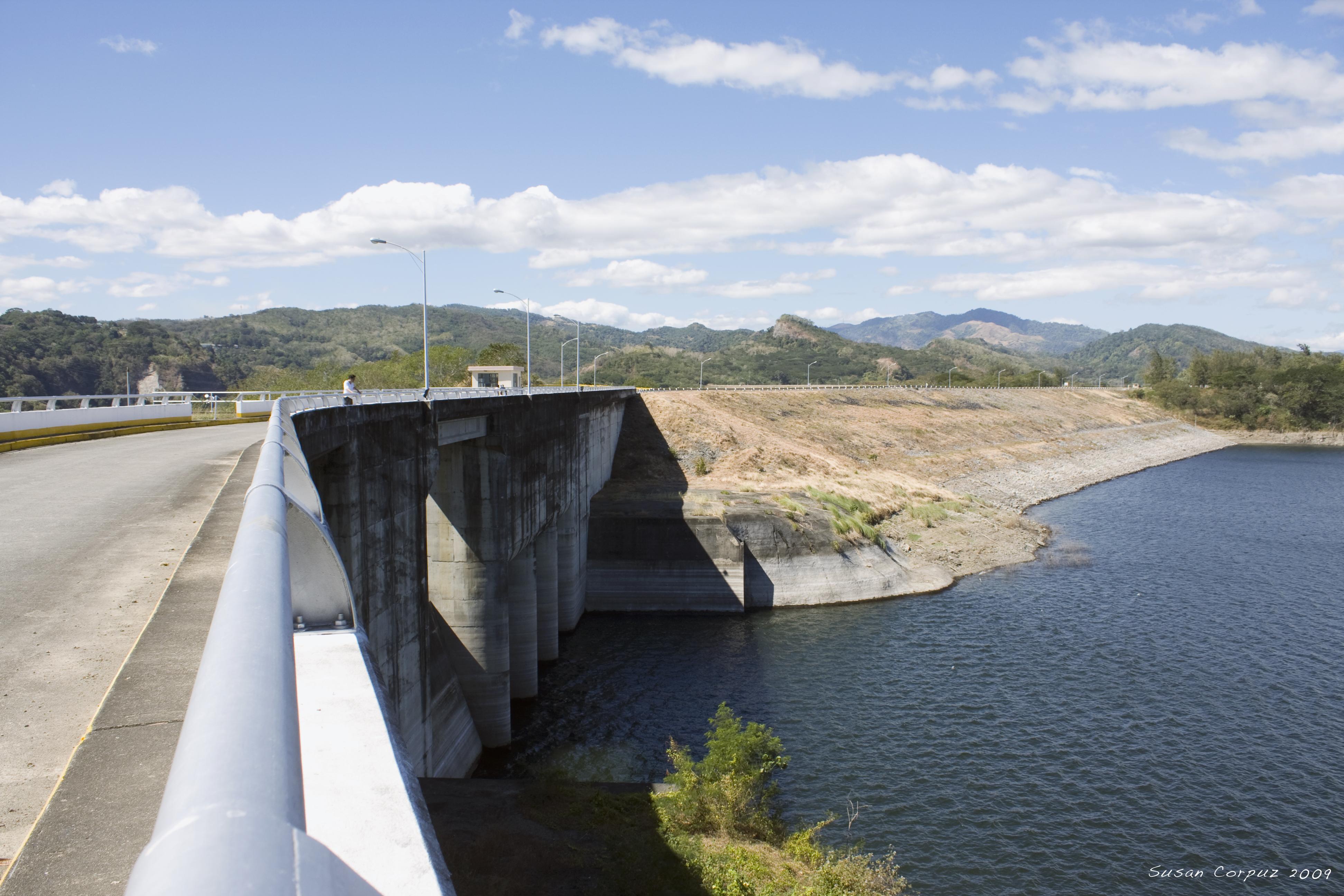 A view of the spillway and auxiliary dam at Pantabangan Dam
Built in 1974 along the Pampanga River to serve as reinforcement against flooding, and provide irrigation, additional electricity to the entire Luzon island, the 1.61-km long, 107-meter high dam now supplies irrigation water to farmlands in Nueva Ecija and adjoining provinces, and electricity to the Luzon power grid - after the construction submerged Barangays East and West Poblacion, Villarica, Liberty, Cadaclan, San Juan, Napop-Napon, Marikit and Conversion out of the $340-million World Bank project. Then President Ferdinand Marcos ordered the release of fish varieties into its waters so people displaced by the project could tap the dam for future livelihood. Today, about half of the town's more than 25,000 residents survive on fishing. The complex consists of two hydroelectric plants - the Pantabangan Hydropower Plant, which produces 100 megawatts and its subsidiary, the Masiway Power Plant, which generates 12 MW of hydroelectric power.
In 1996, the national government started building a 27-km tunnel from the Casecnan River in Nueva Vizcaya to irrigate an additional 50,000 hectares of land and generate 140 MW more of hydroelectric power. The project started operations in 2001. As a result of its growing fishing industry, the local government instituted its famous Pandawan Festival, its bid to boost the local economy through tourism related activities.
Pandawan comes from the word "Pandaw" (fish harvest) and "Pagdalaw sa Pagaani" (visit during harvest). The place offers a scenic view of the surrounding area. The serene blue sky glimpses the 1.61-km long dam enveloped by the picturesque Sierra Madre mountains. The dam's clear water is the sanctuary of tropical marine life and an inviting site for jetskiing and fishing. Tourists will also appreciate the dam's engineering wonders. Pantabangan was the first town established during the Spanish regime. Augustinian friars occupied the region Northeast which was drained by tributaries of the Rio Grande in 1701 and during that time it was also an agricultural land. They lived by means of farming and fishing. After the decade, Pantabangan was converted into a large river (dam) that irrigates the lower part of Nueva Ecija down to Bulacan and Pampaga. In short, Pantabangan sacrificed the wealthy agricultural land for the good of other constituents. It offers standard-class accommodation at the Best View Hotel and Restaurant, with its spa and beauty salon, swimming pool, tennis court, and water sports amenities.
Location
Pantabangan, Nueva Ecija
Accommodations
Here is the list of hotels and resorts that can be found in the province of Nueva Ecija located in Cabanatuan City - one of the towns in Nueva Ecija.
LA PARILLA HOTEL - Zulueta St., Melencio Corner Cabanatuan City

VILLAGE INN - Mabini Homesite, Cabanatuan City

FRED'S APARTELLE - 0728 Victoria Mansions, Bitas, Cabanatuan City

GREENLAND SUITES - Mampulog, Cabanatuan City

PRIME RESORT AND HOTEL - Mampulog Bitas, Cabanatuan City

HUNTER VALLEY PLANTATION & RESORT - Brgy. Cabu, Cabanatuan City

ACROPOLIS NORTH WATER CAMP & COUNTRY CLUB - Cabanatuan City
Restaurants (Cabanatuan City)
PLAZA LETICIA

ARCELI'S RESTAURANT

DE LUXE RESTAURANT

VICENTICO'S GRILL

ALLESANDRA'S RESTAURANT

CHARCOAL GRILL

Cafe CRISTINA RESTAURANT

RETRO BAR & RESTAURANT

MAX'S RESTAURANT

CIRCLES BAR AND RESTO

JOEY'S SNACK HOUSE

CAKELAND
FAST FOOD CHAINS
Jollibee, Mc Donald's, Kentucky Fried Chicken, Greenwich, Red Ribbon, Chowking, and Kenny Roger's Roaster are available at NE Pacific Mall and Mega Center the Mall.
Accessibility
Visitors can reach the province of Nueva Ecija by bus from Manila via Cabanatuan City province. There are bus lines (Five Star, Philippine Rabit, Baliwag, Saulog transit and Victory Liner) that ply the route to Nueva Ecija. Jeepneys and tricycles are available in the province as a common way of transportation around the province.
Rating:
1 people rated this.