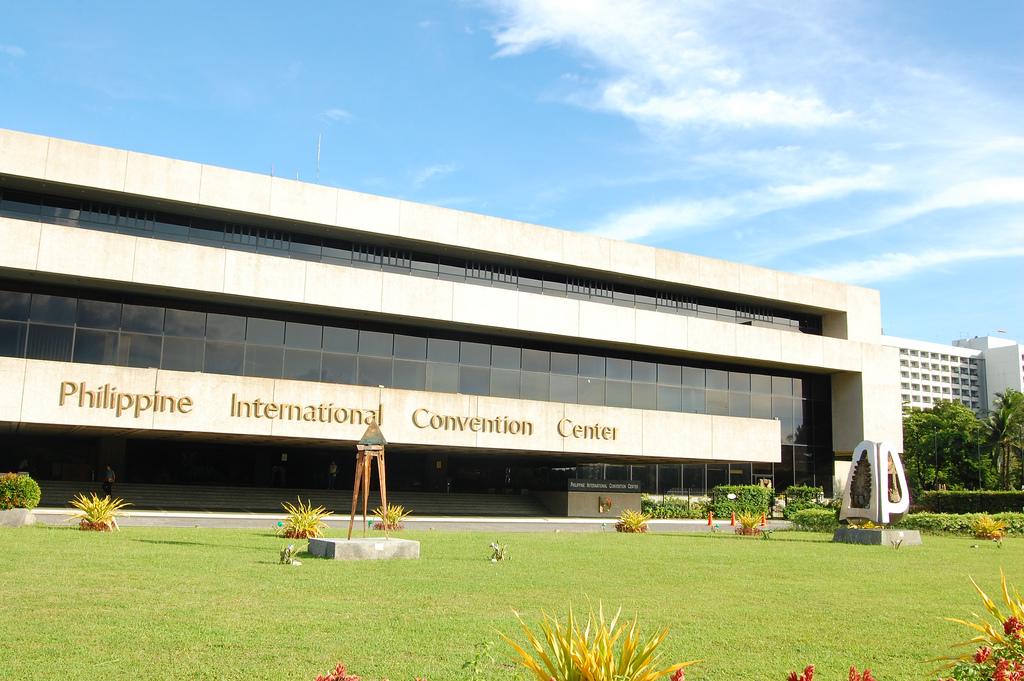 The Philippine International Convention Center (PICC) is a convention center located in the Cultural Center of the Philippines complex in Pasay City, Metro Manila. This state-of-the-art facility has been the host of numerous local and foreign conventions, meetings, fairs, band social events. The PICC was also the home of the office of the Vice President of the Philippines until 2005.
History
Presidential Decree No. 520 authorized the Central Bank of the Philippines (now Bangko Sentral ng Pilipinas) to construct an international conference building, acquire a suitable area for that purpose, and organize a corporation to manage a conference center. Thus, the PICC was organized under the Corporation Code. The construction of the state-of-the-art PICC Complex was undertaken in a short span of 23 months, from November 1974 to September 1976, with Leandro Locsin as architect, who was subsequently named a National Artist.
From its inception to the present, the PICC has also hosted the annual Awards Night of the Filipino Academy of Movie Arts and Sciences (FAMAS), the Philippine equivalent of the Oscars, mostly at its Plenary Hall. On September 5, 1976, the PICC, Asia's first international convention center was officially opened to the world when it hosted the 1976 IMF-World Bank Meeting.
Presidential Decree No. 995 created the Batasang Bayan to function as a legislative body before the Interim Batasang Pambansa convened in 1978. So on September 21, 1976 on 4th Anniversary of the birth of the Bagong Lipunan (New Society) the Batasang Bayan held its inauguration at the PICC. For the first time, the PICC was used to house a legislative body from 1976 to 1978.
The PICC is dedicated to the task of bringing peoples and nations together and providing a place where they can meet and exchange ideas that may perhaps open doors to better world understanding and peace. As a venue of meetings, conferences, exhibitions, and special events, it caters to organizers of international, regional Asia Pacific, and local events by providing highly advanced conferencing equipment and facilities and, most importantly, friendly, efficient, and professional service. The Philippine International Convention Center was the venue of Miss Universe 1994.
Convention Features
35mm Slide projector, Amplifier, conference pads, pencils, pens. Equalizer, flags, flipchart with white board, PA system, portable stage, SI equipment booth, 8 m. x 6 m. projection screen, TV monitor, VHS player multi-system, video camera - CCTV type, laser pointer, follow spotlight, lapel microphone, stand microphone, table microphone, wireless microphone, and whiteboard.
The PICC's newly acquired conferencing equipment are AMX Integrated Remote Control System on motorized lectern, Motorized lecterns with light & clock timer, Visual Presenter (opaque and transparency projector), 67" Video Data Rear Projection Monitor, Wireless Infrared Simultaneous Interpretation (SI System), Portable Interpreters Booth, Slide to Video Converter, Conference Microphone System with Chairman's microphone, Voting and Audience Interaction System and Touch Screen Multi-media Kiosk.
Support Facilities and Services
Conference & Exhibit Offices

Hospitality Center

Document Distribution Center

Registration Counter

Post Office

Technical Services

Commercial Bank

Foreign Exchange Counter

Assistance & Info Counter

Medical Clinic/Services

Lost & Found

Facilities for Disabled

Parking Space

Loading Ports

Dressing Room

Press Center
ROOMS & FACILITIES
ANCILLARY AREAS & OUTDOOR FACILITY
An architectural landmark on its own, housing works of various Filipino master artists in painting and sculpture, it opened in 1976 to host the World Bank – International Monetary Fund Annual Meeting. After this, the Philippine International Convention Center (PICC) established itself as one of the most versatile event arenas in the Asia-Pacific region by being the venue of political summits, medical conventions, and concerts of international artists as varied as Luciano Pavaroti, the Bolshoi Ballet, Ricky Martin and Burt Bacharach.
DELEGATION BUILDING
The five-storey Delegation Building houses twelve (12) meeting rooms, two (2) new banquet halls, two (2) corporate boardrooms, Registration and Documents Distribution Counters, executive offices, office spaces and lounges that can accommodate different groups. Six (6) of the meeting rooms are new, totally different and an updated look, high-ceilings with recessed downlight pendant lamps with dimmable halogen light fixtures.
SECRETARIAT BUILDING
At the Southern end of the PICC complex is the Secretariat Building, a three (3) storey building which houses more meeting rooms, a banquet hall, exhibition areas, a media center, an executive fine dining restaurant and a cafeteria for 500 people.
PICC FORUM
The PICC Forum has a total usable area of more than 4,000 square meters capable of housing more than 200 standard exhibition booths. It can also accommodate up to 3,000 delegates in a theatre-style arrangement and has support facilities such as VIP lounge and secretariat room.
RECEPTION HALL
The Reception Hall, an exquisite hall with extensive red carpet and gigantic chandeliers, with a permanent stage and dressing rooms for live shows and special events, it can accommodate 2, 500 guests for a sit-down dinner or 5,000 for a cocktail reception.
PLENARY HALL
A low-slung bridge through tropical gardens connects to the Plenary Hall, one of the most impressive of the 5 building modules. It can conveniently accommodate 4,000 people in a theatre set up for convention meetings or special events. Also equipped with a permanent stage, dressing rooms and VIP lounge.
Accommodations
Here is the list of hotels that can be found in the city of Pasay that offers good service and accommodations for everyone.
Atrium Hotel Metro Manila - Cor. Sen. Gil Puyat Avenue, Pasay City

The Heritage Hotel Manila - Roxas Boulevard corner EDSA, Pasay City

Mabuhay Manor Pasay City - 2933 Ortigas Street Pasay City

Copacabana Apartment Hotel - 264 EDSA Extension, Pasay City

Microtel Mall of Asia Pasay - SM Mall of Asia Complex, Pasay City 1308

Marriott Hotel Manila - Newport City Complex, Pasay City

Kabayan Hotel Pasay - 2878 Zamora Street corner EDSA Rotonda

Networld Hotel Manila - Roxas Boulevard corner Sen. Gil Puyat Ave.

Remington Hotel - Maxims Tower, Resorts World Manila, Newport Boulevard, Newport City, Pasay Airport Area

Siayan Travellers Inn - Salem Complex Atayde Street cor. Domestic Road Pasay City, Pasay Airport Area
Getting around the city
LRT-1 (Light Rail Transit) is one of the fastest and cheapest mode of transportations to reach the city of Pasay from Manila.
From Monumento Station, the LRT plies to Rizal Avenue Ext. in Caloocan going to the City of Manila all the way up to Pasay City.
Meanwhile, buses, jeepneys, taxis and tricycles are available within the city. These are the common way of transportation used around the city as well as traversing to another city in Metro Manila.
Rating:
0 people rated this.