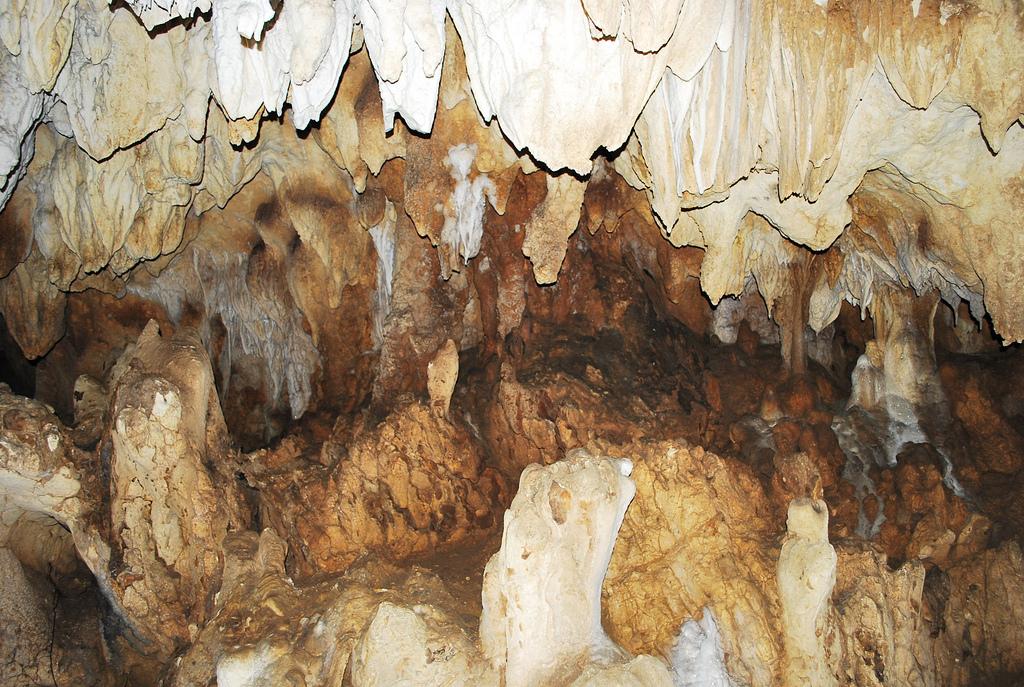 Rock formation at Pinamungajan Caves
Pinamungajan Caves can be found in the town of Pinamungajan, a town in Cebu Province established in 1851 under the Spanish colonial government in the country.
According to the official website of the province of Cebu, the municipality got its name from the diligent and hardworking people, working hand in hand especially during the agricultural harvest season. "Pinamungahan," which originated from the Visayan word "Pinamuhuan," meaning a worker's share for his effort during a farm harvest. Over time the Pinamuhuan eventually changed to the current name of the municipality. However, Pinamungalanon's hard work exemplifies a Bayanihan attitude, an aspect that remains with the entire populace.
The town is also an ideal place for adventure lovers. Pinamungajan Caves are must-try attractions of the town. The town is frequently visited by tourists because of the adventure and discovery to be had at the Pinamungajan Caves.
Tourists will be surprised and marvel at the rock formations within the cave, with many different shapes and sizes of stalactites and stalagmites, challenge and adventure can be found inside. The caves are stunning and amazing creations of nature.
For those who are experts in caving, they can go inside without a guide, but for those who have little experience with spelunking, a guide would be required, as are safety equipment such as helmets and headlamps, before entering.
There is an entrance fee for those who wish to visit the caves. Communicate with barangay officials before entering for a local guide and precautions.


List of Accommodations in Cebu City
Parklane International Hotel - Archbishop Reyes Avenue and Escario St.

Montebello Villa Hotel - Banilad

Waterfront Cebu City Hotel & Casino - Salinas Drive, Lahug

Radisson Blu Hotel Cebu - Sergio Osmena Boulevard corner Juan Luna Avenue

Marco Polo Plaza - Cebu Veterans Drive Nivel Hills Apas

Golden Prince Hotel and Suites Cebu City - Acacia Street, Corner Archbishop Reyes Avenue, Barangay Kamputhaw

Cityscape Hotel - Ayala Access Road, F. Cabahug Street corner Hernan Cortes Street

Harolds Hotel - 146 Gorordo Avenue corner Rosal St., Lahug

Rajah Park Hotel - Fuente Osmena

The Beverly Boutique Business Hotel Cebu - F. Manalo St.

Citi Park Hotel - F. Cabahug Street, Kasambagan Road

Crown Regency Hotel & Towers Cebu City - Fuente Tower 1 Osmena Boulevard

Summit Circle Hotel - Fuente Osmeña

Alto Pension House - D. Jakosalem St

Marriott Cebu City - Cardinal Rosales Avenue

Hotel Asia Cebu City - 11 Don Jose Avila St., Capitol Sit
How to Get There
By Plane: From Manila, there are daily flights going to Cebu City.
By Boat: Cebu City's domestic port is the country's busiest. Cebu City is home to almost 80 percent of the country's passenger vessels. The country's largest shipping lines, namely WG&A, Sulpicio Lines, Trans-Asia, George & Peter Lines and Lorenzo Shipping Lines, are headquartered in Cebu. Large passenger ferries with a capacity of 2,000 to 4,000 passengers ply the more distant routes such as Manila, Davao, Butuan City, Zamboanga, and Cagayan de Oro.
From the airport, you can ride a multicab, jeepney, or taxi. Simply ask around for which route to take. They are available 24 hours and cover most of the nooks and crannies of the city.
Rating:
8 people rated this.