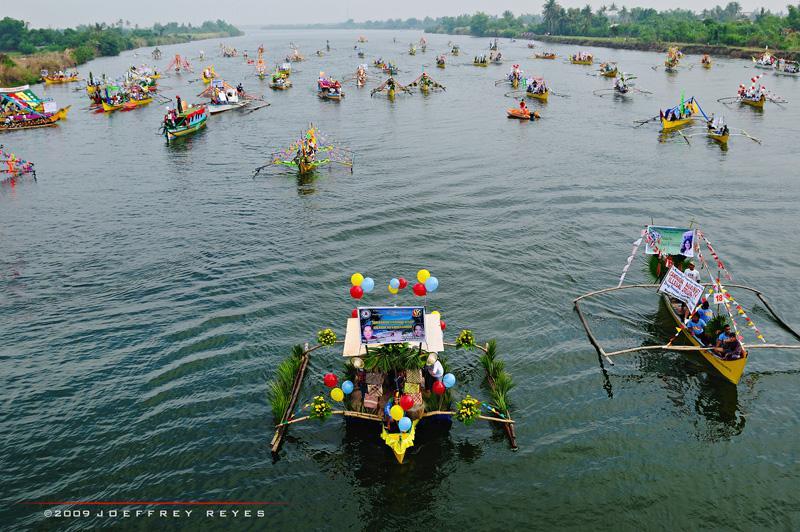 Pista'y Dayat Festival (Sea Festival) is a thanksgiving festival celebrated annually during the first two weeks of April. It celebrates the bountiful harvest of abundant fishes. It is now the grandest festivity in the province of Pangasinan. It features a mass offering in the beautiful beach of Lingayen and a fluvial grand parade, including the nine well-known festivities such as Galicayo Festival of Manaoag, Pandan Festival of Mapandan, Longganisa Festival of Alaminos, Sugpo Festival of Binmaley, Mango and Bamboo Festival of San Carlos City, Puto Festival of Calasiao, Binongey Festival of Anda, Sawali Festival of Labrador, and Pista'y Dayat.
According to Dagupan City's official website, Pista'y Dayat actually started in small fishing towns of Lingayen and Alaminos in the 1960s, gradually growing in size as these towns started to trade with each other.
It was during the term of former Dagupan City Mayor Cipriano Manaois in 1968 when formal activities for Pista'y Dayat were first held. It was also during this period that the title Pista'y Dayat was officially coined.
Since then, the festivities have grown in size and number with many residents of inland Pangasinan towns going to the sea to witness some of the water sports and activities.
The event serves as the "reawakening of the Pangasinenses' consciousness regarding music, dances, arts, and culture of the province," according to Governor Amado Espino Jr. It focuses on environmental nurture and sports development events and activities revitalizing the culture and arts.
Hundreds of colorful boats participate in a fluvial parade and river cruise (Banca Parada) to showcase the improvement of Agno River (the largest Philippine river in terms of water discharge draining). The festival also has an environmental preservation-related event, the Konsyerto sa Gulpo, which allows young bands to sing for everyone's further environmental awareness.
Other events include the Grand Orchestra Showdown; dancesports fest and street dancing; a solo vocal competition for the local people of the province; Trade, Tourism, Food, and Garden Fairs featuring indigenous products; the Tianggehan sa Pista'y Dayat; the Limgas na Dayat beauty and brain search; amateur boxing bouts; kite-flying competition; shoot fest; boat painting competition; sand-sculpting competition; bangus art exhibit; and boat racing competition.
It also features the Tourism and Trade Expo, Plant and Garden Landscape Competition, and Bonsai Exhibit. There are also traditional games like patintero, tumbang preso, luksong baka, sipa, dinoron, baldo (luksong lubid), paluan sa palayok, dinagi, and kadang-kadang. These games are surely loved by young people and the young-at-heart.
The largest television companies of the country also have their respective shows, artists performing for the people, and different bands that make the night full of fun.
Many vendors sell variety of products like bech strawhats, sarongs, hand painted seashells, and dyed shirts. Of course, you can also find lots of fish vendors with a variety of freshly caught fish such as lapu-lapu (grouper), malaga (samaral), tilapia, crabs, shrimps, and the well-known bangus (milkfish). The fish vendors also offer to grill the fish if you want, and they can add a cup of rice for you to enjoy eating while watching the parade.
The annual Pista'y Dayat is the celebration of this aquaculture bounty. It is one of the biggest and popular events in the Philippines as all the coastal towns engage in various activities to give thanks to the source of their subsistence. These two weeks of celebration is full of fun and excitement. It surely attracts lots of tourist who want to watch it and have a unique and unforgettable experience.
How to get there
From Manila going to Dagupan City is a 4-to-6-hour travel by bus. Five Star buses, Fermina Express, Victory Liner, or Dagupan Bus Company which can be found in EDSA cor. E. Rodriguez Avenue (QC) have a route to the province.
Rating:
3 people rated this.