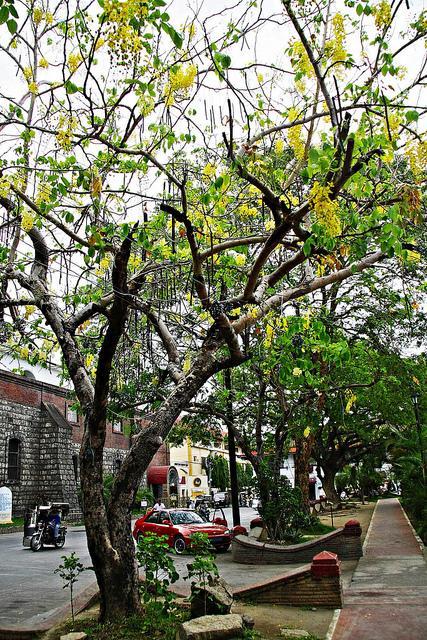 Plaza Burgos is the most popular park in the UNESCO World Heritage City of Vigan, Ilocos Sur. To give honor to one of Vigan's illustrious sons, Plaza Burgos was built to remember the martyrdom of Father Jose P. Burgos. Just right beside Saint Paul Cathedral's Bell Tower, the plaza is a place for many locals to rest and relax while watching people walking by, kids playing, and skateboarders doing their tricks at the plaza square.
Be Nurtured!

Tourists may find the plaza a good place to spend their leisure time and bond together with families and friends. Aside from those, visitors can learn more not only about the sacrifice of Padre Burgos but also about the city's history, culture, and everyday life.

Be a Food Raider!

Food kiosks are spread throughout the plaza. For those who are food lovers, the plaza is a good destination for you. The plaza is best known for its empanadahan, a place for eating a local meat and vegetable-filled pastry, and other street food. Visitors should not miss the Vigan empanada which is said to be one of the best local foods. Also, don't let your Vigan tour ends without tasting the Vigan okoy (shrimp patty). It is like an empanada dipped in Vigan vinegar, plus a taste of barbequed marinated meat in wooden skewers with sweet-sauce glaze. At the corner of the plaza is Tongzon's, where visitors can have a taste of Vigan's royal bibingka, a rice-based sweet.

Then, taste the best of Vigan in a scoop by trying the local ice cream peddled in the plaza and served in a cone or pandesal. You can also try the cheaper ice candy, which is a hardened mixture of water mixed with the flavor and bits of local fruits.

A Worthwhile at Plaza Burgos!
The Magic of Vigan

The plaza is indeed a good place to spend your leisure time at. It is well lighted at night; you can have night merrymaking and a chance to witness a local event which is sometimes held on the stage or an exhibition during one of Vigan's many festivals throughout the year.

Trip to Plaza Burgos, Vigan!
By Air: Domestic flights via Sea Air leave Manila twice a week for Vigan City, Fridays and Sundays at 2:30 PM. Domestic flights leave Manila daily for Laoag City in Ilocos Norte, which is an hour and a half ride by bus or arranged vehicles to Vigan. The city can be reached from Laoag City via Farinas Transportation, Maria De Leon Bus Lines, RCJ Bus Lines, F. Franco Trans, Auto Bus, Florida Transit, and Partas Bus.

By Land: The 408-kilometer stretch from Manila to Vigan City is a comfortable eight-hour ride along the scenic Manila-Ilocos Highway. Air-conditioned Partas Bus, Dominion Bus, Aniceto Bus, and Viron Transit ply the Manila-Vigan route regularly.

Getting Around: The best way to explore Vigan is on foot; the city center is small yet full of excitement. Experience a calesa ride around Vigan at P150.00 per hour.

Accommodations to Vigan:
There are many inns, pension houses and hotels located near the town center. My Vigan Home Hotel and Gordion Hotel are some of which will give you better accommodations during your days in Ilocos Sur.

My Vigan Home Hotel is located at 14 Plaridel corner Bonifacio Streets, Vigan (Ilocos Sur), Ilocos Region, Philippines 2700. Gordion Hotel is located at V. Delos Reyes corner Salcedo Sts., Vigan (Ilocos Sur), Ilocos Region, Philippines.

Rating:
0 people rated this.