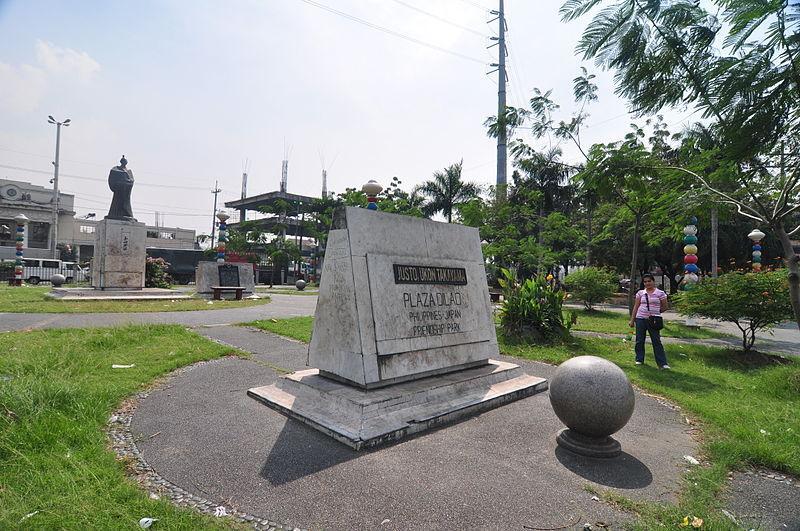 I had lived in Pandacan for seven years. The place once witnessed my childhood memories and some unforgettable moments. One of my favorite destinations with my family is going to Paco. Pandacan and Paco are just adjacent to each other. The district of Paco has been the town center for many Manileños living around the place because the market, church, schools and parks are based here.

Way back to its history…

Formerly known as Dilao, Paco is one of the landmarks in Manila where it denotes a living museum of its spirited past. It is named that way because of the amarillo plants with yellow flowers that are abundant in the place. Although, some sources say, it was named Dilao or "Yellow Plaza" by the Spanish settlers because of the Japanese migrants who lived there, describing their physiognomy.

Plaza Dilao – Paco District…
The name Dilao was used until 1791. The name San Fernando was added, making it San Fernando de Dilao. In the 19th century, the town of San Fernando de Dilao was given the nickname of Paco (which means Francisco). Paco, along with Sampaloc, Santa Ana, San Juan del Monte, and San Pedro de Macati became the second largest districts that became part of Manila. It became to known as Paco de Dilao and eventually as Paco as it known today.

Landmarks of Paco…

• A Sikh Temple and Unilever Philippines is located on United Nations Avenue. A ten-minute walk away is a Hindu temple at Looban Street. There are car dealers like Toyota, Ford, Hyundai, Nissan, and Honda. Presently, Dilao is traversed by the President Elpidio Quirino Avenue.
• A loop road from Quirino Avenue is named Plaza Dilao to commemorate the once flourishing Japanese and the Japanese-Filipino communities and districts there in Japantown in Manila. A statue of Takayama was built to commemorate the Japanese establishment at Paco in 1593.
• Paco Park, was a former municipal cemetery of the old city of Manila, and once contained the remains of Philippine national hero, José Rizal and the GOMBURZA priests. But soon they were transferred to Fort Bonifacio.
• The South Luzon Expressway starts in this district and it can go to CALABARZON region.
• Philippine National Railways owns and operates the Paco railway station.
• Schools include the Colegio de la Inmaculada Concepcion de la Concordia, or simple Concordia College, and the Paco Catholic School.

Paco is located south of Pasig River, and San Miguel, west of Santa Ana, southwest of Pandacan, north of Malate, northwest of San Andres, and east of Ermita. According to the 2000 census, it has a population of 64,184 people in 13,438 households.

Getting around Manila

From north of Metro Manila, get down in Malate and Ermita districts via Roxas Boulevard. Getting around in Manila is easy as the city has a vast network of transport modes. Buses, jeepneys, LRT, and taxis are modes of transportation in Manila that are easy to use. Manila city has an extensive and good network of highways that connect it with other cities and municipalities. Public transport is cheap however during the peak hours in the morning and evening it may get crowded.

Nearest Hotels in Ermita
• Manila Pavilion Hotel - United Nations Avenue, Corner Ma. Orosa Str, Ermita, Manila, Philippines 1000
• Pearl Manila Hotel - 1122 General Luna Str., Corner Taft & United Nations Avenue, Ermita, Manila, Philippines 1000
• Luxor Suites - Adriatico Street Robinsons Residences Tower 3 Lobby, Ermita, Manila, Philippines
• Lotus Garden Hotel - 1227 A. Mabini corner Padre Faura Sts., Ermita, Manila, Philippines
• Oasis Park Hotel - 1032-34 Belen Street, Paco, Ermita, Manila, Philippines
• M Hotel Manila - 434 L. guerrero st. cor. Plaza Ferguzon, Ermita, Manila, Philippines
• Miramar Hotel - 1034-1036 Roxas Boulevard, Ermita, Manila, Philippines
• Best Western Hotel La Corona - 1166 MH Del Pilar Cor. Arquiza St. , Ermita, Manila, Philippines
Rating:
1 people rated this.