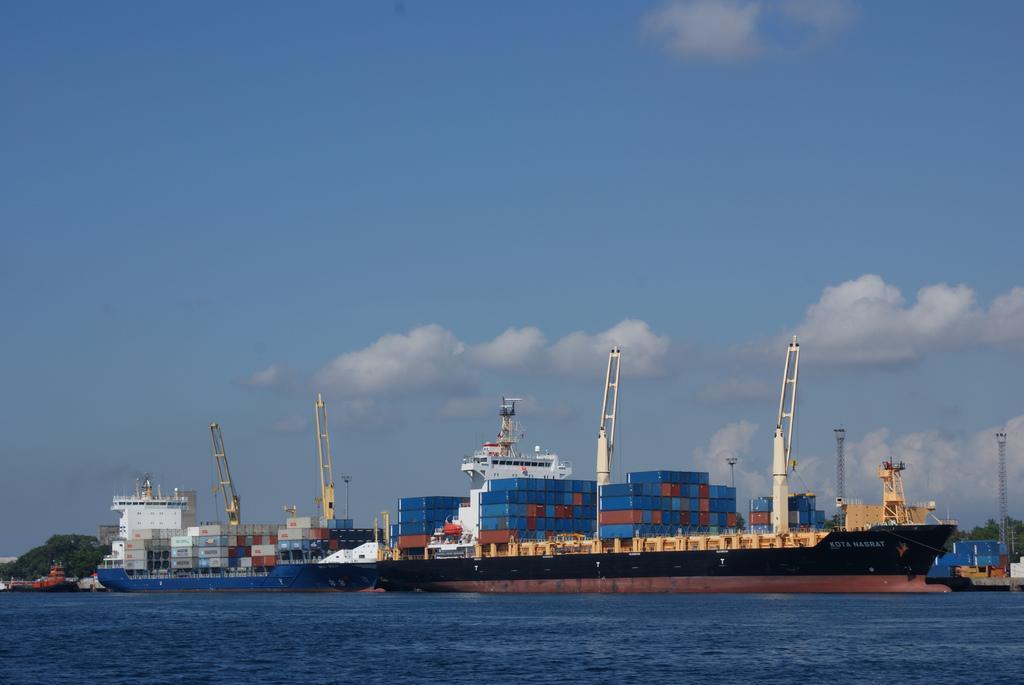 Sasa Wharf - Davao
The Port of Davao, Davao, Philippines, is located on the island of Mindanao. The Port of Davao consists of a number of ports, all within the Davao Gulf, which is part of the Celebes Sea. SASA Wharf is one of the largest piers in the port area and busiest. SASA Wharf is owned by the International Container Terminal Services Inc., which also operates at the Port of Manila and Port of Subic. The Port of Davao is largely dominated by container cargo, raw materials, bulk cargo, general cargo and passenger traffic.
A Premier Port
Davao Port is one of the Philippines major seaports alongside Manila, Subic, Cebu and some others. The Port of Davao, often called Port District of Davao, includes Davao City and the three provinces. Davao Port services interisland and international shipments. The city is situated 974 kilometers south of Manila, on the shore of Davao Gulf. "Davao" also refers to three provinces: Davao del Norte, Davao del Sur, and Davao Oriental. Davao City is located in Davao del Sur but is politically and administratively independent of the province. The access to the port of entry in Davao City is through Davao Gulf which has two approaches. One is at Pakiputan Strait between Davao and the water west of Samal Island. The other approach is at the east side of Samal Island, mainly used as an exit channel of vessels departing from points north of Davao Gulf. Access to the subport of entry in Mati, Davao Oriental is through Pujada Bay. Davao Gulf is situated on the south coast of Mindanao, the second largest island in the Philippines.
The port itself is the most important in Mindanao Island and also has the busiest international container port in both Visayas and Mindanao. The port serves as the gateway to the southern Philippines and is considered as the best-performing port in Mindanao. A number of passenger ship lines operate to Davao, including WG&A Superferry.
Sasa, Davao City

Facilities
Apart from the Government Pier and Private Pier, a number of piers/wharves exist in the Davao Port region specifically for commercial use. Vessels awaiting berth availability anchor 450 meters off Sta Ana pier in 12 fathoms mud. The anchorage is well protected except during strong southwest monsoon. Pilotage is compulsory for foreign-going vessels with 100 GRT and over; and for domestic vessels with 75 GRT and over. Request for pilot should be made 24 hours in advance to the Davao Pilots' Association.
Davao City and the Port of Davao has two government international seaports in (the Sasa Wharf and the Sta. Ana Wharf) and 9 privately owned ports. The City Government is currently in the process of taking over the management of the seaports to modernize facilities, such as three big modern quayside cranes and to expand capacity. In addition, the Toril international Fish Port Complex accommodates small and large-scale fishing activities as well as provides among others cold-storage facilities.
Major Piers and Wharves within Davao Port.
Used for container and shipping. Operated by the International Container Terminal Services inc.
Handles mainly domestic vessels and passenger vessels.
Used primarily for corn, copra, logs and general cargo.
Pacific International Terminal Pier
(non-commercial) - handles bananas and fruit products.
(non-commercial) - Also handles copra, coco oil & copra pellets
Handles flour grains and similar types.
Handles cement to coal and other ore products.
Handles asphalt and similar products.
The Stevedorage pier handles general cargo, bulk cargo, vehicles and lumber. It's one the busiest piers in the port.
Some Piers also worth mentioning include the Caltex Pier and Petron Pier.
List of Accommodations around the City
111 Pacific Residence Inn - #498 Quirino Ave.305-6183

Abi Yhors Inn - Matina Aplaya

Alta Pension House - J.P. Laurel Ave.

Ashnor Traveller's Inn - #276 Mini Forest, Quezon Boulevard

BB Inn & Apartelle - #3 Panacan Ave.

Big Apple Hotel and Bar - Mamay Road, Lanang

Casa Leticia Boutique Hotel - J. Camus St.

Courtside Princess Inn - J. P. Cabaguio Ave., Agdao

Cover Inn - Shanghai, Matina Aplaya

Danking Apartelle - #16 Sapphire St.,Gem Village, Maa

Davao Fortune Inn - R. Magsaysay Ave.

Davao Lodging Inn - C. M. Recto St.

Ecoland Suites - Tulip Drive Corner Walnut St.,

Elles Pension House - A&J Bldg., Mt. Apo St.

Emma Victoria's Inn - New Bonguyan Beach, Matina Aplaya

Garnet Country Inn - #9 Garnet St., Marfori Heights

Hari Royale Suites - Narra St. corner Sta. Ana Ave. 3

Hotel Cabaguio - J. P. Cabaguio Ave., Agdao

Hotel Galleria - Gov. V. Duterte St.

Jen & Cats Family Lodge - 8-B Villa Abrile Hunry Bldg.

Leanzo's Guest House - DIHO Subd., Buhangin

Marco Polo Hotel - C. M. Recto St.

Metropolis Suites Davao - Macopa St. Corner Cabaguio Ave.

Prince Court Hotel - J. P. Cabaguio Ave., Agdao

Rosewill Lodging Inn - #164 Vicente Bldg.,

Sunny Point Hotel - #30 Evergreen St., Brgy. Maa

Villa Carmelita Inland Resort & Hotel - Km. 14 MacArthur Highway, Toril
Getting There
By land
The common modes of public transportation are multicabs, jeepneys, tricycles, buses, and taxis. Multicabs and jeepneys ply 82 designated passenger vehicle routes around the clock. Tricycles ply the routes that are outside the main streets of the city. Taxis have several routes in and outside Davao City. In mountainous areas, the habal-habal passenger motorcycle is the main mode of transportation.
Davao City offers a wide bus network connection to major cities and provinces, not only in Mindanao but even as far as Manila and Pasay City in Luzon. The city is accessible by bus to and from points in Mindanao like Cotabato, Monkayo, Kidapawan, Midsayap, Digos, General Santos, Koronadal, Isulan, Tacurong, Tagum, Cagayan de Oro, Surigao, Butuan, and with Manila in Luzon.
The DPWH is proposing to build the Tagum-Davao City-Digos Light Rail Transit, which will be the first on Mindanao island, and the construction of the Davao-Samal Bridge, which will be like the San Francisco Golden Gate Bridge in the United States, to begin in 2017.
By sea
Davao is connected to Manila by a series of roll-on roll-off or inter-island ferry connection.
The city is served by domestic passenger ferries at Sasa Port and Sta. Ana Wharf, both of which are the international seaports of the Port of Davao, the busiest port in Mindanao. This port could service both inter-island and international shipments. It is located the Davao Gulf and its port of entry has two approaches; one is at the Pakiputan Strait between Davao and the water west of Samal Island.
By air
Davao City has direct flights to major cities in the Philippines and some Asian cities. The Francisco Bangoy International Airport serves the general area of the city and its surrounding areas.
Rating:
12 people rated this.