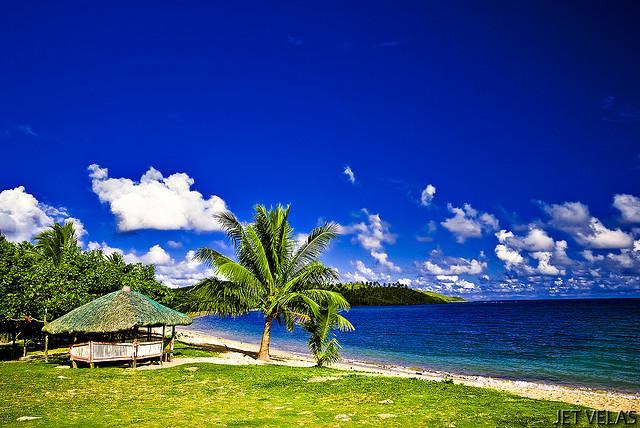 Paracale is a slice of paradise in Camarines Norte. The town has its own shares of treasures of gold that was discovered in 1626 by Franciscans. The town's name was derived from para cale, meaning "canal digger." Small gold mining operations persist in this old gold mining center and locals still pan for gold.
But did you know that aside from the town's treasure of gold, another jewel may be found in this haven. It is the Pulang Daga Beach Resort frequented by thousands of visitors throughout the year. Why?
Pulang Daga is one of the perfect getaway to escape a bustling environ of the city. The stretch of white sand beaches make the place ideal for swimmers and picnickers offers a panoramic view of the Pacific Ocean.

The unspoiled and undamaged beauty of the island is best for many scuba divers who wants to explore a different diverse of marine ecosystem.

The beach is one of the most photographed scenery that you may have. It is a best place to enjoy the sunset and also a popular place amongst the young who would like to be here with their near and dear ones. Watching the sunset is one of the breathtakingly view that you will have in the place.
How to get to Pulang Daga Beach Resort
By Land: Camarines Norte is about six hours drive from Manila through lush forests and picturesque seascapes. Leave Manila before dawn and eat a sumptuous breakfast of native dishes in nipa huts along the highway. Drop by fruit vendors along the way and savor the place's most delectable fruit - the piña. Before noon, you'll be in Daet, the capital, in time for business or pleasure. You can ride a bus from different bus companies like Amihan, Superlines, and PhilTranco in the terminal located in Pasay and Cubao.
By Air: Camarines Norte can also be reached by air through the Pili Airport in Camarines Sur. Airline companies like Zest Air, Philippine Airlines and Cebu Pacific have routes from Manila to Pili, Camarines Sur. From the airport you can take a bus or a cab to Daet via Naga City, Camarines Sur's capital and home to Bicol's Patroness - Nuestra Señora de Peñafrancia.
Daet to Paracale is about 30 minutes by means of van. From Paracale, you can board tricycle to Pulang Daga. Travel time is about 20 minutess.
Nearest Accommodations in Pulang Daga Beach Resort
The Village at San Bernardino - San Bernardino,, Bicol, Philippines

Sandton Chalet Boutique Hotel - Victoria Heights, San Agustin Canaman, Naga City - Camarines Sur, Bicol, Philippines

Señor Enrico Bed and Breakfast - 1010 San Felipe Road, Naga City - Camarines Sur, Bicol, Philippines 4400

UR Inn Apartelle - Zone 3 San Vicente, Canaman, Naga City - Camarines Sur, Bicol, Philippines 4402

Kayumanggi Resort - Carolina, Pacol, Naga City - Camarines Sur, Bicol, Philippines
Rating:
14 people rated this.