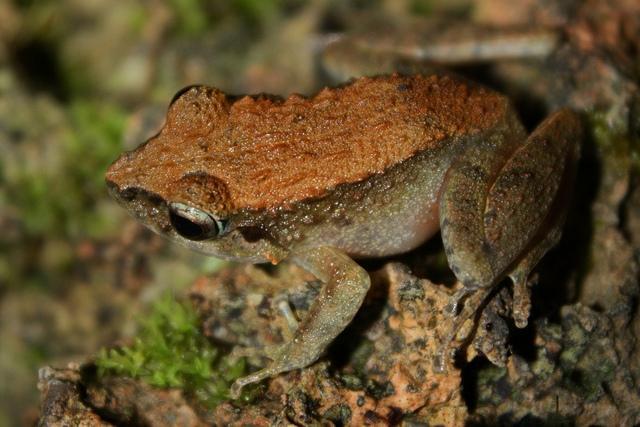 Common Forest Frog (Platymantis dorsalis) found in Rajah Sikatuna National Park
One of the best-kept secrets on the island of Bohol, the Rajah Sikatuna National Park (RSNP), this unique and exiting wilderness area encompasses over 10,000 hectares of native molave forest and grasslands. The park is considered the last remaining natural molave forest in Bohol dominated by numerous dipterocarp species.
Over 100 caves carve through the mountains of RSNP. Cave explorers will find it a delight to see the amazing stalactite and stalagmite formations that have taken Mother Nature thousands of years to develop in the caves found in the area. Near the nature center, one can relax and take a dip in the Logarita swimming pool for a refreshing break from the heat. Three mountain springs fill the pool with cool and crisp spring water. Splendid views surround the pool with the combination of rice paddies and mountainous background.
Over 30 kilometers of marked trails have been carved through the forest for excellent viewing of wildlife, flowers and tree species. At the highest peak of RNSP, an observation tower has been constructed to view RNSP, Panglao and Cebu Islands, and the surrounding communities of Bohol.
Rajah Sikatuna National Park is known by bird watchers worldwide for its diverse and abundant numbers of endangered and endemic species of birds. Along with the many bird species, mammals and reptiles can be observed within RNSP. Most remarkable is the rare tarsier, the smallest primate of the world. At sunset, flying lemurs can be seen around the cottages at the nursery. A pack of 20 monkeys can be observed roaming around the park near the nature center jumping from tree to tree, foraging for food. As of this time only groups up to 30 can only be accommodated at the administrative/nursery building complete with conference room capabilities. Both areas are equipped with electricity, kitchen, restroom and showers.
Getting Around in Bohol
Once you arrive in Bohol, there are various ways to get around the island. You can find plenty of tricycles and some taxis waiting to bring you to most locations within Tagbilaran and neighboring towns. If you need to go to one of the other towns on the island, you have a choice of jeepneys, busses, V-hires, or even habal-habal. Bilar town where Rajah Sikatuna National Park (RSNP) located, is an interior town located 41 kilometers Northeast of Tagbilaran City.
Planning a Trip to Bohol
By Air: The main entry point to Bohol is Tagbilaran City (Tagbilaran City Airport) which is only a one-hour-and-15-minute flight from Manila and 20 minutes from Cebu.
By Sea: The most convenient way to get to Bohol from the neighboring islands is by fast ferry. Fast ferries offer a high speed passenger service. These have a cruising speed of about 50 kilometers per hour.
Nearest Hotels in Rajah Sikatuna Park
FloWer-Beach Resort - Virgen, Anda, Bohol, Philippines 6311

Marquis Sunrise Sunset Residentials Cottages - Cambanac, Baclayon, Bohol, Philippines

Soledad Suites - Lou Square, JC Borja corner M. Parras, Tagbilaran City, Bohol, Philippines

La Petra Beach Resort - Sitio Bacong Dagohoy, Anda, Bohol, Philippines 630

Dao Diamond Hotel and Restaurant - Km. 3, Dao District, Tagbilaran City, Bohol, Philippines 6300
Rating:
6 people rated this.