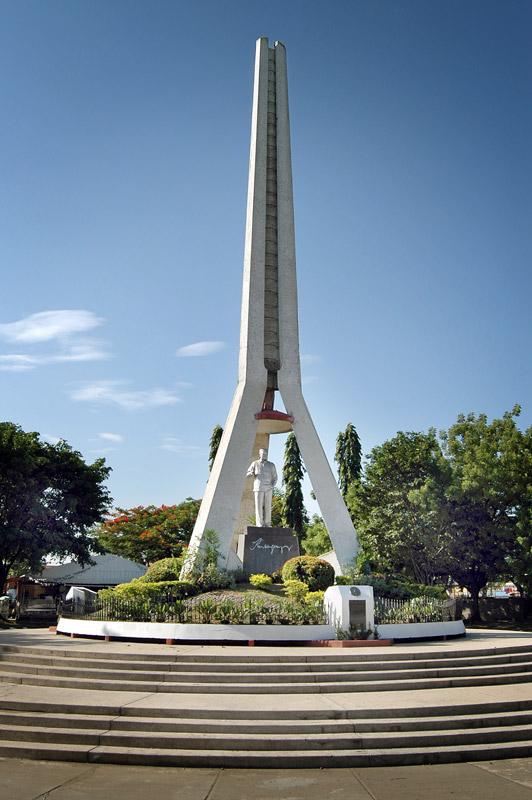 Ramon Magsaysay Monument

Ramon Magsaysay Park is a famous place in Davao City. It is located on Leon Garcia Street and adjacent to the historic Santa Ana Pier, one of the historical landmarks in the city. The park was named in honor of former President Ramon Magsaysay who is dubbed as the " Idol of the Masses", a President who was very close to the hearts of the people.
The monument of Ramon Magsaysay, the third President of the Republic of the Philippines, is about 25 meters high and is the highlight of the park.
The vast area has lush gardens and trees where one can sense a very relaxing breeze. It is a favorite hangout of locals and tourists. In fact, every afternoon, many people can be spotted in the park - resting, strolling, picnicking, playing, or simply walking. It is frequently visited by many especially locals because there is no entrance fee to pay. Everyone is welcome in the park. It is open daily from 5:00 AM to 9:00 PM.
The park is clean and well maintained by the management. There are rules implemented in the park that every visitor should obey. Pets and bicycles are not allowed inside the park. The park provides a parking area for those who have cars.
All around the park, markers and sculptures that symbolize the province can be seen. Meanwhile, the park also houses some of the local government offices such as Internal Affairs and Tourism.
Kids could enjoy playing on the playground. There are also restaurants that can be found inside the park that serve Filipino cuisines. The park accommodates events and shows on their wide grounds and amphitheater. The park gets crowded whenever there is an event or government activity.

Many stalls and stores are located outside the park selling different kind of fruits a other food, especially "Durian".
The park is an ideal place for families, friends and groups who want a free and simple bonding.
Gallery

Accommodations
Here is the list of accommodations in Davao City.
111 Pacific Residence Inn - #498 Quirino Ave.305-6183

Abi Yhors Inn - Matina Aplaya

Alta Pension House - J.P. Laurel Ave.

Ashnor Traveller's Inn - #276 Mini Forest, Quezon Boulevard

BB Inn & Apartelle - #3 Panacan Ave.,

Big Apple Hotel and Bar - Mamay Road, Lanang

Casa Leticia Boutique Hotel - J. Camus St.

Courtside Princess Inn - J. P. Cabaguio Ave., Agdao

Cover Inn - Shanghai, Matina Aplaya

Danking Apartelle - #16 Sapphire St.,Gem Village, Maa

Davao Fortune Inn - R. Magsaysay Ave.

Davao Lodging Inn - C. M. Recto St.

Ecoland Suites - Tulip Drive Corner Walnut St.,

Elles Pension House - A&J Bldg., Mt. Apo St.

Emma Victoria's Inn - New Bonguyan Beach, Matina Aplaya

Garnet Country Inn - #9 Garnet St., Marfori Heights

Hari Royale Suites - Narra St. corner Sta. Ana Ave. 3

Hotel Cabaguio - J. P. Cabaguio Ave., Agdao

Hotel Galleria - Gov. V. Duterte St.

Jen & Cats Family Lodge - 8-B Villa Abrile Hunry Bldg.

Leanzo's Guest House - DIHO Subd., Buhangin

Marco Polo Hotel - C. M. Recto St.

Metropolis Suites Davao - Macopa St. Corner Cabaguio Ave.

Prince Court Hotel - J. P. Cabaguio Ave., Agdao

Rosewill Lodging Inn - #164 Vicente Bldg.,

Sunny Point Hotel - #30 Evergreen St., Brgy. Maa

Villa Carmelita Inland Resort & Hotel - Km. 14 MacArthur Highway, Toril
Getting to Davao City
By land
The common modes of public transportation are multicabs, jeepneys, tricycles, buses, and taxis. Multicabs and jeepneys ply 82 designated passenger vehicle routes around the clock. Tricycles ply the routes that are outside the main streets of the city. Taxis have several routes in and outside Davao City. In mountainous areas, the habal-habal passenger motorcycle is the main mode of transportation.
Davao City offers a wide bus network connection to major cities and provinces, not only in Mindanao but even as far as Manila and Pasay City in Luzon. The city is accessible by bus to and from points in Mindanao like Cotabato, Monkayo, Kidapawan, Midsayap, Digos, General Santos, Koronadal, Isulan, Tacurong, Tagum, Cagayan de Oro, Surigao, Butuan, and with Manila in Luzon.
The DPWH is proposing to build the Tagum-Davao City-Digos Light Rail Transit, which will be the first on Mindanao island, and the construction of the Davao-Samal Bridge, which will be like the San Francisco Golden Gate Bridge in the United States, to begin in 2017.
By sea
Davao is connected to Manila by a series of roll-on roll-off or inter-island ferry connection.
The city is served by domestic passenger ferries at Sasa Port and Sta. Ana Wharf, both of which are the international seaports of the Port of Davao, the busiest port in Mindanao. This port could service both inter-island and international shipments. It is located the Davao Gulf and its port of entry has two approaches; one is at the Pakiputan Strait between Davao and the water west of Samal Island.
By air
Davao City has direct flights to major cities in the Philippines and some Asian cities. The Francisco Bangoy International Airport serves the general area of the city and its surrounding areas.
Rating:
8 people rated this.