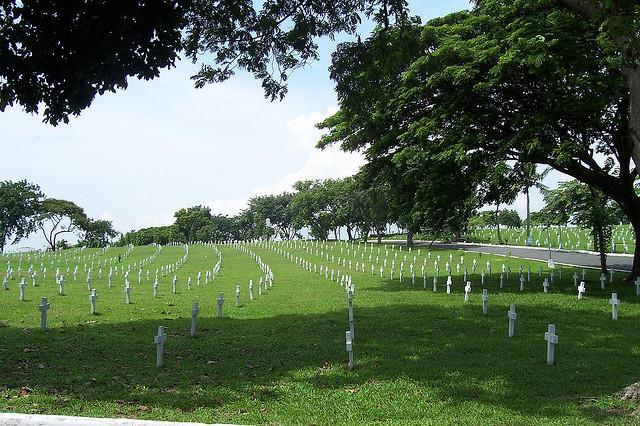 The Tomb of the Unknown Soldier refers to a grave in which the remains of an unidentified soldier are interred. It is dedicated to the common memories of all soldiers killed in any war. Such tombs can be found in many nations and are usually high-profile national monuments. Throughout history, many soldiers have died in wars without their remains being identified. Following the First World War, a movement arose to commemorate these soldiers with a single tomb, containing the body of one such unidentified soldier.
The idea of a symbolic tomb of the unknown soldier spread throughout the other countries. In 1921, tombs were unveiled in the United States, Portugal, and Italy. Since then, other nations have followed the practice and installed their own tombs. The tombs typically contain the remains of a dead soldier who is unidentified and sometimes inscribed "known but to God" in their stone.
In the Philippines, some of the famous tombs of the unknown soldier are Libingan ng mga Bayani (Cemetery of Heroes) in Manila, Shrine of Valour in Bataan, and Tomb of the Unknown Soldier in Bauang, La Union. These tombs contain the remains of the Philippine soldiers who have joined the military and died in wars and battles.
Tomb of the Unknown Soldier in Bauang
The tomb was built as rrecognition of the great courage of the soldiers who fought during the last World War. The marker stands at the junction leading to Poro Point.
How to get to La Union?
From Manila there are various bus lines that offer trips to La Union. Air conditioned bus firms (Dominion Bus Lines, Philippine Rabbit, Partas, Fariñas, Maria de Leon, and Viron) depart from terminals in Manila which are bound for Ilocos. The destination can either be La Union, Narvacan, Vigan, Laoag, or Abra.
San Fernando City, La Union's capital, lies 273 km. from Manila. Travel time is about 5 hours by land and 30 minutes by air. Also, it is about an hour's drive from Baguio City.
Getting around La Union! One can take jeepneys and mini-buses with fixed routes at a minimal fare. Tricycles (motorcycles with sidecars) are commonly used to access must-see places in between towns. Rented transportation that plies this town is also available which will bring you to the city proper.
Nearest Accommodations: There are many inns, pension houses, and hotels located in and around San Fernando.
• Oasis Country Resort - Sevilla, San Fernando City, La Union, La Union, Philippines
• Thunderbird Resorts - Poro Point Poro Point Freeport Zone, San Fernando, La Union, La Union, Philippines
• China Sea Beach Resort - China Sea Beach Resort
• Hotel Ariana - Paringao, Bauang, La Union, La Union, Philippines
• Bali Hai Beach Resort - Parungao, Bauang, La Union, La Union, Philippines
Rating:
0 people rated this.