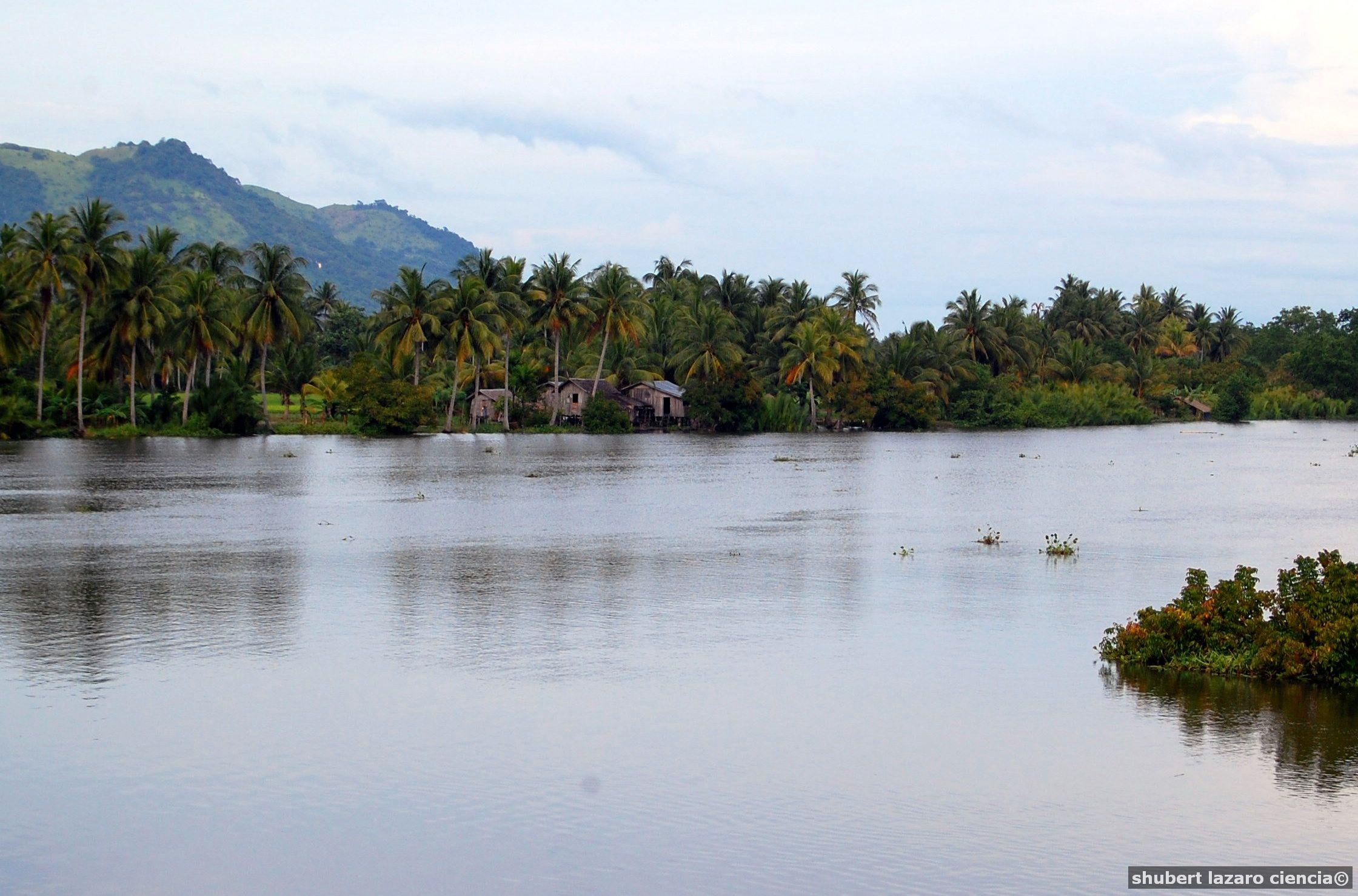 Rio Grande de Mindanao (Cotabato City)
The Mindanao River, also known as the Rio Grande de Mindanao, is the second largest river system in the Philippines, after the Cagayan River of Luzon. It is the largest river on the southern island of Mindanao with a drainage area of 23,169 km2 (8,946 sq mi) draining majority of the central and eastern portion of the island. It is also the second longest river in the country with a length of approximately 373 km (232 mi). It is an important transportation artery on the island, used mainly in transporting agricultural products and, formerly, timber.
Its headwaters are in the mountains of Impasug-ong, Bukidnon, south of Gingoog City in Misamis Oriental, where it is called the Pulangi River. Joining the Kabacan River, it becomes the Mindanao River. Flowing out of the mountains, it forms the center of a broad, fertile plain in the south-central portion of the island. Before its mouth in the Moro Gulf, it splits into two parallel sections, the Cotabato and Tamentaka, separated by a 180 m (600 ft) hill.
Population centers along the river include Cotabato City, Datu Piang, and Midsayap.
Where to Stay
Grand Rio Hotel - #80 Don Rufino Alonzo Ave., Cotabato City

Estosan Garden Hotel - Gov. Gutierrez Boulevard, Cotabato City

Diamond Hotel - Cor.Makakua and Jose Lim St., Cotabato City

Pacific Heights Hotel and The Marqueza - #66 Don. T.V. Juliano Avenue, Cotabato City

Citi Plaza Hotel - Makakua Street, Cotabato City

El Manuel Hotel - 111 Quezon Avenue, El Manuel Drive, Cotabato City

Vision Inn - #48 Notre Dame Avenue, Cotabato City

Sardonyx Pension House - Gov. Gutierrez Avenue, Cotabato City

Pension Rafael - San Isidro St.,Cotabato City

Fiesta Cotabato - Dr. Rabago St., Cotabato City

Hotel Cirilo - Sultan Makakua Street, Cotabato City
How to Get There
By Air
To Cotabato City
From Metro Manila 1 hr 30 min

From Cebu City 45 minutes

From Zamboanga 25 minutes Check for Plane Fares and Flight Schedules
To Marawi City (through Cagayan de Oro City)
From Metro Manila to CDO 1 hr 20 min

From Cebu City to CDO 35 minutes
(Marawi is 3 hours overland from Cagayan de Oro.)
By Sea
Sulpicio, Negros Navigation, Aboitiz, William and Gothong Lines ply routes from Manila to Cotabato, serving areas of Cotabato province, Cotabato City, and Sultan Kudarat.
Their Manila-to-Cagayan-de-Oro routes also serve the areas of Iligan, Lanao del Norte, and Marawi City.
Check SuperFerry Schedule and Fares
By Land
( PUV's like L300 Vans, Jeeps and Buses ply these routes)
To Cotabato City From Davao City 4 hrs

To Marawi City From Cagayan de Oro via Iligan 3 hrs

To Cotabato City From General Santos City 4 hrs
By Bus
From Davao to Cotabato City 6 hrs
Air-conditioned minivans
From Lanao Sur, General Santos City, Tacurong, Marawi City, Kidapawan City to Cotabato City
Jeepneys
From General Santos City, Kidapawan City, Marawi City, all points of the Municipalities of Maguindanao.
Non-aircon/aircon Bus lines
From the city to nearby municipalities and to Davao City. Weena Express, and Grand transport provides service from the north leading to Davao City.
There are many jeepneys and tricycles to get you around the city.
Rating:
0 people rated this.