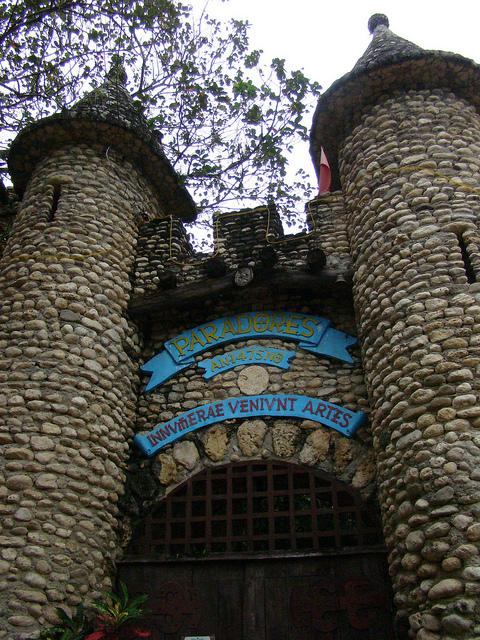 Riverstone Castle Resort is a fascinating resort that can be found in Jomgao, Argao, Cebu. The town of Argao lies about 70 kilometers from Cebu City. Travel time will take more or less 2 hours depending on your transportation.

The resort showcases a very beautiful design of castle-type building similar in fairytale stories. The resort is designed with pebbles from Argao River and wood "Tugas and Balayong". The idea of its physical architecture, the interior and exterior, came from stunning European castles in the middle age.
The resort is also equipped and outlined with accessories and materials of a true medieval castle. Visitors could feel like a princess or prince inside the castle. It is really similar to a castle that we see on the TV or books.
The castle houses different kind of facilities and materials made of wood and stone. Visitors can spot and experience lots of things inside such as pool, aquarium, restaurant, mini zoo, cottages, rooms, knight hall, wishing well, rabbit play garden, money forest, antique bakery and many more to discover.
Everyone will cross the wooden bridge in the area upon entering the main gate.
Crocodiles can also be seen in a cage. Visitors can also have a picture with stone statues of fully-armored castle guards.
Enjoy bathing in the cold water of the swimming pool.
Going to the resort has an entrance fee. Tourists can stay in resort accommodations. The area can also accommodate celebrations, wedding, and parties.
The resort is absolutely perfect for everyone especially for children due to its designs and facilities offered. Kids will surely love the place.
Gallery

Getting In
By Plane: From Manila, there are daily flights going to Cebu City.
By Boat: Cebu City's domestic port is the country's busiest. Cebu City is home to almost 80 percent of the country's passenger vessels. The country's largest shipping lines, namely WG&A, Sulpicio Lines, Trans-Asia, George & Peter Lines and Lorenzo Shipping Lines, are headquartered in Cebu. Large passenger ferries with a capacity of 2,000 to 4,000 passengers ply the more distant routes such as Manila, Davao, Butuan City, Zamboanga, and Cagayan de Oro.
From the airport, you can ride a multicab, jeepney, or taxi. Simply ask around for which route to take. They are available 24 hours and cover most of the nooks and crannies of the city. Just be sure you know what part of the city the jeepney will take you to.
Rating:
8 people rated this.