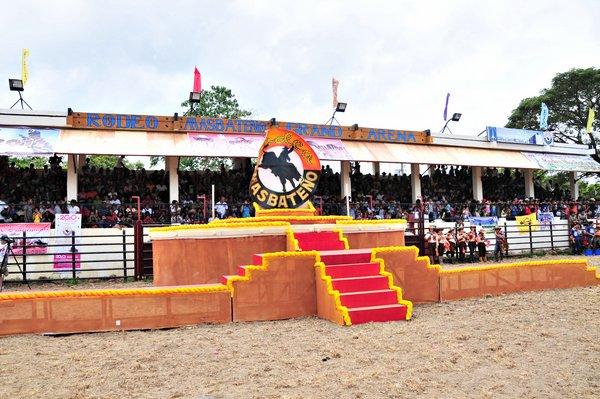 The Rodeo Masbateño Festival is an annual event which takes place in Masbate City that showcases skills in livestock handling, such as lassoing, wrestling, and riding cattle. Also included in the event are a fair and exhibitions and trade of cattle and horses. The event has taken place every summer since 1993 in the province of Masbate, which is traditionally considered the "Cattle Country of the Philippines."
Description
The festival opens with a lively parade of horseback riders. There are also livestock shows, a carnival, and a trade fair featuring local products, as well as animal health seminars.
The highlight of the event is the rodeo competition itself. Men and women dress up in cowboy outfits to perform stunts like lassoing on foot and on horseback, livestock wrestling, casting down, load carrying, bull riding and whipping, the two-person carambola, and other activities related to the handling of livestock. These events draw people from the rest of the Philippines and around the world as well as locals. International cowboys and bull riders also participate in the competitions.
History
The Rodeo Masbateño Festival was conceived in 1992 as a way of uplifting the local cattle industry. It was started by MAKUSOG, a group of ranchers and businesspeople of Masbate, who formed the Rodeo Masbateño Foundation. There had been a long tradition of cattle raising in the province, with some 81% of its land used for pasturing livestock, but at that point in time the industry was in a slump. With the support of the provincial governor Emilio Espinosa Jr., the first Rodeo was staged in 1993. Following this, it became an annual event that improved tourism as well as commerce in the region and increased the locals' pride in their province's unique identity and products. The event was initially known as Rodeo Filipino, but the name was eventually changed to Rodeo Masbateño. It grew into a national event over the years, attracting tourists from all over the Philippines and abroad. In recognition of the success of this event, on September 2, 2002, President Gloria Macapagal-Arroyo issued Executive Order No. 120 declaring Masbate as the Rodeo Capital of the Philippines. Masbate has also become known as the Rodeo Capital of Asia and is now affiliated with the Professional Rodeo Cowboys Association of America. Its homegrown cowboys, whose rodeo talents have been honed at the festival, have participated in the National Rodeo Finals in Las Vegas.
Gallery

Rating:
0 people rated this.