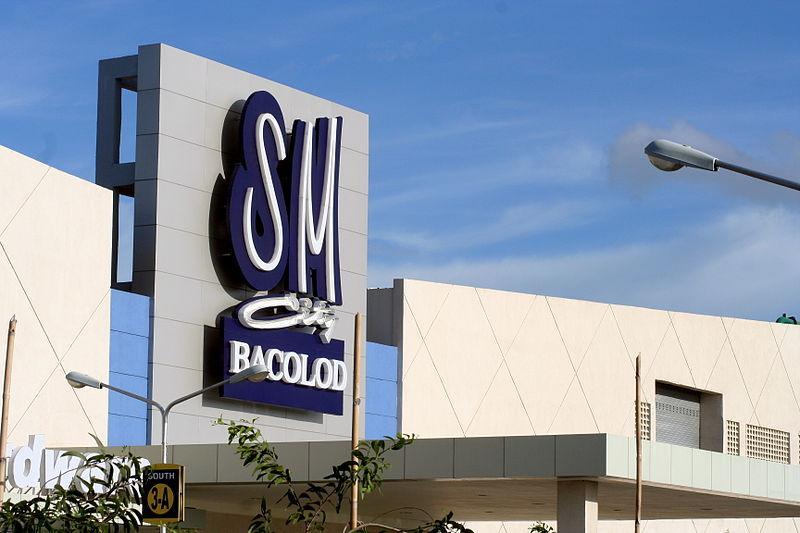 SM City Bacolod is a supermall located along Rizal Street, Reclamation Area, Bacolod City, Negros Occidental, Philippines. It has a total of land area of 161,096.60 square meters and a total floor area of 61,413 square meters. SM City Bacolod is the 29th supermall of SM Prime Holdings and the 3rd in the Visayas Region. It opened on March 1, 2007. SM City Bacolod is currently undergoing renovation and expansion that will be completed by 2013.
Mall features
SM City Bacolod hosts international and local fast food chains, restaurants, and stores. It has four cinemas showcasing films and live sports games. The mall is divided into two buildings called the "North Wing" and the "South Wing". The two buildings are connected by two bridgeways that allow patrons to walk between the two structures. The South Wing houses the grocery supermarket, cinema, local fast food chains and pharmacies. The North Wing houses the department store, appliance center, food court, international fast food chains and boutiques.
Expansion
SM City Bacolod is currently undergoing an expansion in its North Wing. Plans bared by SM Prime Holdings will see a P2.5 billion three-storey expansion plan on both the North and South wings while the existing mall structure will be extended to two-storeys. The expansion will accommodate 150 more store tenants which is set to be completed by 2013.
Anchors
SM Department Store

SM Supermarket

SM Food Court

SM Cinemas
Junior anchors
SM Appliance

Ace Hardware

Surplus Shop

Watsons

SM Home World

Toy Kingdom
List of Accommodations in Bacolod City
Hotels
First Class
L'Fisher Hotel - 4th Lacson Street, Bacolod City

Hotel PAGCOR - Magsaysay Avenue, Bacolod City

Luxur Place - Magsaysay Avenue, Bacolod City

Eastview Hotel - Carlos Hilado Circumferential Road Corner

Grand Regal Hotel - Araneta St., Singcang, Bacolod City
Economy
Bascon Hotel - Gonzaga Locsin Streets, Bacolod City

Check Inn Hotel - Ponce Building, Luzuriaga St, Bacolod City

Northwest Inn - JB Corner, Rizal-Mabino Sts
Tourist Inns
Bacolod King's Hotel - San Sebastian-Gatuslao Street

Belle's Pension - 17th Lacson St., Bacolod City

Casa Marabella - Ylac Avenue, Villamonte

G&J Horizon - Locsin-Libertad, Bacolod City

Pearl Manor - North Drive - Lacson St., Bacolod City

Regency Plaza Inn - Lacson Extension, Bacolod City

Traveller's Inn - BS Aquino Drive- Lacson St., Bacolod City
Accessibility
By air
The city is only 55 minutes from Manila, serviced by the country's 3 major airlines: Philippine Airlines, Cebu Pacific and Air Philippines, with four round trip flights daily.
From Cebu City, Bacolod is only 30 minutes away, with 3 round trips daily through Philippine Airlines and Cebu Pacific.
The New Bacolod-Silay Airport of International Standard is 20 minutes to and from the Bacolod downtown.
By sea
Bacolod is normally a 20-hour cruise to and from Manila aboard world-class vessels; 55 minutes to and from Iloilo on fast seacrafts. The Banago and BREDCO ports are the vessels entry point.
By sea and land
The 18-hour travel time to and from Manila via land and sea transport is now possible through RORO (Roll On Roll Off) vessels traversing through the Strong Republic Nautical Highway using the ports of Iloilo, Caticlan in Aklan, Roxas in Mindoro and Batangas in the Province of Batangas.
Rating:
11 people rated this.