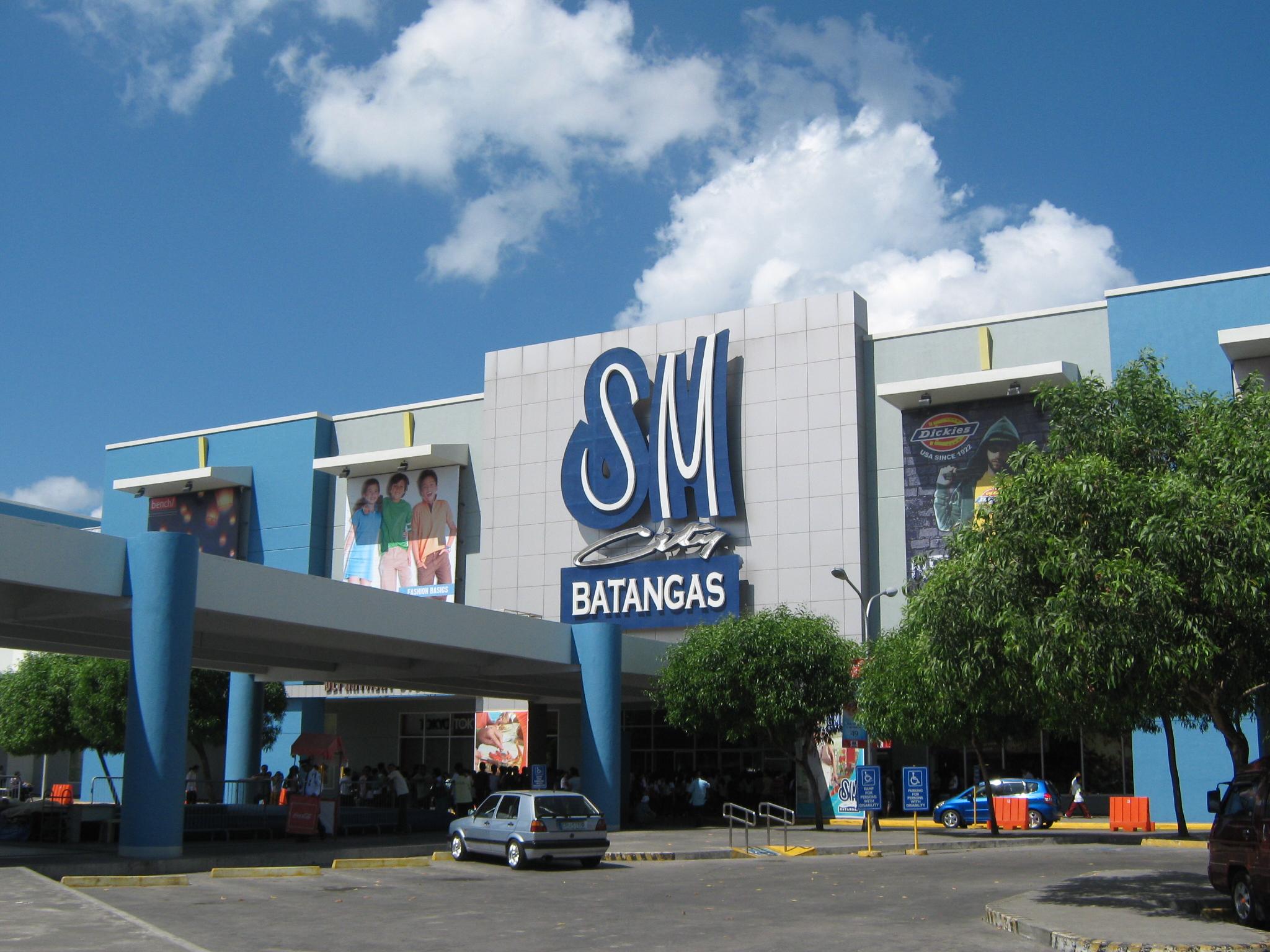 SM City Batangas is a shopping mall owned and operated by SM Prime Holdings. It is the first SM Supermall in Batangas Province. It is located in Brgy. Pallocan Kanluran, Batangas City with a land area of 8.5 hectares and a total floor area of 76,819 m2 (826,870 sq ft).
Location
The mall itself is located inside a rural village. It sits on a 8.5 hectare land opposite to the adjacent Batangas River. From the national highway, several street signs had been installed for mall-goers to be able to locate the mall. Across the mall, shoppers can enjoy the view of the untouched rural landscape of the city. Also facing the main facade of the building is a clear view of Mapolo Hill, located in the municipality of Taysan.
Anchors
SM Department Store

SM Supermarket

SM Cinemas

Cyberzone
Junior anchors
SM Appliance Center

Our Home

Toy Kingdom

Surplus Shop

Watsons

National Bookstore

Ace Hardware

Playmates
Accomodations
The reputation of Batangas as a tourist destination has resulted in the sudden growth of one-stars, numerous bungalows over the water accessed by boardwalks, with wooden stairs leading down to the sea, and three-stars that are cheap by international standards.
Lima Park Hotel, Lima Technology Center, Malvar

Canyon Cove Resort, Far East Road, Piloto Wawa, Nasugbu

Lago De Oro Cable Ski Park and Resort, Bo. Balibago, Calatagan

Days Hotel Batangas (Days Hotel Batangas), Pastor Village, Pallocan West

Anilao Outrigger Resort, Solo, Anilao, Mabini

Chateau Royale, Km 72 Batulao, Nasugbu

Evercrest Golf Resort, Batulao, Nasugbu

Microtel Inn & Suites, First Philippine Industrial Park, Sto. Tomas

Matabungkay Beach Resort, Brgy. Matabungkay, Lian

Hotel Pontefino, Pastor Village, Gulod Labac

Cintai, Balete/Lipa City

Hotel La Corona, Lipa City

Mount Malarayat Hotel and Suites, Dagatan, Lipa City

The Coral Beach Club, Matabungkay, Lian

Club Punta Fuego - Nasugbu.

Taal Imperial Hotel and Resort - Brgy. Tulo, Diversion Road, Taal, Batangas, Batangas, Philippines

Canyon Woods Resort Club - Diokno Highway, Lauurel, Laurel, Batangas, Philippines

San Roque Paradise Hotel - (21.76 km from Batangas City Hall of Justice)

The Alpa Hotel and Restaurant - Brgy. Kumintang Ibaba, , Batangas, Batangas, Philippines
Getting there

Batangas City is 2 1/2 hours away from Manila when using the old inter-town route. Using the STAR Tollway route, one can reach Batangas City in just 1-1/2 hours. Tanauan City is about 1 hour away and in between Tanauan City and Batangas City, one will find Lipa City. ALPS The Bus, Inc. is one of the many bus companies that travels the said route.
Travellers can take air-conditioned buses in going to Batangas City. Those who want to go to Nasugbu, Calatagan and Lian towns (Matabungkay) can pass via the Tagaytay route.
Travellers going to Puerto Galera can take direct air con buses from Manila (Cubao) to Batangas pier. The best services are BLTB (every hour) and JAM transit (also every hour) from the Kamuin Cubao bus station. Sometimes, esepcially during peak hours, buses run every 30 minutes. The last stop is a Batangas pier (ask the conductor beforehand) from where one can take a ferry to Puerto Galera.
When driving one's own vehicle to Tanauan-Lipa-Batangas City, travelers will pass through the South Luzon Expressway, then the STAR Tollway and can just follow the directional signs along the highway.
For short trips in the desired destinations, passenger jeepneys abound, and then tricycles.
Getting Around
You can use passenger jeepneys to go to different parts of the province, but you can use tricycles for short trips. Tricycles could take you to the exact place that you want to go because jeepneys have routes like buses do. However, tricycles are small and cramped, and could only comfortably accommodate three passengers (2 if the passenger is over six feet tall).
Rating:
20 people rated this.