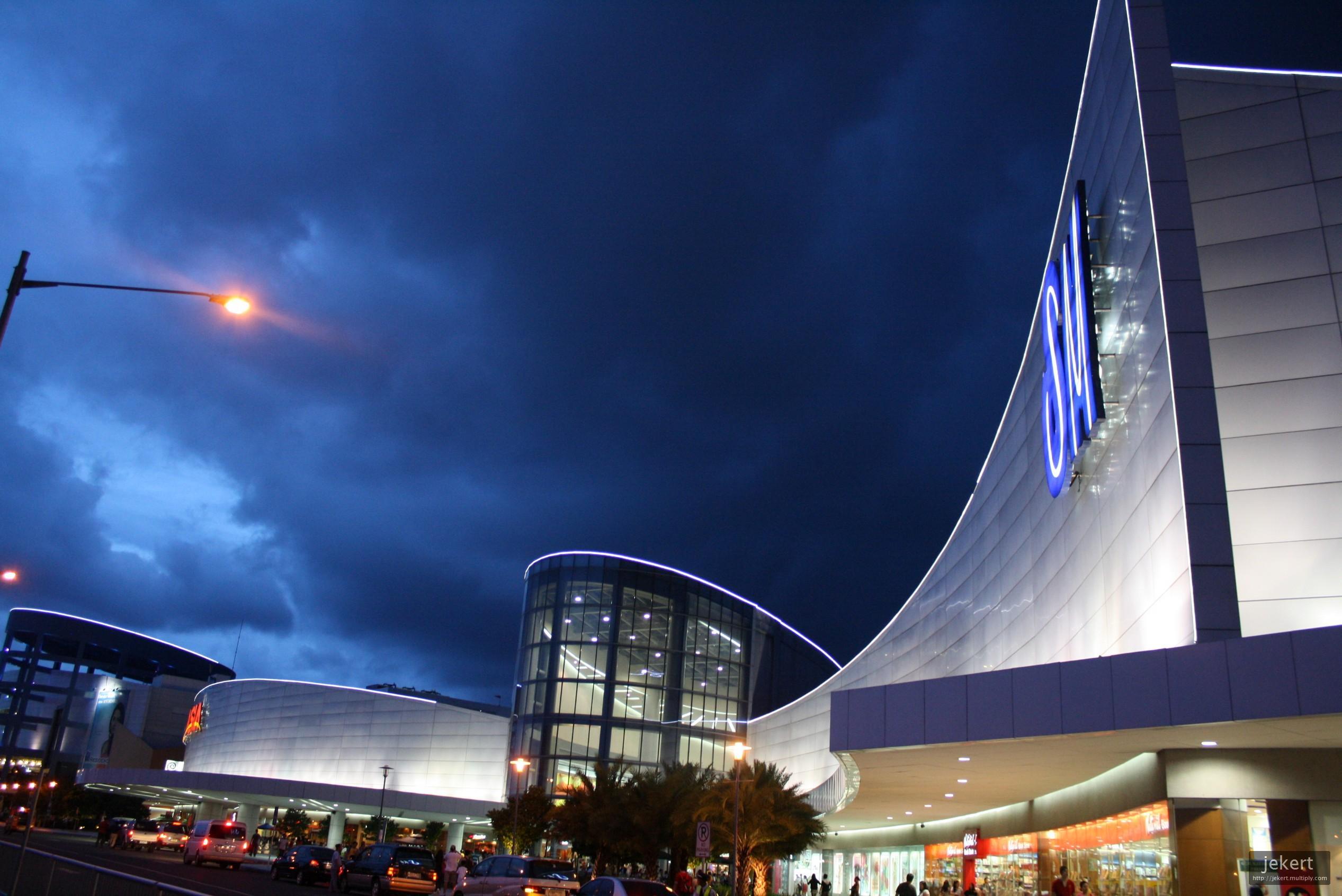 SM Mall of ASIA is situated at the Bay City, west of Roxas Boulevard and south most tip of EDSA (Epifanio De Los Santos Avenue) in Pasay City, Metro Manila. It is a shopping mall owned and developed by SM Prime Holdings.
SM mall of Asia (MOA) is known as one of the largest malls in Asia because it is the second largest mall in the Philippines, the third largest shopping mall in Asia, and the fourth largest shopping mall in the world. It has a land area of 4.2 million square feet or 42 hectares.
The mall attracts 200,000 people daily. It has an iconic globe which is a multi-coloured huge bronze globe that was constructed at the front of the mall.
The mall consists of four buildings interconnected by walkways; the Main Mall, the Entertainment Mall, and the north and south car park buildings. The Main Mall includes shops and stores; food court and different dining establishments; and the Concierge Desks. The Entertainment Mall is facing the Manila bay, a two-storey complex in which majority is open air; the Concierge Desks can also be found here. SM Department Store can be found at the South Parking Building and the SM Hypermarket is at the North Parking Building.
Features
The main attraction of the mall is the first ever IMAX theatre in the country where you can watch 3D movies. There are also a Premiere Cinema and a Center Stage Cinema that are used in live musical concerts and theatrical performances. A Director's Club Theater is used for intimate screenings, with 30 La-Z-boy seats.
The Mall also has the Philippines' first Olympic-sized ice skating rink. It is the biggest rink in Southeast Asia with an area of 61 by 30 meters. The rink can accommodate both recreational and competitive figure skating, as well as ice hockey.
The Mall of Asia Arena is an indoor arena that is being constructed with an expected 16,000 seating capacity for sports events.
Another attraction that can be seen in MOA is the SM Science Discovery Center which features a wide range of technology and science-themed exhibits like Life Clock, Image Port, SMART Media City, Transportation Nation, Grossology, Spaceship Earth, Virtual Reef, City Science, Robot Inc., Digester Planetarium, and LEGO Mind Storms Robotics Center. It is also the country's first technology-based theme park. Kids will surely love it all because they can both learn and have fun at the same time.
Of course, just like other malls, MOA have dining and shopping features. San Miguel by the Bay has a dining and nightlife strip.
The mall has a 20-seater tram travelling around the mall grounds. It is a free ride for all. There's also a Ferry Service terminal at the bayside that serves as passenger port for tourists passengers who wish to travel to peninsular Cavite City.
The open-air Music Hall and SM Bay City Arena hold large events like concerts, circus, ice shows, sports and entertainment events.
Esplanade is a bayside linear park behind the Mall of Asia. It is where the First World Pyro Olympics was held. It was also the venue for Lovapalooza 2, wherein they break the Guinness World Records of Hungary with 5,300 couples joined and kissed for 10 seconds. From this place, you can view the Manila Bay's sunset.

You can also find the SM MOA Eye – the tallest Ferris wheel in the Philippines – at the Esplanade. It is 55-metre tall (180 ft.) with 36 air-conditioned gondolas (6 persons per gondola) and with the maximum capacity of 216 passengers. There are other kiddie rides near the Ferris wheel. There are a lot of stalls and bars in this area. It is the usual hang out of peopl who want to chill and look at the Manila Bay. At night, there are mimes, clowns, and other performers who entertain passers-by.

The Mall really offers different activities both indoors and outdoors that you will enjoy with your family or friends.
How to get there

From Manila, you can take a ride on Light Rail Transit (LRT) and go down at the EDSA – Taft Avenue station, and then you can ride a bus or jeep passing through SM Mall of Asia or going to Pasay/MOA.
You can also take a taxi and just tell them, to bring you in the MOA.
Rating:
9 people rated this.