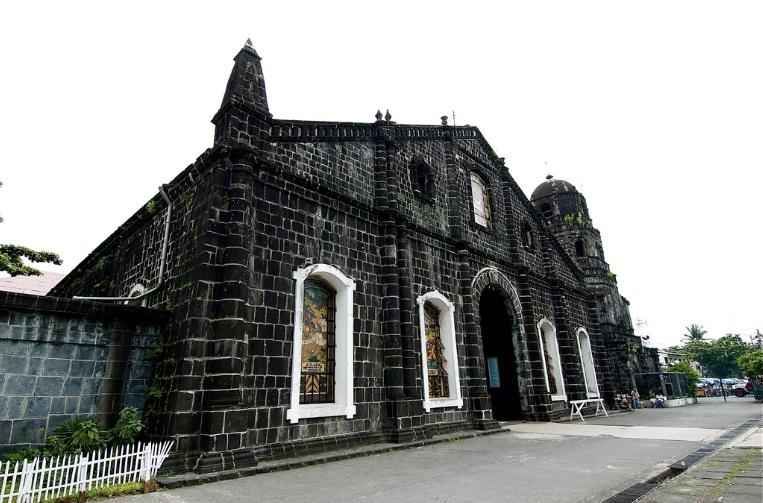 You know you are already in Tabaco when you see a domed and dark tower looming above the buildings in the horizon. The tower is the belfry of the St. John the Baptist Parish Church, or commonly known as Daculang Simbahan (Big Church).
According to the National Historical Institute (NHI), the church, a classic Earthquake Baroque structure was erected under the pastorship of Fr. Fermin Llorente who was a priest, an engineer, and a soldier. Built from 1864 to 1879, the Tabaco Church is made of adobe blocks held together by molasses and lime.
The NHI describes this classic architectural gem thus:
Broken pediment, arched windows and doors, balustrades outlining the edges of the pediment and the corners of the bell tower, paired pilasters, the scrolls topping columns, and spires terminating the two edges of the triangular pediment - are its great architectural forms. For an Earthquake Baroque the huge buttresses, blind windows, and the visible belfry separated from the main church building are characteristics of the said style in Philippine architecture.
Upon careful scrutiny, one will see mysterious insignias etched on the surface of most of the stones. It is believed that these initials, are the abbreviations of the names of the very artisan-masons who crafted the blocks.
Another interesting feature is the carving in the belfry of a person resembling that of a native royalty or datu, side by side with the likeness of the King of Spain. There are many speculations about what this image might mean A popular interpretation is that it symbolizes the Spaniards' high regard toward the local pre-Hispanic government. Very rare in Philippine church embellishments, this makes the Tabaco church a national cultural treasure.
Accommodations (Tabaco City)
Casa Eugenia Hotel - Ziga Avenue cor. Tagas, Tabaco City 4511 Albay

Tabaco Gardenia Hotel - Riosa St. Tabaco City 4511 Albay

Sleep Easy - A.A. Berces St., Tabaco City 4511 Albay

HCG Residence Mansions - Ziga Ave., Tabaco City 4511 Albay

TNHS Alumni Hall - TNHS Compund, Panal-Bangkilingan, Tabaco City 4511 Albay
Restaurants (Tabaco City)
Chicken Magayon (Solamente Restaurant) - Karangahan Blvd., Bombon,Tabaco City

Pasta and Pizza (Graziano's Pizza) - General Luna St. Tayhi Tabaco City

Chinese Cuisine (Abing's Food House) - Tomas Cabiles St., Tabaco City

Pancit (Tabaco Bakery) - General Luna St. Tayhi Tabaco City

Japanese Food (Delica Suisen) - Ziga Ave. Tabaco City

Starship Cafe - Mayon Planetarium and Science Park
Accessibility
By Air:
Daily flights to Legazpi City by Philippine Airlines, Cebu Pacific and Zest Air

Estimated travel time by plane is 45 minutes
From Legazpi City Integrated Bus Terminal to Tabaco City by Land

Estimated travel time is 30 minutes
By Land:
Aircon& Non-Aircon Buses

Route: Manila – Tabaco – Manila

Departure: Pasay &Cubao – Tabaco

Estimated travel time: 10 Hours
By Sea:
From Cebu
Estimated travel time – overnight
Estimated travel time – 1 hour
Estimated travel time – 1 hour and 30 minutes
Estimated travel time – 30 minutes
From Virac, Catanduanes to Tabaco
Estimated travel time is 4 hours
Jeepneys and motorcycles are available as a mode of transportation around Tabaco City.
Rating:
0 people rated this.