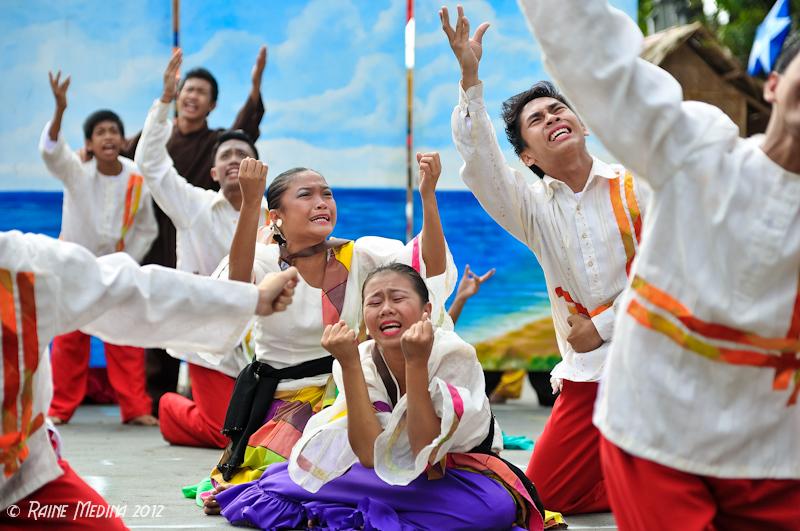 Salakayan Presentation during the fiesta 2012
Overview
The annual festival is celebrated every first week of February in the town of Miagao, Iloilo. It is a traditional event that provides opportunities for Miagawanon and Dumarayong to give happiness to the visitors by means of a colorful feast.
Although the inspiration came from other celebrations in the region, such as the Ati-Atihan of Kalibo and Dinagyang of Iloilo, still Salakayan has its own meaningful activities during the festival.
The Salakayan Festival makes a great contribution to the cultural environment. It increases the eco-tourism of the province. It is the most-awaited occasion by the local people. This is a genuine historical experience of the town to its magnificent past, a celebration for the victorious winning of the natives in fighting. It also gives life to the town's history.
One of the highlights of the festival is the Slakayan presentation, a show that illustrates the dancing that portrays successes in the struggle of the people of Miag-ao against Muslims who oftentimes invaded the island and stole from the community in the past. The biggest clash happened on May 7, 1754. The historic invasion gave the name "Salakayan" to the festival. It is a way of thanksgiving and reminiscing the heroism done by their ancestor for the sake of the their province.
Salakayan showcases visual art shows – the reenactment, street dancing contest, and other events held in several venues throughout this historic center. It is a week-long course of activities that give fun and excitement not only to the locals but also to the guests.
History
The people in Miagao are called "Miag-aoanons", known as the bravest people in the province and local history. They had the courage to fight and give their lives to defend and protect their place from the intruders who wanted to take their place. Based on the townsfolk, the invaders captured lots of people in the province and turned them into servants. Because of their heroism, the local government conceptualized the Salakayan Festival as a way of commemorating their efforts, sacrifices, and guts.
The Salakayan word was derived from a Hiligaynon term "salakay" or " to attack". The Salakayan dance show is a street dance-drama that combines with the art, the lore, and customs of the province.
Events/Activities
Food Fair

Agro Industrial and Trade Fair

Fluvial Parade

Competition in Sports

Exhibition of Photographs and Vintage

Literature and Music Contest

Gigantes Contest

Fashion Show

Salakayan Pageant

Coronation of the Queen of Miag-ao
How to Get There

From Manila City or Cebu City, travelers who want to come in Miagao can reach it by riding a plane. You can go to the airports of the cities mentioned and fly to the airport of Iloilo Province. Upon arrival, there are local vehicles and taxis that can transport you to Miagao.
Rating:
0 people rated this.