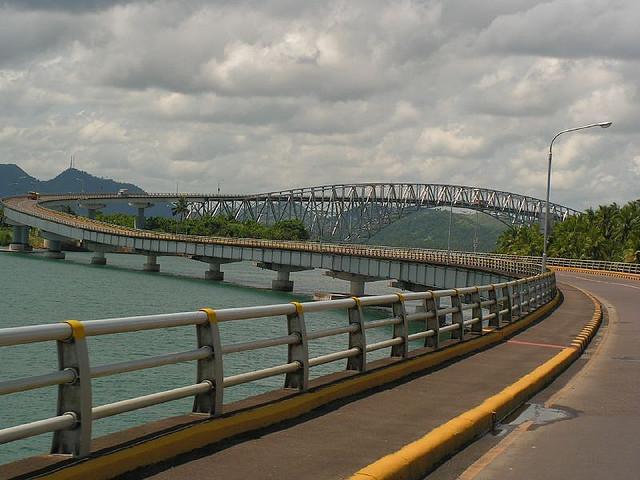 Most likely the most well-known bridges of the Philippines, the San Juanico Bridge is rightfully regarded as one of the most elegant and monumental engineering projects in the history of the Philippines and is a sight to behold as it spans the islands of Leyte and Samar.
The San Juanico Bridge, part of the Pan-Philippine Highway, stretches from Samar to Leyte across the San Juanico Strait in the Philippines. Its longest length is a steel girder viaduct built on reinforced concrete piers, and its main span is of an arch-shaped truss design. With a total length of 2.16 kilometers (1.34 mi), it is the longest bridge in the Philippines spanning a body of seawater. It is considered one of the most beautifully designed bridges in Philippines. The bridge has 43 spans and medium size boats can pass beneath its large main arch the top of which rises 41 meters above the sea. Construction commenced in 1969 over San Juanico Strait from Cabalawan, Tacloban City to the municipality of Santa Rita, Samar, with completion in 1973.
Connecting Tacloban City on the Leyte side and Santa Rita town on the Samar side, it offers many picturesque views, especially of the San Juanico Strait with its thousand whirlpools as well as the islets of the province. It is approximately 10 minutes from downtown Tacloban City and is accessible by passenger jeepney, bus, motorcab or private vehicle.
Construction of the 21.9 million-dollar bridge was contracted to the Construction and Development Corporation of the Philippines (now the Philippine National Construction Corporation), which together with Japanese engineers conducted studies and designed the actual project.
Rating:
14 people rated this.