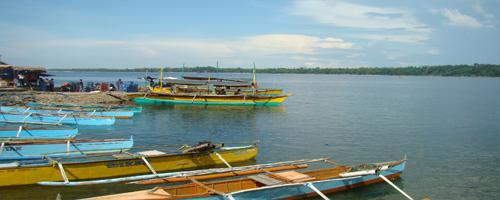 Even among the miles upon miles of majestic coastline and numerous wondrous islands in the province of Pangasinan, Santiago Island still stands out as a rare pearl to the discerning traveler. Santiago Island is a Philippine island with white sand beaches found off the coast of Bolinao, Pangasinan. The island is famous for being a good place for fishing and scuba diving as well as for its historic significance.

Historical significance: Santiago Island was the first area in Pangasinan discovered and occupied by the Spaniards. The historical island has been a refuge for slaves who have escaped the many smugglers and pirates that have colonized the area over the years.

Environmental Significance – The island is a sanctuary for migratory birds as well as having a long stretch of coral reefs in its waters.

Geography – Santiago Island is 96.7 km from Dagupan City, off the coast of Bolinao in a quiet area known for good fishing where its waters are abundant with bangus or milkfish. The island is accessible from the mainland by either banca or ferry.

Tourism – Santiago Island is one of the best attractions in Balinao. Visitors will certainly gain an appreciation for the white sand beaches and the surrounding waters. For adventurers, the island is a good site for scuba diving for exploration of its diverse marine ecosystem that stretches 14 miles from Santiago Island to Lingayen Gulf. The waters around the island are also good for fishing, as the area of Bolinao is famous for its bangus or milkfish. Sanitago Island is also one of the 12 havens of migratory birds identified in Pangasinan. In addition, 170 different varieties of plants can be found in the island.

Travel to Bolinao!

From Manila, you can take a bus straight to Bolinao from:

Buses that ply the Manila - Pangasinan route:
• Dagupan Bus Line (Quezon City to Dagupan) New York St., Cubao
• Victory Liner (Quezon City to Dagupan & Alaminos) Cubao, Q.C.
• Five Star Bus Line (Pasay City to Dagupan & Bolinao)
• City Trans (Manila to Dagupan & Bolinao)
• Philippine Rabbit (Quezon City to Dagupan & Bolinao) EDSA, Q.C.
• Philippine Rapid Manila to Dagupan & Bolinao)

The trip takes about 6 hours. Don't worry because the trip will give you a scenic view of Pangasinan. Once at Bolinao town, tricycles can take you to your destination.
Accomodations:
Puerto Del Sol Resort - Barangay Ilog Malino, Bolinao, Pangasinan, Philippines
Rating:
0 people rated this.