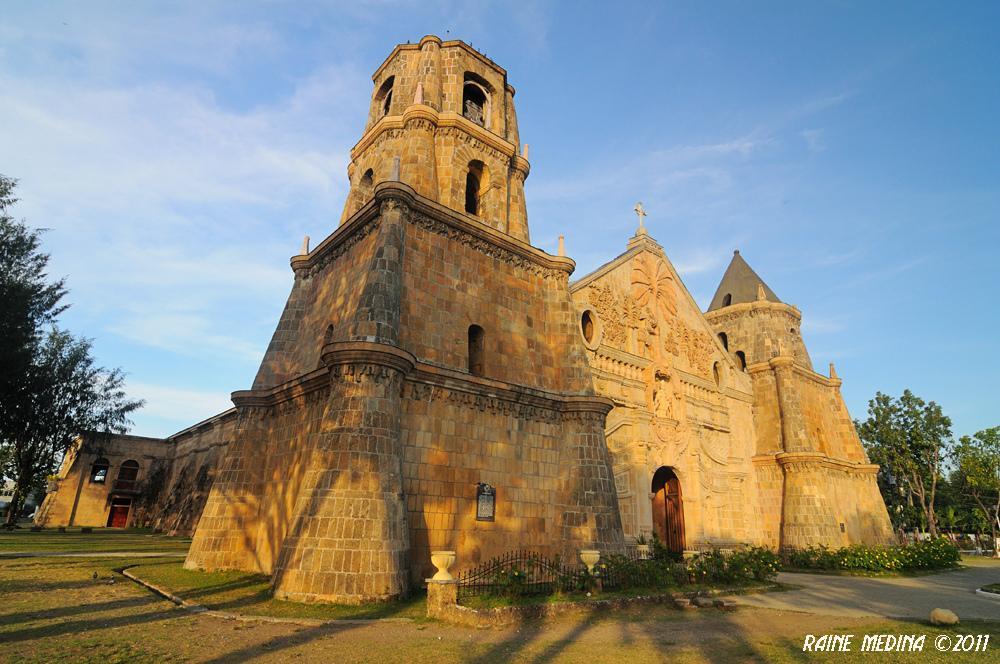 Miag-ao Church, also known as the Church of Santo Tomas de Villanueva in the town of Miagao, Iloilo, is an Augustinian-built baroque church and a UNESCO World Heritage Site. Built between 1787 and 1797, its fortress-like design suggests its dual purpose as a place of worship and as a fort used in defending the town against moro raiders.
Architecture
Miag-ao Church exhibits various architectural designs with the predominance of baroque and local artistic elements. Its facade employs diverse relief motifs, and period styles. These are carved on local carbonaceous limestone of soft yellow ochre color.
The adobe used in building the church is made from silt and clay that can only be found in this part of Iloilo, giving the building a unique warm-yellowish glow. Flying buttresses from the side of the church walls are typical of the "earthquake baroque" design reminiscent of churches in Ilocos, particularly Panay Church and Vigan Cathedral. The church's simple interior is highlighted by a striking gold-plated retablo.
In Baroque-Romanesque style, the church sinks six meters deep into the ground with walls one-and-a-half meters thick and buttresses three times thicker. A heavy frieze and decorative valusters separate the first level from the second as well as the integrated pediment. Columns flank the arched entrance and the lateral sections. The facade has a very subdued vertical movement, mostly overwhelmed by the sweeping horizontal curves and arched portals and saints' niches. The strong horizontal movement of the first level is contrasted by the sharp rise of the pediment. The whole structure is flanked by massive bell towers that almost resemble medieval castle towers. The two structures are dissimilar in design because they were commissioned by the two different parish priests.
History
Miag-ao's first parish church was constructed near the Tumagbok River in Ubos by Nicolas Pangkug, the first town capitan (equivalent to today's town mayor). It was completed three years before the first assignment of a Spanish priest in Miag-ao, consequent to the creation of the Miag-ao parish on 15 May 1734. The first church was burned by Muslim pirates in 1741.
The second church was constructed on the same site in 1747 under the guidance of the parish priest, Fray Fernando Camporedondo. This was also burned and looted by pirates in May 1754.
Construction of the present church began in 1787 while Fray Francisco M. Gonzales, O.S.A. was the parish priest of the town and Domingo Libo-on was gobernadorcillo. It was completed in 1797. It served as fortress against Muslim raiders. During the revolution, the church was 1898 destroyed and subsequently rebuilt. It was damaged again by an earthquake in 1948. Restoration was completed in 1962. Under Archbishop Jose Ma. Cuenco, parish priest Fernando S. Javillo and Mayor Dioscoro Mueda.
By virtue of P.D. 260, 1 August 1973 as amended by P.D. 375, 14 January 1974, this church was declared as a National Landmark. In 1994 it was listed by the UNESCO as a World Cultiral Heritage Site.
How to get there
Iloilo Province is located in Western Visayas and can be reached by plane, bus, ferry or roro (roll-on-roll-off) from Manila.
By Air: There are direct flights to Iloilo Intenational Airport and take around 50 minutes from Manila. Once there, one can ride a shuttle van or taxi going to Iloilo City. List of airlines that have daily trips to Manila to Iloilo:
Cebu Pacific

Air Philippines

Philippine Airlines

Zest Air
By Sea: From Manila Ports, the travel time going to Iloilo Domestic Port, located along General Hughes St., is about 20 hours.
By Land: There are buses from Manila that have trips to Iloilo City. The bus uses the roro (roll-on-roll-off) services going to Iloilo. The bus terminals in Cubao and Pasay have buses with trips going to Iloilo.
When touring the province, taxis and jeepneys are available as a mode of transportation around the province. Miag-ao is located 40.04 km. southwest of Iloilo City. Jeepneys can be taken from the city proper to this town in about 45 minutes.
Rating:
0 people rated this.