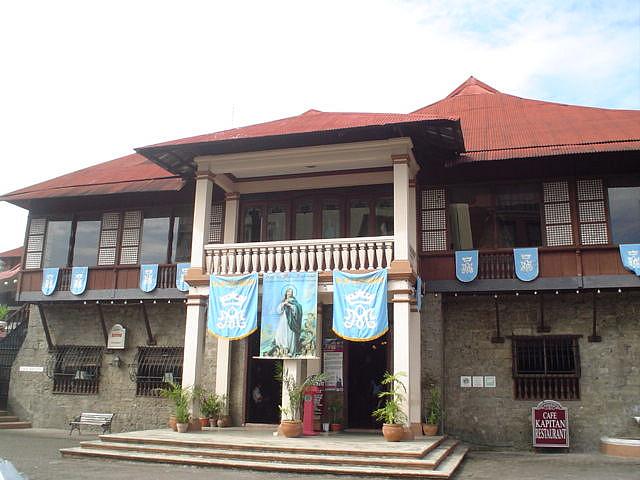 The old Kapitan Moy building, now named Sentrong Pangkultura ng Marikina, was constructed in 1780 by Don Jose Guevarra whose family owns "Asyenda Tyason." This old house is not only a structure of nails and adobe, it is an edifice that links us to the past because of the historical events that became known here. In 1887, the first shoe in Marikina was made here. Supreme Andres Bonifacio of the Katipunan once visited the place; and American soldiers made it a camp in 1901.
This 200-year old building was once owned by Don Laureano "Kapitan Moy" Guevarra, recognized as the father of the shoe industry in the Philippines. This is where the first pair of shoes in Marikina was designed and made in 1887. Inside this building can be found Doll Museum, Marikina City's museum, a diorama showcasing the events and history of Marikina. This building is the center of culture and arts of Marikina.
Accommodations
Marikina Hotel - Pio Del Pilar St. cor. Tangerine St., Brgy. Concepcion II, Marikina City Philippines

La Trinidad Pension House

Family Lodging House - 31 Liamzon St., Brgy. San Roque

Family Lodging House - 31 Liamzon St., Brgy. San Roque

Villa Ronar Garden Resort & Hotel - 112 Dao corner Champaca St., Marikina Heights, Marikina City

RELC - Dormitory

MIST-TESDA
Restaurants
Pan De Amerikana

Cafe Qizia - Italian Cuisine

Tapsi ni Vivian

Macky's Eatery

Dalay's - Filipino Cuisine

Cafe Kapitan

Kusina ni Kambal

Panciteria ni Edong's

Kubo sa Tuazon

Cafe Lidia

Casa Feliz Cakes & Pastries

Pap's Dinner

Eriz's Driveway bar and resto Café

NOHMU (Resto Bar)
Transportation
Currently, elevated light rail systems run through Marikina City. The first or last station of LRT 2 is Santolan located along Marcos Highway. The station connects to Claro M. Recto Avenue in Manila.
Public transportation within the city, like in most of the urban areas in the Philippines, is facilitated mostly using inexpensive jeepneys and buses. Tricycles (motorbikes with an attached two seater carriage) are the usual transportation used for short distances, while Taxi cabs are used by the upper middle class. The roads are organized around a set of long narrow and circumferential roads that radiate and circle in and around the city.
One of the most notable attractions in Marikina is the bikeways and bike lanes along major roads and streets. This is the only city in the Philippines which has an effective bikeway.
Going to Marikina

Various land transportation ply the route going to Marikina City via bus in major roads or public jeepneys in minor roads in Metro Manila. From Cainta and Antipolo via Marikina City ( BAYAN): Take a jeepney with the sign board ( cubao), ask the driver to drop you at Mcdo Marcos highway and ride a tricycle going straight to Marikina Sports Center.
Or drop by at Fiesta Villa in A. Tuazon Marikina and ride a jeep with the sign board ( going to Marikina).

From Quezon City via Marikina City( BAYAN):
Take a ride either Fx or jeep at Gateway Cubao, ride with the signboard going to ( Parang, SSS, Kalumpang ) and they'll drop you off to Marikina Bayan.

From Pasig City via Marikina City (BAYAN):
Take a jeepney in Pasig Palengke and ride with the signboard going to Marikina(bayan).

From San Mateo via Marikina (BAYAN):
Take a jeepney with the signboard Marikina (bayan)
Rating:
1 people rated this.