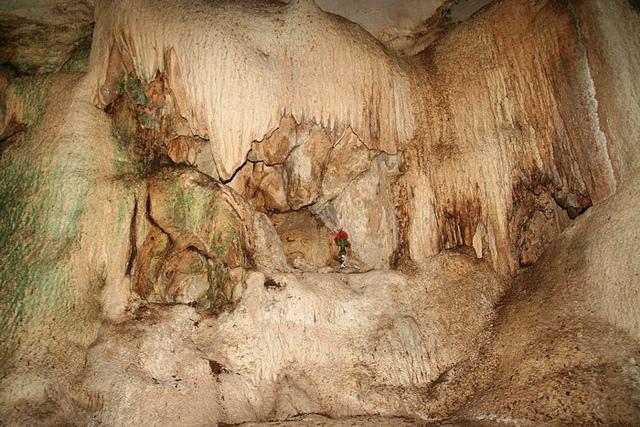 Bathala Caves is a complex network of caves that are said to be the playground of the Gods. Located in the rustic town of Sta. Cruz in Marinduque, the caves are believed to be mystical. According to locals, these caves are a repository of psychic power emanating from various points of the universe.
Caves inside the Bathala Caves
Simbahan Cave. Simbahan Cave is the biggest of the caves. It possesses a natural rock formation creating a church-like interior. The stalagmites of the cave form an altar-like structure and a silhouette of the Madonna and Child while the stalactites are bell-like in shape.

Kay Coke or Python Cave. Python Cave is guarded by pythons and has a ceiling of hundreds of giant bats. The cave is deeper and darker than the Simbahan Caves.

Secret Cave. The cave looks like a secret passage. Secret Cave has a unique rock formation of stalactites and stalagmites featuring impressive wall sculptures and formations at the entrance. Like the other caves, it has plenty of bats and guano.

Other unnamed caves in the Bathala Caves are the cave that has an underground river and the cave that houses human bones believed to be the remains of World War II soldiers. Because Bathala Caves is a network of caves, only few have been explored so far and many caves are yet to be explored.

Bathala Caves

Caving at Bathala Caves – There are two options in getting to the city capital Boac. Sta. Cruz town is more rustic than Boac. Boac to Santa Cruz is just around an hour's drive.

• By land-sea travel: From Manila, take a bus going to Dalahican, Lucena Port. Different bus companies travel from Manila to Dalahican so you have various options. Jam Transit and JAC Liner are two bus companies bound for Marinduque. JAC Liner plies a direct Manila-Marinduque route.
• Direct bus or car travel: If you don't feel like getting on and off a bus and ferry, you have the option of riding a bus or a door-to-door van that will take you all the way from Manila to Marinduque. The bus or van will ride the Roll-On, Roll-Off (RO-RO) and will take you to the provincial capital or right directly to your destination.
• By Air: Flights from Manila Domestic Airport to Marinduque Airport, located in Barangay Masiga, roughly in between Gasan and Boac, are currently served regularly by Zest Airways.
Rating:
1 people rated this.