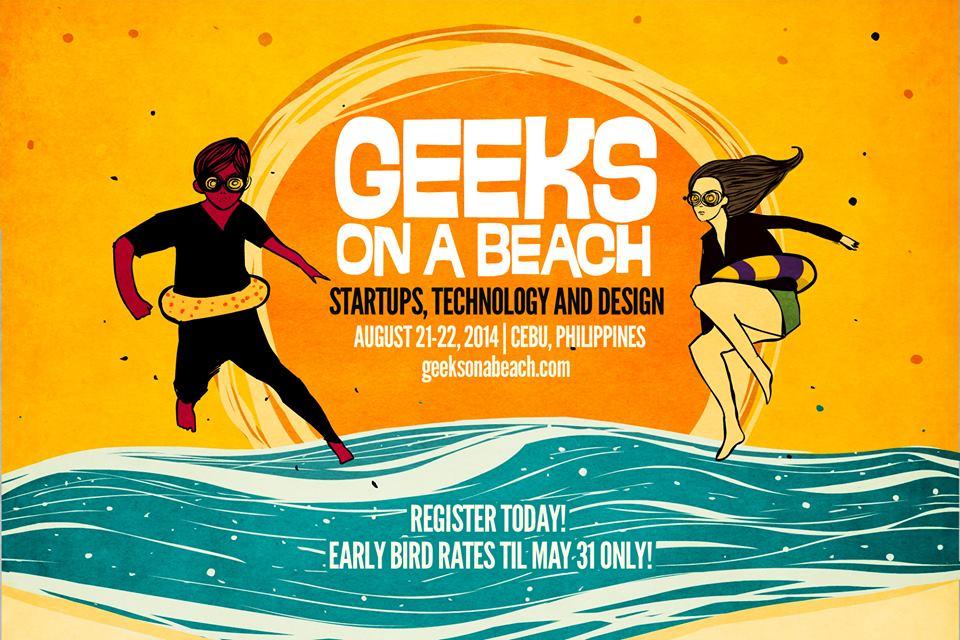 Distinguished Silicon Valley startup guru Dave McClure, the founder of the 500 Startups accelerator and seed fund investor, will be one of the keynote speakers for the long awaited Geeks on a Beach (GOAB) international tech confab this August 21 to 22.
500 Startups has invested in over 500 startups or innovation-driven enterprises related to web search, social media, and mobile app platforms. This includes Filipino real estate web listing ZipMatch, which clinched the deal in the first GOAB last year. ZipMatch also announced this week that they raised $US $550,000 funding from the same investors.
Before founding 500 Startups in 2010, McClure was already an angel investor frequently investing and advising in startups. He was also a consultant of several high-tech companies like Microsoft and Intel and worked for companies such as PayPal and Facebook.
All systems go
A major gathering of the major players in the Philippine startup scene and the world's leading names in the field of startups and technology, this year's Geeks on a Beach will be held at the Moevenpick Hotel in Mactan Island, Cebu this coming Thursday and Friday.
Geeks on a Beach lead organizer Techtalks.ph, a non-profit business organization providing training and networking for Philippine tech entrepreneurs and startups, said that it is now all systems go for GOAB with all the major preparations now put in place.
TechTalks.ph founder Tina Amper said that almost everyone in the Philippine startup community and tech personalities from Silicon Valley,Singapore, Malaysia, Thailand, South Korea and other parts of the world will be flying to Cebu for GOAB. "It's like the who's who of the startup world," she said.
First staged in Boracay last year September, this year's GOAB promises more select expert-speakers, new activities, and additional networking opportunities in formal discussions as well as laidback and fun parties in line with the event's 'work hard, play harder' motto.
This is the perfect venue for budding startups to brush shoulders with venture capitalists with private executive roundtable sessions as well as the more thrilling speed dating wherein 10 startup teams get to pitchwith investors for 5 minutes each.
Focus on PH startups
The first day will open with the keynote addresses focusing on startup opportunities and challenges startup communities by 500 Startups founder Dave McClure alongside Smart Communications Executive Vice President Benjie S. Fernandez, COO of Voyager Innovations and Managing Director of Smart eMoney, Inc. as well as Department of Science and Technology ICT Office Mon Ibrahim.
A panel discussion on the topic 'Building our Startup Ecosystem' will be chaired by Khailee Ng, also of 500 Startups. The next panel, to be introduced by World Startup Report founder Bowei Gai, will focus on the opportunities presented by the ASEAN integration for startups.
"We will highlight the successes of the Philippine startup community in relation to the World and Asian startup ecosystem. But we will also talk of the sad realities and the challenges. We will focus on what we need to do more," said Amper.
A third panel is called 'Philippine Startups and the Road Ahead – UNCUT!' and will provide a realistic view of the local startup community in order to find the best way to move forward. Another panel, 'Technology Stack for Startups', will overview some of the new technologies that can help startups.
The roundtable discussion 'Unleashing Filipino Capital to Gas Up Future Global Champions' will tackle how Filipino investors and traditional businessmen who may be unfamiliar with the tech world can successfully invest in local startups.
A diverse tech event
The second day will see Rappler.com Chief Editor Maria Ressa deliver a keynote speech on 'The Future of Media Today'. It is also the commencement of the breakout session with tracks on special interests, business and entrepreneurship, gaming and design, and tech and developer topics.
"Geeks on a Beach is really about helping local startups to become successful. It is a diverse event with talks from startup founders' stories up to the use of tech innovations for disaster relief efforts. There are a lot of people who can benefit from the event," said Amper.
According to Amper, there will also be discussions on specific concerns such as 'Women in Tech', 'Tech Enabled Social Enterprises', 'How We Raised Funds', 'Failure as a Driver to Success', 'Branding and Digital Marketing for Tech Startups', and 'Policy Environment that Grows Our Startup Ecosystem'.
GOAB is organized by TechTalks.ph, co-presented by the IdeaSpace, SMART, and SMART Bro, co-organized by the DOST-ICTO, powered by Sym.ph, branding by HappyGaraje, and PR and event management by PRWorks.
For more information on, visit www.geeksonabeach.com, follow them on Twitter and Facebook @geeksonabeach.com, or email hello@geeksonabeach.com.###
Rating:
0 people rated this.