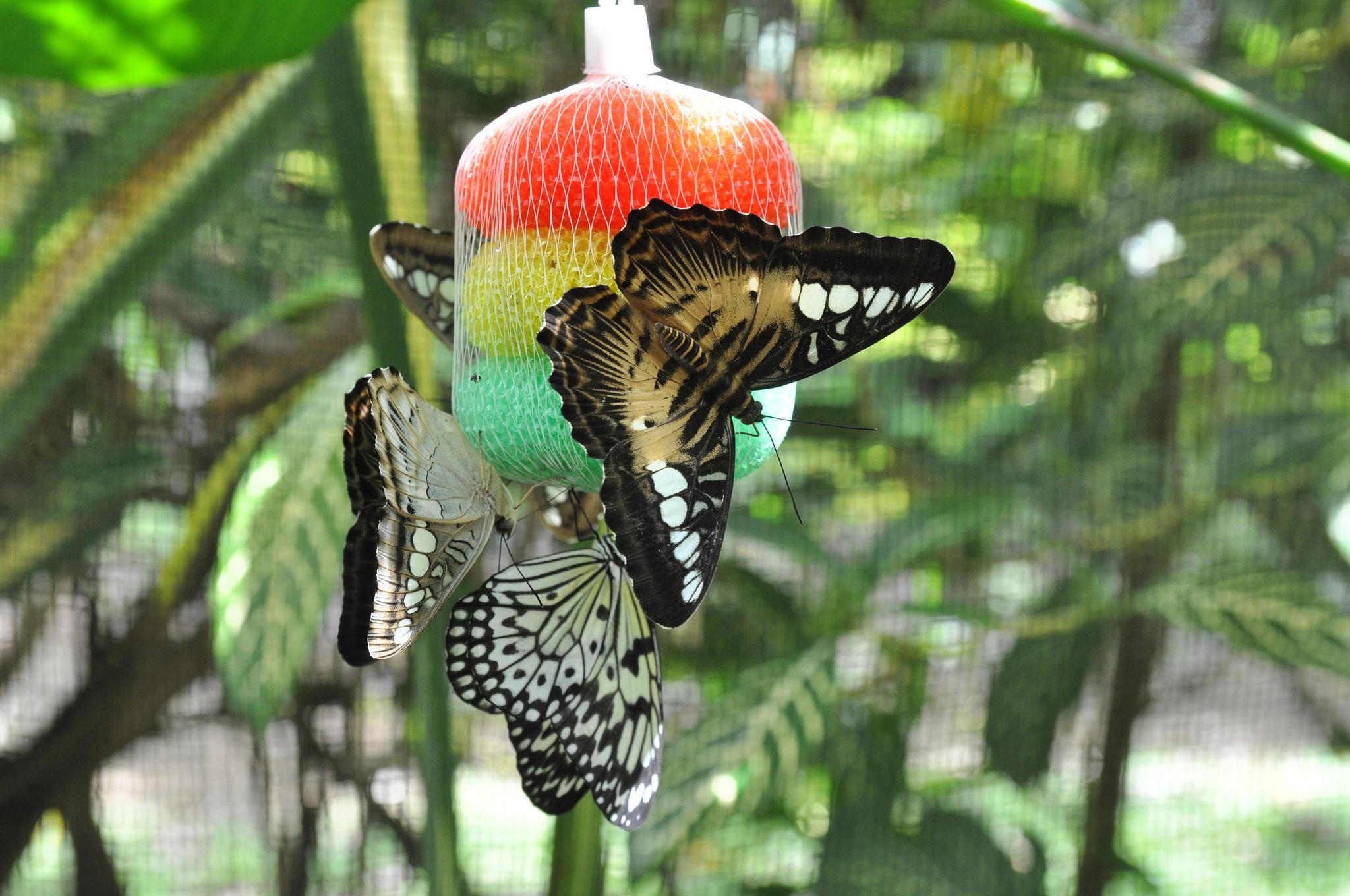 Feeding Butterflies at Simply Butterflies Conservation Center

Simply Butterflies Conservation Center is more than just a butterfly garden. It can be found in the town of Bilar, Bohol. The town of Bilar is dubbed as the Bohol's center for eco-tourism. The center is one of the popular attractions that protect a natural environment for butterflies. It is a sanctuary for various species of butterflies.
Bohol is well-known for having about 300 species of butterflies and almost half of these are featured in Simply Butterflies Conservation Center. It is also the first to build a butterfly livelihood breeding and conversation program in the province.
The center is established to give and preserve an area where butterflies can live and propagate freely. The center knows what's best for butterflies. The management gives the best care for the butterflies. The center also helps the province increase the local tourism.
The center educates visitors on how to protect butterflies by sharing knowledge about the proper care for butterflies. There is also an established community of paid breeders that gives employment and income to the locals. The butterflies breeding and by-products are used for export to sustain the fund for plant research and study for development and breeding program for butterflies.
Must-see and do
A beautiful garden is showcased in the area. It is surrounded with different plants and flowers where butterflies dwell and feed. One could relax and enjoy watching different kinds and colors of butterflies that fly in the garden. Visitors can also enjoy exploring the area.

There is also a covered area in the center where butterflies take a rest. Inside is a waterfall and shaded plants and flowers. Caterpillars and butterflies can be found in that area, playing and feeding.

For nature lovers, one could enjoy touring the small hill in the area where lush trees, tropical plants, butterflies, birds, and insects are featured.

After exploring the area, people can enjoy resting in a place called Visitor Center where fresh and cool breeze comes in. Inside the area, butterfly and insect collections are displayed. Exhibitions are also held there.

After resting, visitors can enjoy eating in the restaurant situated in the area where different meals and snacks are sold.

Visitors can also have pictures at the small pagoda in the garden.

After the tour, don't forget to drop by the gift shop in the area where one can buy souvenirs such as butterflies and by-products like dry papered butterflies, live pupae, key chains and art pieces made by the local people.
Going to the Center
Travel time will take about 1 hour from Tagbilaran City to Bilar depends on your transport. The Center is located along the highway en route to Chocolate Hills. Signage at the highway can be seen. It is also near the Man Made Forest, and about 1km before the Bilar public market.
Where to Stay

Here is the list of accommodations around Tagbilaran City, Bohol.

Gie Gardens Hotel - 18 M.H. Del Pilar St., Cor. C.P.Garcia Ave, Tagbilaran City

Darunday Manor - 22 J. A. Clarin Street, Tagbilaran City

Metrocentre Hotel - C.P.G. Avenue, Tagbilaran City

Vest Pension House - Tamblot Extension, Cogon District, Tagbilaran City

The Meredian Hotel - 4-S Matig-a St., tagbilaran City

Hotel La Roca - Graham Avenue, Tagbilaran City

Matig-a Seaside Pensione Bohol - 26 V.P. Inting Street

Via Bohol Tourist Inn - Graham Ave., Tagbilaran City

Villa Alzhun Tourist Inn and Restaurant - 162 V.P Inting Street, Mansasa, Tagbilaran City

Vest Pension House - Tamblot Extension, Tagbilaran City

Taver's Pension House - Taver's building, Remolador St., Tagbilaran City

Sky High Lodge - CPG Ave., Tagbilaran City

Shores Apartelle - Mansasa District, Tagbilaran City

Wregent Plaza Hotel - CPG Ave., Tagbilaran City

Share House Bohol - Sacred Heart Village, Tagbilaran City

Esta Villa Residencia - Mansasa Seaside, Tagbilaran City

Soledad Suites - J. C. Borja Street cor. M. Parras Street, Tagbilaran City
Accessibility
By Air
The main entry point to Bohol is Tagbilaran City (Tagbilaran City Airport) which is only a one hour-and-15 minute flight from Manila and 20 minutes from Cebu.
By Sea
The most convenient way to get to Bohol from the neighboring islands is by fast ferry. Fast ferries offer a high speed passenger service. These have a cruising speed of about 50 kilometers per hour.
Getting Around in Bohol
Once you arrive on Bohol, there are various ways to get around the island. You can find plenty of tricycles and some taxi waiting to bring you to most locations within Tagbilaran and neighboring towns. If you need to go to one of the other towns on the island, you have a choice of jeepneys, busses, V-hires, or even habal-habal.
Rating:
19 people rated this.