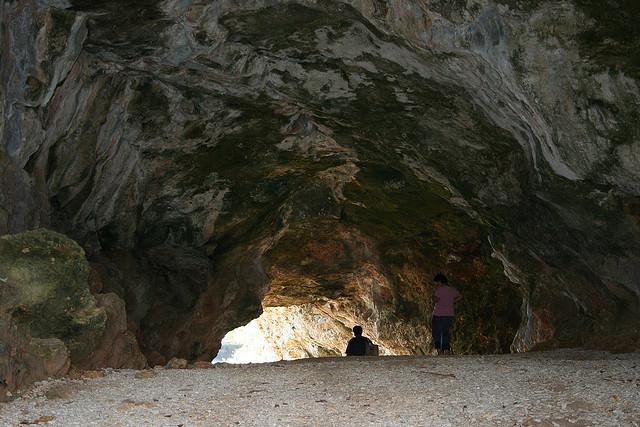 Hundred Islands National Park is one of the must-see destinations in Alaminos, Pangasinan. Its fine sand beaches and clear blue water entice tourist to love the place. Adventurers find it irresistible because it has a lot of caves that can give spelunkers a unique thrilling experience.

Here are some of the caves in Hundred Islands National Park that you can visit during your Alaminos days!
1. Top on my list is the Century Cave located in Century Island. The huge dome-shaped cave is the sanctuary of thousands of bats, resulting to strong bat excretion at its entrance. The cave is one of the largest in the park, consisting of different formations of stalactites and stalagmites that will surely give pleasure to spelunkers.
2. Situated in Virgin Island, Virgin Cave is indeed a wonderful place. This tunnel-like cave is situated near a rock-and-pebble beach that lure many tourists.
3. Just like the Virgin Cave, Cuenco Cave is also tunnel-like but on a larger scale. The ceiling is filled with long awesome stalactites. A strong scent of guano is also present in this cave.
4. Found on the beach of Governor's Island, Governor's Cave is another site for feisty spelunkers. This is a small cave where you can have a relaxing view of the island.
5. Next cave is the Dugong's Cave. It is flooded by sea water and was the home of Dugong, the cave dwelling creature of the fantaserye, Marina. Since then, it has been popularly called as Dugong's Cave.
6. Another cave that tourists will love is the Imelda Cave. It is cathedral-shaped cave which is a favorite of most spelunkers. One can jump through the ceiling of the cave and plunge into the cold sea water below.
7. Cathedral Cave, located in Cathedral Island, is a good subject for photography. The cave is a like an old rock cathedral with stunning images of the saints.

Cuenco Cave

Other majestic caves that you will find in Alaminos are the following:
• Quirino Cave – its limestone formations are ideal for cave enthusiasts.
• Simmimbahan Cave – like the Virgin and Cuenco Cave, the cave is tunnel-like, featuring unique stone hydrological formations.
• Nalsoc Cave – it has its own formation of stalactites and stalagmites; it is a home of a large number of bats.
• Milagrosa Cave – this cave consists of limestone formations with white sand.
• Alama Cave – like the other caves, it has its own natural beauty that attract many spelunkers.

Getting Here!

The city of Alaminos is about a five-hour bus ride from Metro Manila and three hours from Baguio City. Land travel from Manila to Alaminos City is 250 kms, 4 hours by private vehicle from Manila via Camiling, Tarlac, and 5 ½ hours by public vehicle.

Public bus lines regularly plying the Pangasinan route (Baguio to Alaminos), passing La Union province, are the Byron North Express and the Victory Liner. From Dagupan (if you haven't chanced on a straight ride from Baguio), it would take about another one and a half hours to reach Alaminos City, the home of the Hundred Islands.

Accommodations: Puerto Del Sol Resort - Barangay Ilog Malino, Bolinao, Pangasinan, Philippines
Rating:
0 people rated this.