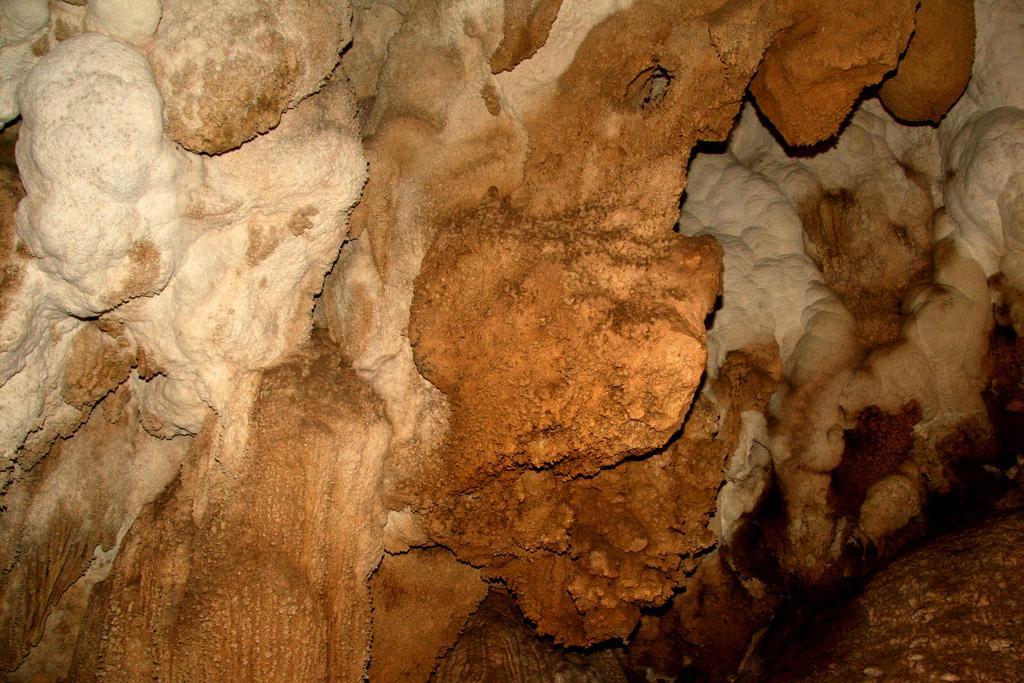 Sohoton National Park is situated in Rawis, Brgy. Guirang, Basey, Samar. It is Basey's pride and heritage because it is one of the most popular destinations in the region. Within this 841-hectare paradise along the Basey River, you can find a network of caves, rock shelters, flowing rivers, plunging waterfalls, and rich flora and fauna. It is established on July 19, 1935. It derived its name from the magnificent stone bridge that connects two mountain ridges where underneath flows the Sohoton River. "Sohoton" means "to pass through".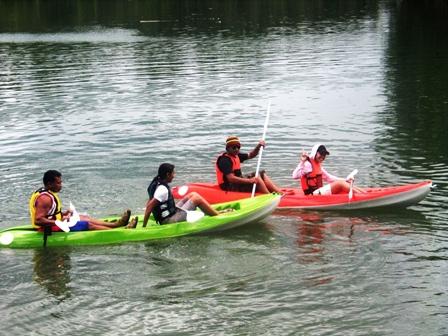 To explore the park, you need to hire a "bangka" in Basey or at the Tacloban pier. The long river that you need to cross when you are going to the Sohoton Cave is called the "Golden River". The locals called it Golden River because of the color of the water that turns to color gold/yellowish brown during the rainy season due to mud.
The National Park is famous for its fascinating geological features that are abound in the area, like caves with different natural rock formations and underground rivers, rock holes, minerals, limestone boulders and towering cliffs, a virgin forests, and waterfalls.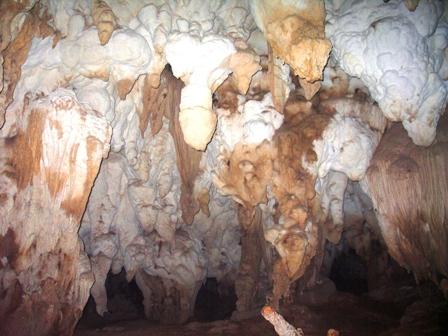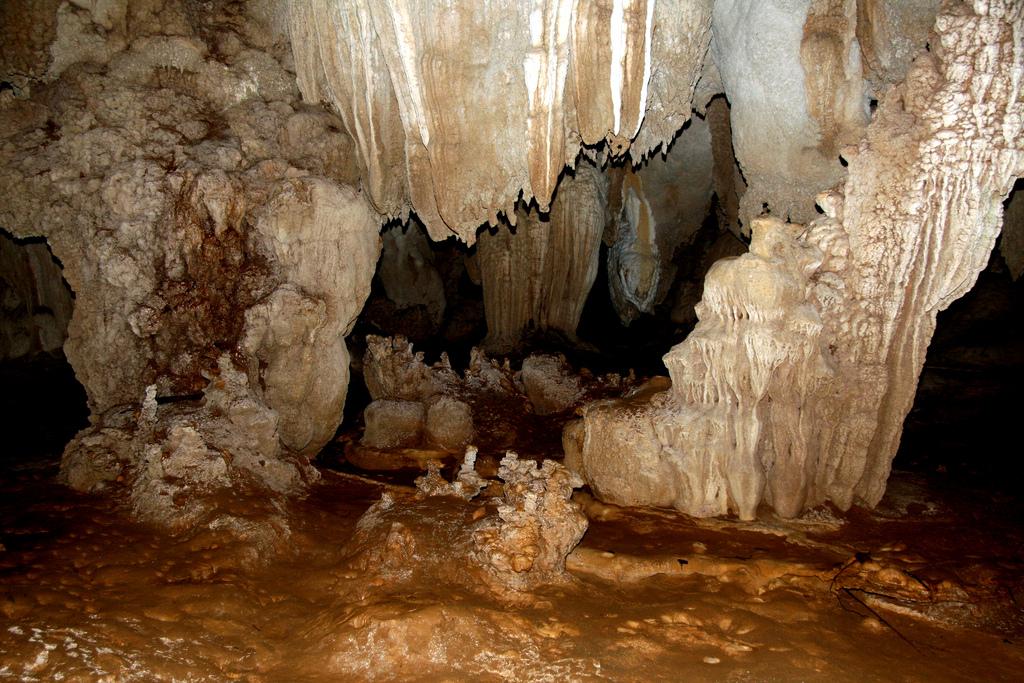 The Sohoton Natural Bridge is one of the tourist spots that can be seen in this park. It connects the two mountains ridges spanning the Sohoton River. The Stone Bridge is forested at its upper portion while on its underside hang heavy karst formations of giant stalactites forming like swords and rockets.
The park has a Panhulugan Cliff, a high and steep rock formation that is directly across Panhulugan Cave. Down this cliff is a narrow curve of the Sohoton River. The name Panhalugan came from a Waray word "Hulug," which means to drop from top. It was said that this cliff was used as an ambush area by the Filipino rebels during the Filipino-American War.
The cave system consists of Panhulugan I, II, and III, Sohoton, Bugasan I, II,III, IV, and V; Kapitagan I, II, III, and Asgad. The most prominent assemblage in the park is the cathedral-like caves, which are the Panhulugan I, and II, Sohotan and Bugosan.
Sohoton Cave is the most famous and most spectacular because of various rock formations, minerals, and limestone cliffs. It is a cathedral-like dome with a parabolic arch-type entrance about fifty-meters high. Spike-shaped crystalline stalactite can be found hanging on the ceiling, while on the cave's floor, you will see cavernous walls and stalagmites. It has a prince-like window and a balcony overlooking the natural swimming pool below that is also located in the park.
Panhulugan I is the largest cave among the three and sheltered by rugged limestone cliffs. It has a dark chamber and tunnel with extensive stalagmite and stalactite formations. All portions of this cave are geologically active as evidenced by the constant drips of water from stalactites. The internal cave chambers measures some 49.2 feet high at the end of its leg. Its cathedral immensity contains a mismaze interior that branches out into many multi-leveled chambers and tunnels with an infinite variety of flowstones and rock formations resembling some familiar images of the outside world ranging from miniature replicas of famous tourist spots.
Panhulugan II is a scar formed by a rock shelter around 164 feet (50 meters) in length and 16.4 feet (5 meters) in height. It is also topographically divided into four parts: Areas, A, B, C, and D. Snow-white glittering stalactites of various symmetry hang from the cave's ceiling, while the brownish to grayish stalagmites seem to grow endless on the cave's floor.
Bugasan III is smaller than Sohoton and Panhulugan Caves but it has a presence of concavities where ancient remains had been found.
The caves have different historical significance for us. They were hiding places of our ancestors during the Spanish–American War. They hid among the cliffs and threw rocks and logs on their enemies as they approached. The rebel soldiers camped in the cliffs during the Philippine revolutions against Spaniards and Americans. In exploring the hidden jewels of the park, it's like you are transported instantly to another place and time. Through Sohoton National Park, we are able to see and feel the condition of our ancestors during that time. This park has a timeless beauty that you will not see anywhere else.
Rating:
11 people rated this.